Inside the rise of 'mukbang' eating videos
Experts warn about the potential dangers of excessive eating in videos.
Trisha Paytas caught on to the "mukbang" trend early, garnering millions of views of herself eating on camera.
Over the last 11 years, the Los Angeles YouTuber's "making" videos that feature her eating her meals from everything scrambled eggs to giant buckets of chicken have captivated millions around the world. She has earned ad revenue from her videos, and and says that her "mukbang" posts are now her main income.
"I think the most I've ever made was I did a Pizza Hut one where I eat like five different pizzas," she told ABC News. "And I think that made like maybe $50,000."
"Mukbang," which is a term that originated in South Korea and translates to "eating shows," involves content creators posting videos, sometimes more than an hour long, of themselves eating mostly junk food. In some instances, they take on exorbitant amounts.
While the trend is making Paytas and other "mukbang" influencers wealthy, health experts warn that the videos are spreading the wrong message about health.
"I do think there's a significant amount of pressure for these creators who are sitting there eating day after day and have millions of views and followers to actually replicate that behavior," nutritionist Maya Feller told ABC News. "And that, in my opinion, is more where the danger lies, is that they've got to do it over and over again."
Some "mukbang" influencers like Bethany Gaskin have made videos using their own recipes.
Gaskin, who says she makes money from selling homemade cause sauce, ad revenue and brand deals, grew her following to more than three million on YouTube, going viral for eating seafood
"It's a lot of work. It's a lot of prepping," she told ABC News. "You have to have the food set up in a right the right way and the lighting, the sound. It's a lot."
Gaskin said at first she thought it was weird that viewers would want to watch and listen to her eat.
"I think that … they say they get the tingles," she said. "It makes them, you know, feel a certain feeling in their back of their neck or something like that. It's weird."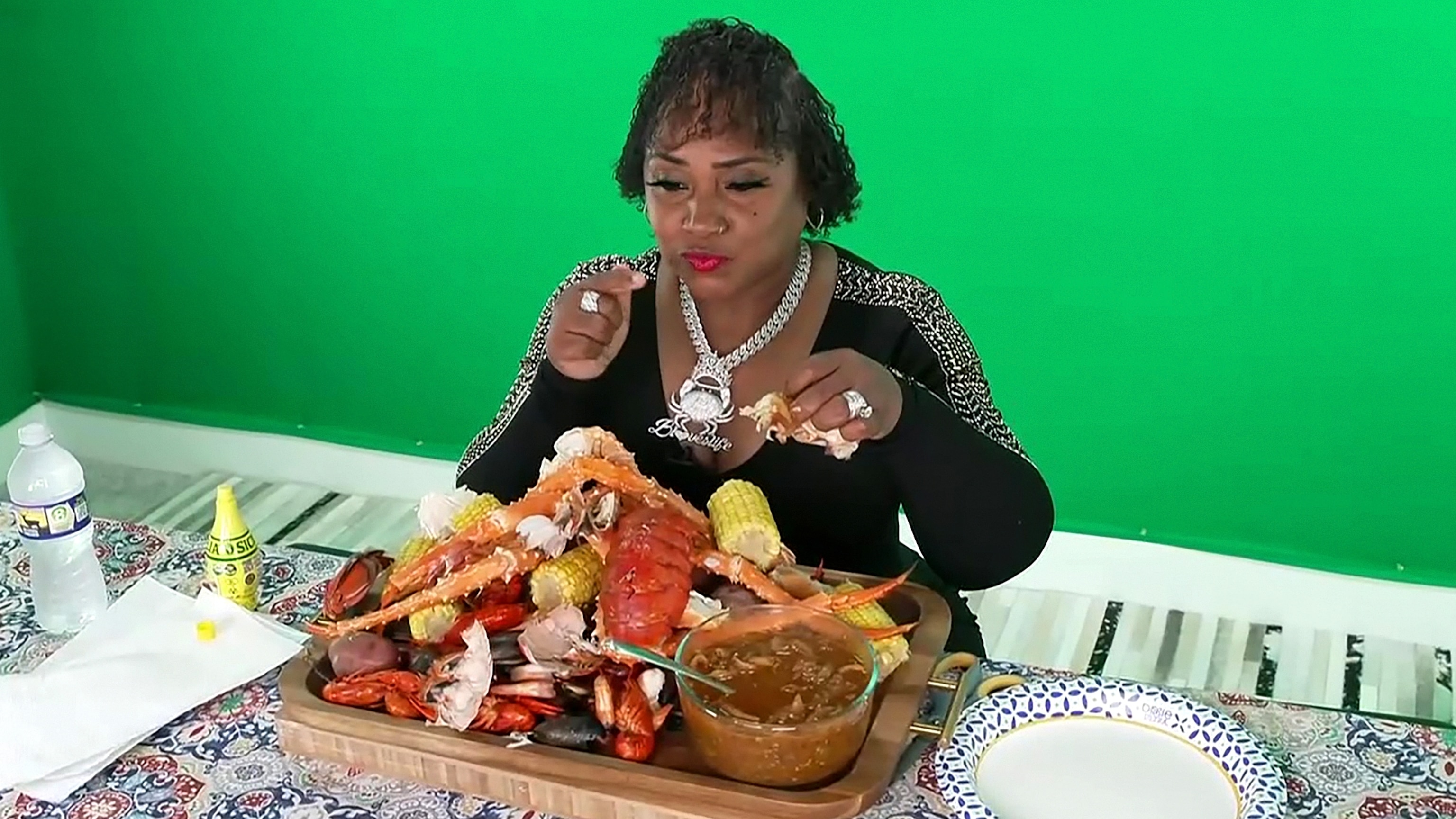 Feller, however, said viewers should be cautious when consuming this kind of content.
"We need a lot more sensitivity in online spaces that really allow people to not look at themselves in relationship to a content creator," she said. "That is an area for people who have a history of eating disorders or who have active eating disorders that it can be really triggering and confusing."
She also warned that content creators face a serious mental health issues over the pressures of keeping up their personas and appeasing their fans.
Paytas acknowledged that she has faced those issues.
"I did the 10,000 calorie challenge wrong. So then like redo it, then I did it right then like, okay, do the 20,000 calorie challenge, do the 100 nugget challenge, and you just feel so much pressure because you just want to keep one-upping yourself," she said.
Paytas has admitted to posting racially insensitive and controversial videos in the past just for the sake of views, weighing in on politics and or transgender rights.
"Of course I have regrets," she said. "But it's happened. It's in the past."
"I feel like I was a mess and I probably show that and I'm like, happy to show that you can change," she added.
Paytas said that she has "dialed back" some of her eating challenges and has been keeping a closer watch on her health. However, she said she will keep posting videos.
"I don't think I ever want to turn it off. I actually love it so much," she said. "If there's 10,000 people watching or a million people watching, I think it's exciting."
If you think you or someone you know has an eating disorder, call ANAD's helpline at 1 (888)-375-7767, for free emotional support and referrals for resources.