Haleigh Cummings, the 5-year-old who vanished from her father's Florida home more than a year ago, is believed to be dead and investigators said that they've identified several people of interest.
Speaking from the edge of the St. John's River, where divers have scoured the murky waters for traces of the little girl for the past three days, Putnam County Sheriff Jeff Hardy said Thursday the case is now a homicide investigation.
"Over the past few weeks, information has been obtained by investigators that lead them to believe that Haleigh Cummings is most likely deceased," Hardy told reporters.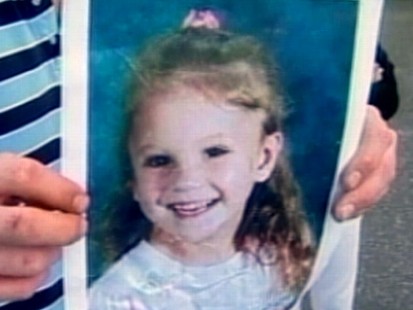 Haleigh disappeared Feb. 10, 2009, when she vanished from the home of her father, Ronald Cummings, in Satsuma. Satsuma is 60 miles south of Jacksonville.
And for the first time since Haleigh disappeared, investigators say they've identified "several" people of interest, whom they did not name.
"People are starting to cooperate, that's why I've told people it will be just a matter of time [before the case is closed]," Hardy said. "It's a good thing, that people are starting to talk."
Asked by reporters how important Misty Croslin, the last person to have seen Haleigh, is to the investigation, Hardy said that she is "key to the case."
Speaking about Croslin, who was taken earlier this week by investigators to the dock where they have been searching for Haleigh, Hardy said that he has seen an "absolute shift in her demeanor."
Croslin is in jail pending a hearing on unrelated drug charges to which she has pleaded not guilty.
"They have a lot of time to sit and think about the case," Hardy said of how he thinks the time behind bars for Croslin may have helped the investigation.
Hardy declined to specify what evidence investigators retrieved from the river, but said that while the search has been like "looking for a needle in a haystack," he is determined to bring the case to a conclusion.
"It's a rough search, we've found everything from alligator toenails to, well, you name it," Hardy said. "We will follow this case till the end.
"We're trying to make an arrest and bring someone to justice for this little girl and her family," Hardy said, holding up a photo of the curly, blond-haired Haleigh.
Family Points Fingers in Haleigh Cummings Case
Members of Haleigh's family have pointed fingers at Croslin's cousin, Joe Overstreet, who was in Florida visiting the little girl and her family when she first went missing.
Croslin's grandmother, Flo Hollars, told the Florida Times-Union that one of her sons said he knows Overstreet took Haleigh at knifepoint on that February night, which Overstreet of Nashville, Tenn., has denied.
Hollars said Croslin's brother, Hank "Tommy" Croslin Jr., who is also in jail on unrelated drug charges, told her that Overstreet, "Took Haleigh out of the Satsuma trailer where she lived after he was unable to find a machine gun the two men were going to steal. Overstreet put a knife to the throat of Misty Croslin, then Haleigh's father's girlfriend, and took Haleigh."
In an interview with the media Thursday in Nashville, Overstreet, 20, broke into tears when he was asked about any possible connection to Haleigh's disappearance.
"If I knew who did it, I would go straight and call the cops and tell them who did it," said Overstreet, according to ABC News' Nashville affiliate WKRN.
His attorney, Shawn Sirgo, said his client is being targeted by family members.
"I do believe siblings have gotten together, substantiated a story that they can't even keep straight, that the lies lead to lies, that the admissions keep modifying," Sirgo said.
Overstreet was interviewed by several Florida investigators earlier this week at the FBI headquarters in Nashville, Tenn., but has always denied any involvement.
Sheriff Hardy confirmed that Overstreet has been interviewed regarding Haleigh's disappearance but said that he has "lawyered up."
Haleigh Cummings: New Search for Missing Girl
Haleigh was first reported missing by her father, who made a chilling 911 call when he discovered her missing.
"I just got home from work and my 5-year-old daughter is gone," he told a dispatcher. "If I find whoever has my daughter before you all do, I'm killing them. I don't care if I spend the rest of my life in prison."
Cummings had left Haleigh and her 3-year-old brother in the care of Croslin, who was 17 at the time.
"She was sleeping right next to me," Croslin told the Palatka Daily News. "I can't believe I didn't hear anything."
Cummings told police that when he returned from work early that Tuesday morning, the back door was propped open and Haleigh was gone.
"Somebody came in my back door, broke into my home and stole my daughter," he said.
"I don't know why somebody would take her," Crystal Sheffield, the girl's mother, said at the time of her daughter's disappearance. "I'm scared for her. She is probably scared and cold and hungry."
Throughout the ordeal, members of Haleigh's family have shown dogged determination.
"If I lost hope, what does she have left then?" Ronald Cummings told ABC News' Orlando affiliate WFTV in February 2009. "Like I gave up on her? I'm not giving up on her. Never."
Florida police treated Haleigh's disappearance as an abduction, investigators said early on in the investigation, after concluding she did not simply wander off alone.
"All the world is a suspect," Det. John Merchant of the Putnam County Sheriff's Office told reporters at the time of her disappearance. "We are going to treat everybody, every family member, every associate, like a suspect until we eliminate them."
As police launched a massive search effort that included divers and K-9 units, Sheffield begged for her daughter's return.
"Whoever has her, I know you're watching," she told "Good Morning America" in February 2009. "She ain't done nothing wrong. Please bring her back."
In June 2009, vowing to leave no stone unturned, investigators dug up much of the 30-acre Glen St. Mary home of Haleigh's grandmother, Marie Griffis, but only recovered animal remains.