In the wake of the partial collapse of an Iowa apartment building, five people remain unaccounted for, including two people who may still be inside the building, officials announced Tuesday.
Officials have met with the families of the two people who may be inside, Davenport Mayor Mike Matson said, calling it an "unthinkable situation."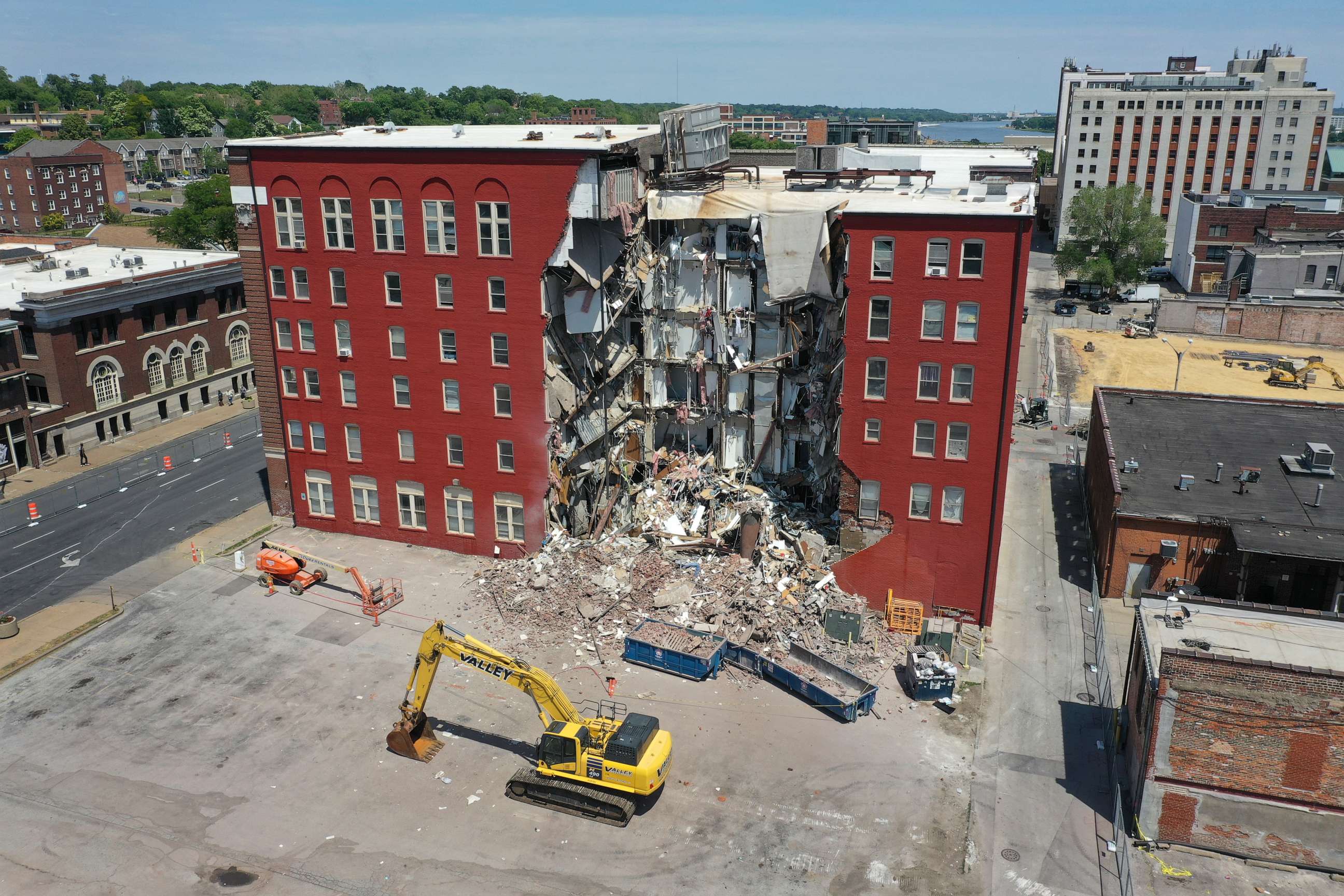 During a search Tuesday afternoon, several animals were rescued, though no human activity was detected, city officials said. The animals were delivered to the Scott County Humane Society.
"The stability of the building continues to degrade," the city of Davenport said in an update Tuesday afternoon. "The recovery of any unaccounted for individuals remains the priority of the City as operational planning progresses."
Officials initially said Monday that there was no credible information that anyone was missing and the city was moving forward with plans for staging a demolition beginning Tuesday.
Instead of beginning a demolition, officials said they would work to determine the best way to conduct another search as the building continues to worsen as time progresses.
The six-story building partially collapsed on Sunday afternoon in Davenport, a city in Iowa's Scott County located along the Mississippi River. The building housed a total of 84 apartments, including residential and commercial. The cause of the collapse is unknown.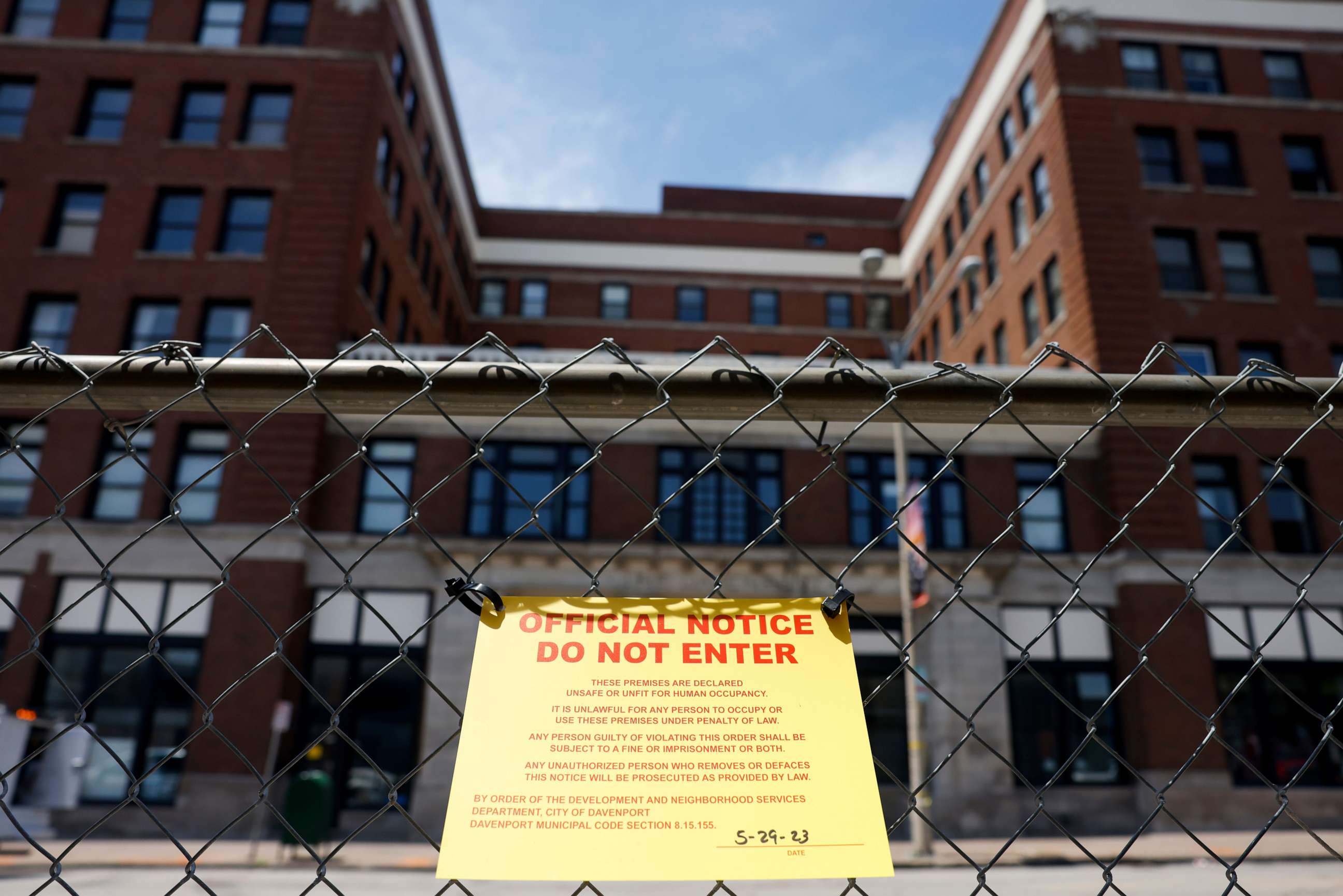 More than a dozen people evacuated the building at the time of the partial collapse and eight people were rescued in the 24 hours that followed.
Over 150 personnel took part in "extensive rescue operations," using thermal imaging, drones and a team of service dogs in an attempt to locate victims within the structure, according to city officials.
Then, on Monday night, after officials said they believed no one was missing, a ninth victim, Lisa Brooks, was found alive inside and pulled out of a fourth-story window.
Brooks told ABC News that as she waited to be rescued, "I was petrified, I was scared ... but I had to just relax. ... only thing I can do is stay by the window where the air is."
"I was just so afraid I was gonna die" and not see her children and grandchildren, she added.
A crowd of people gathered at the site on Monday, calling for "accountability" and pleading with officials to postpone demolition because they believed more survivors could be inside.
Johnnie Woods told ABC News on Tuesday that her nephew, building resident Branden Colvin, remains unaccounted for. She expressed her frustration that officials would possibly continue with a demolition as he remains missing.
"It's like burying them in the rubble," Woods said. "This is ridiculous."
"We feel like they don't care," she added. "Our relatives, loved ones don't count."
But Amy Anderson, whose relative, Ryan Hitchcock, is also unaccounted for, asked protesters to stand down at Tuesday's news conference.
"The city does have a plan," she said. "Ryan wouldn't want anyone else to put their lives at risk to [help], unfortunately, somebody who probably has not survived."
Anderson said city officials have "given us their word that they're going to treat that already collapsed area with sensitivity" to work to recover any remains.
"I plead with our community just to let the city do their job," she said. "We don't want anyone else hurt."
ABC News' Laryssa Demkiw, Andy Fies, Jessica Gorman, Ahmad Hemingway and Alex Perez contributed to this report.