— -- Iowa residents are waiting nervously as the swollen Cedar River rises steadily to its highest levels since a devastating flood in 2008 that caused some $10 billion in damages and took one life.
The river in Cedar Rapids is now 19.4 feet, a level at which major flooding can occur, officials said today.
The city's mayor, Ron Corbett, said only an estimated 50 percent of residents in lower-lying areas designated for voluntary evacuation had complied. Altogether, about 5,000 people live in the evacuation area, The Des Moines Register reported.
Corbett said he "won't drag people out but please, please leave."
"It's crunch time in Cedar Rapids," the mayor said at a news conference this morning. "The next 48 hours are the most critical, are the most dangerous."
"The next 48 hours we need 100 percent cooperation from the citizens in both the evacuation area and outside the evacuation area," he said. "I want to make sure the confidence we have doesn't let our guard down."
Authorities had asked residents living in designated evacuation areas to leave by 8 p.m. Sunday evening in anticipation of flooding. The mayor also issued a nightly curfew within the evacuation area from 8 p.m. to 7 a.m., starting Sunday evening and lasting until further notice.
The National Weather Service predicts that the river will crest Tuesday morning.
"This will likely go on record on the second-largest flood in the city's area." Jen Winter, public works director of Cedar Rapids, said at the press conference For safety, she said, "no one should be walking, biking, or driving, within this evacuation area."
The city is preparing for the worst, making preparations for "water rescues and water-based operations," by staging boats on both sides of the river.
"Waters are rising, so please remember to be safe and stay out of flooded areas," Fire Chief Mark English said. "Six inches of water can knock you down, two feet of water can sweep your car away," English said.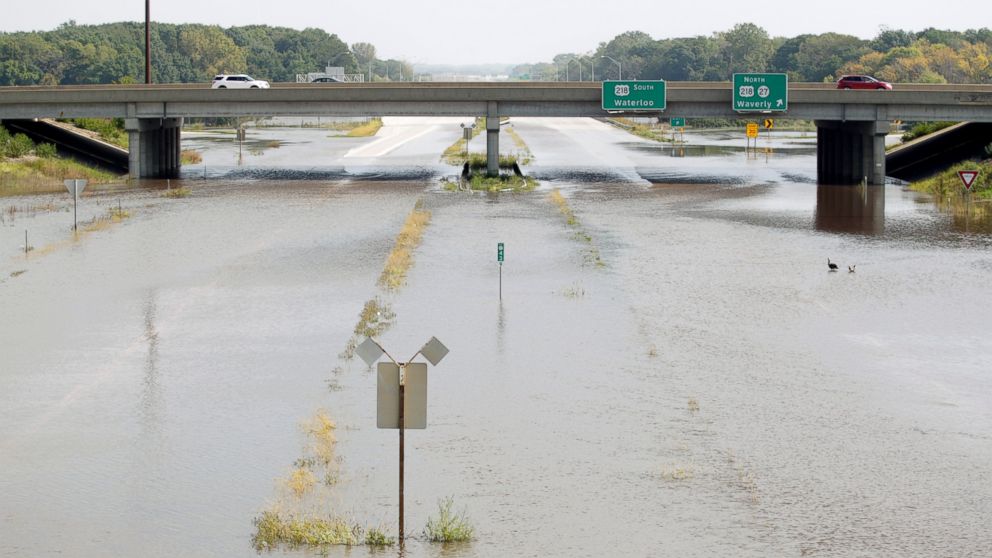 The river crested in the town of Vinton at just under 22 feet at 3 a.m. Monday, less than three feet shy of the record in 2008.
Floodwaters invaded streets, inundating homes, businesses, parks, yards and stopped traffic in parts of the town.
"I think it could have been a lot worse," resident Becci Sloan told KCRG, a local ABC affiliate, hours before the river crested. "There's going to be a lot of trash left over and a lot of wood and debris."
Emergency crews stood vigil, preparing for the worst.