The pilot who successfully landed a jetliner with malfunctioning landing gear in New York Saturday -- effectively saving the lives of more than 60 passengers and crew -- spoke publicly today for the first time to thank all those involved in what was the "most significant incident" in his 32-year flying career.
"The first people I need to thank are the crew," Jack Conroyd told reporters today. "The crew performed their duty flawlessly and with completely professionalism. ... I would like to acknowledge the excellent training that was received at Atlantic Southeast Airlines that was instrumental in preparing us to handle the emergency that we had Saturday night."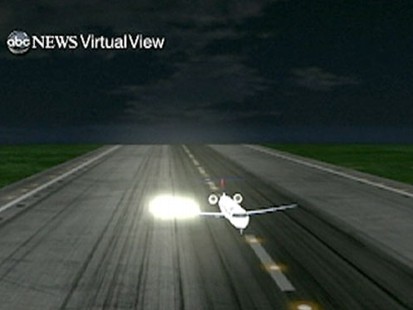 Conroyd also thanked the passengers who, he said, stayed calm throughout the incident. He spoke from in front of his Lake Mary, Fla., home with his wife Shelly at his side.
After Conroyd's brief statement, his wife told reporters it was "wonderful" to have her husband home safe.
"I have my husband and my daughter has her father," she said.
Conroyd and co-pilot Larkin Newby were the pilots of Atlantic Southeast Airlines flight 4951 which was diverted to John F. Kennedy International Airport for the emergency landing.
None of the 64 passengers on board the CRJ 900 twin-engine jet were injured and video of the harrowing skid to safety was caught on a cell phone camera of one of the passengers.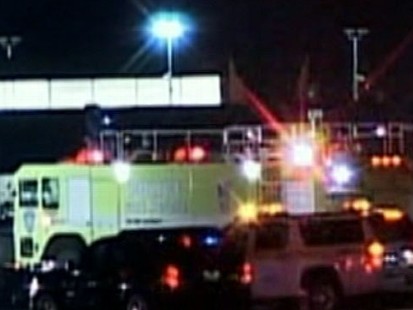 Atlantic Southeast Airlines is "extremely proud of the crew's actions," ASA spokesman Jerek Deem said Monday.
ASA is working with the National Transportation Safety Board to investigate the cause of the landing gear malfunction.
Conroyd is in line to become the most celebrated pilot since Capt. Chesley "Sully" Sullenberger landed his crippled jetliner on the Hudson River in January 2009.
Sullenberger applauded Conroyd's landing, telling the New York Daily News Monday, "I commend the crew for ensuring a successful outcome for everyone on board."
A former naval aviator, Conroyd, 55, has received a Bronze Star, a Navy Marine Commendation Medal, and five other awards. He joined the military in 1978 and was stationed in Japan and California, spending one year aboard the super carrier the USS Ranger. He obtained the rank of lt. commander and left the military in 1994 to begin a career in commercial aviation.
Conroyd's performance was also hailed by his neighbors in Lake Mary, Fla.
"He's great. He's a real nice guy," said Bill Faulkner who has lived across the street from the pilot since 1989. "It's pretty remarkable... You have no idea who you associate with and what great things they can do. He's the kind of guy I expected that from."
George Barth said he's often seen Conroyd in his pilot's uniform, and is delighted at his neighbor's success. "I'm very glad that he's okay."
When Conroyd discovered the malfunction, air traffic controllers prepared for the worst and told the crew that "emergency equipment will be standing by midfield as a precautionary measure."
'Brace for Impact'
On board the crippled regional jet, some passengers prayed and others cried as the pilot prepared for the landing.
"I said my prayers, me and Artie held onto each other and it's time to go down," said one passenger.
"Heads down, stay down, heads down, stay down," flight attendants are heard shouting to passengers in the cell phone video of the landing.
The plane landed on the left gear, and then slowly with the right wing lowered, it scraped the runway.
Sparks were visible through the window but there was no flames, no fire. No injuries were reported.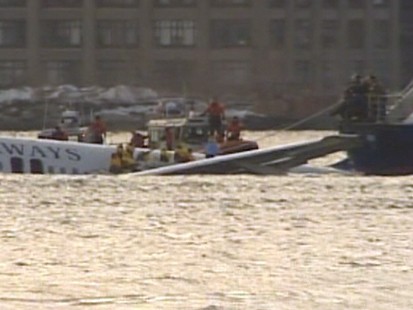 After the plane landed, passengers applauded and cheered.
To the passengers, it might have been considered a miracle but aviation experts said the pilots knew just what do.
"It was very good airmanship and frankly shows how resilient and how good aviation security is," John Nance, aviation consultant for ABC News, said Monday.
For flight attendants, their training was put to the test.
"They are taught to use their voice, be extremely affirmative, basically they become drill sergeants," said Nance.
The crew's professionalism is critical but planes have gotten increasingly safer with stronger seats, cabin material that doesn't burn as quickly to help ensure that even when something goes terribly wrong, passengers can have the greatest chance to walk away.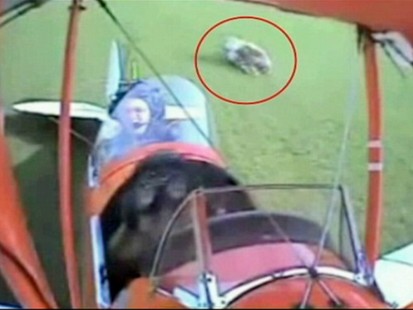 ABC News' Lisa Lampkin contributed to this report.