Multiple people killed in 'racially motivated' shooting at Dollar General in Florida
"This is a tragic moment. My heart is heavy," Councilwoman Ju'Coby Pittman said.
Three people were killed in a "racially motivated" shooting at a Dollar General in Jacksonville, Florida, on Saturday, authorities said.
All three victims were Black, and the suspect detailed a "disgusting ideology of hate" in writings, according to Jacksonville Sheriff T.K. Waters.
"Plainly put, this shooting was racially motivated and he hated Black people," Waters said of the suspect.
The gunman was armed with an AR-15-style rifle and a handgun and outfitted in a tactical vest when he shot three people -- two men and a woman -- before turning the gun on himself, according to Waters. No other injuries were reported in the shooting.
"This is a dark day in Jacksonville's history," Waters said. "As a member of this Jacksonville community, I am sickened by this cowardly shooter's personal ideology of hate."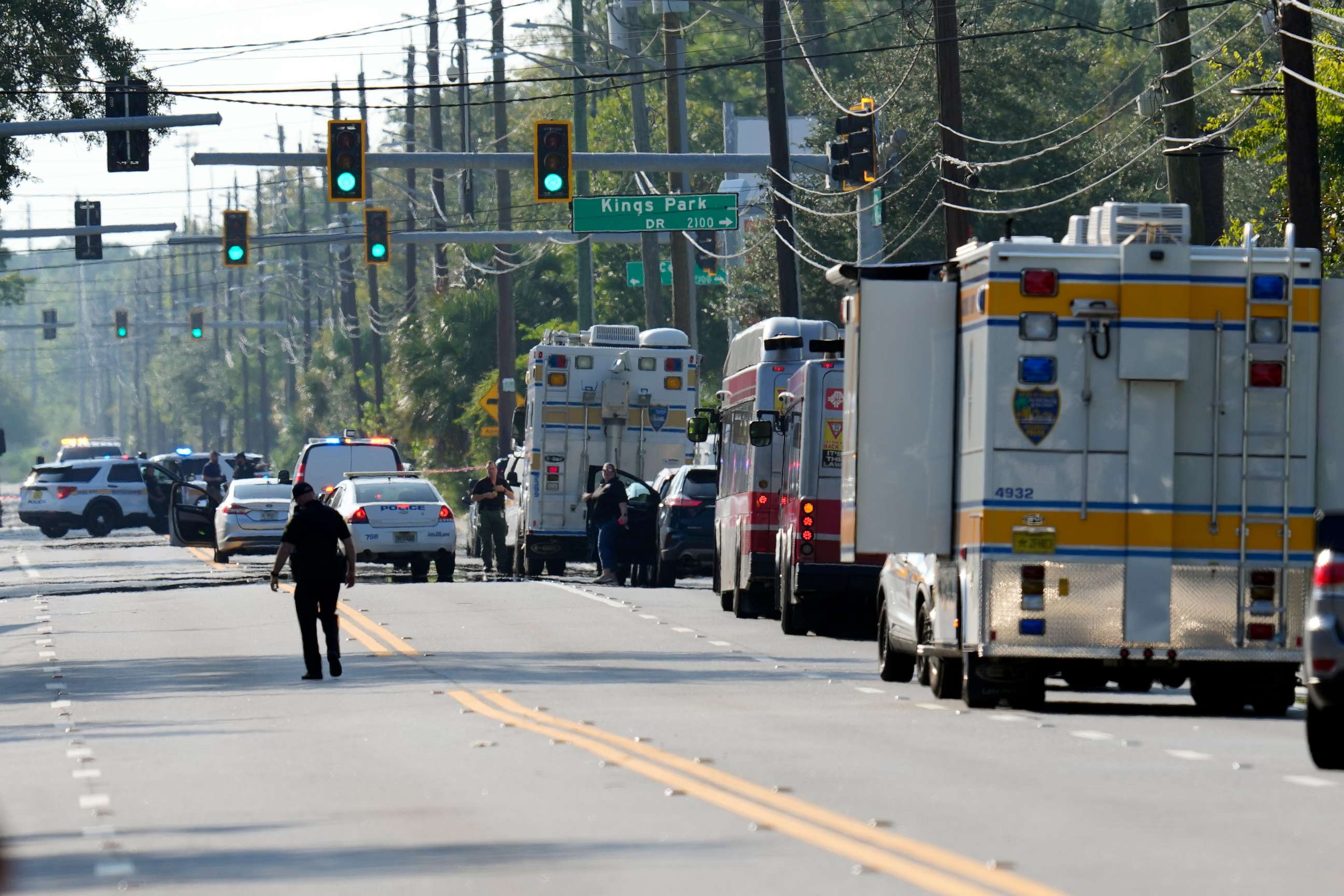 The suspect has not been officially identified at this time, Waters said, who described him as a white man in his early 20s. He acted alone and there is no evidence he was part of any group, the sheriff said.
The sheriff shared photos of the guns used in the shooting, one of which appeared to have swastikas on it.
"We must do everything that we can to dissuade this type of hate," Jacksonville Mayor Donna Deegan told reporters. "I can't even be able to tell you how frustrating this is for all of us because we've seen it too much."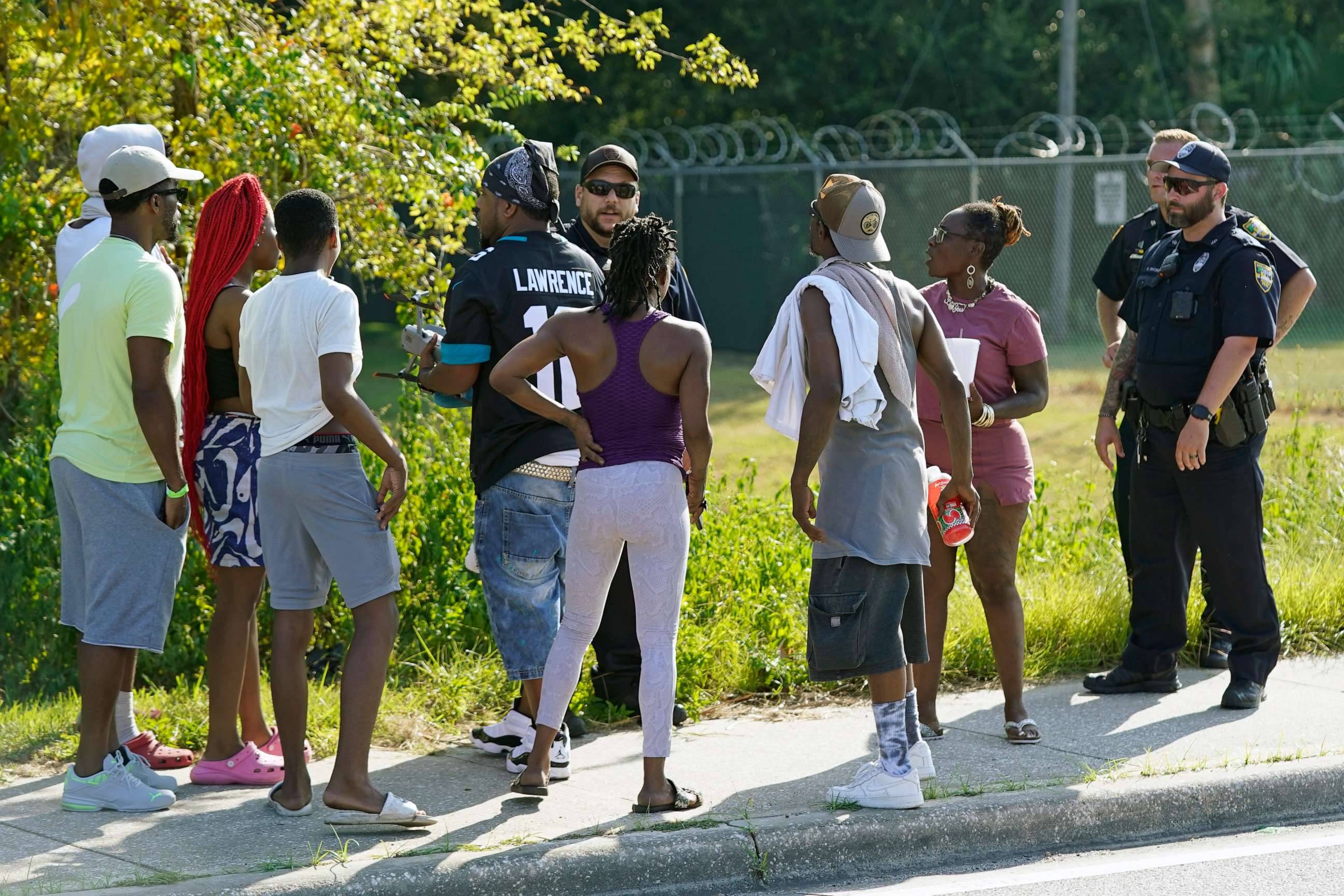 The suspect is believed to have lived in Clay County with his parents and texted his father before the shooting, the sheriff said.
"At 1:18 p.m. he texted his father and told his father to check his computer," Waters said. "At 1:53 p.m. the shooter's family members called the Clay County Sheriff's Office. By that time, he had already began shooting in Jacksonville."
Deegan noted the shooting comes exactly five years after a mass shooting that occurred at a video game tournament in Jacksonville, in which a gunman shot and killed two people and injured nearly a dozen others before killing himself. The suspect in the Dollar General shooting reportedly referenced that incident in his writings, the mayor said.
"This was a hate-filled crime. And we just shouldn't have that kind of hate in Jacksonville," Deegan said.
The incident prompted a heavy police presence on the city's westside.
Edward Waters University, a private historically Black Christian university, confirmed that a security officer engaged the suspect prior to the shooting when he appeared in the vicinity of the Centennial Library on campus. The suspect refused to identify themselves and was asked to leave, EWU said. The incident was reported to Jacksonville Sheriff's office by EWU.
EWU issued a public safety alert alerting students to the shooting, which occurred near its campus. Students were kept in their residence halls until the scene was cleared, the alert said.
The university also expressed its condolences over the shooting.
"EWU stands in opposition to hate-filled crimes against minorities and other targeted groups, and we are deeply impacted and will not condone these types of actions in our community," EWU said in a statement.
Jacksonville Councilwoman Ju'Coby Pittman told ABC Jacksonville affiliate WJXX how the tragedy impacted the community.
"This is a tragic moment. My heart is heavy," Pittman said. "The people in this community, they're hurting -- and they have every right to. This makes no sense. I am very, very angry right now."
"It's unjust that we can't even walk on the sidewalk because we're not safe in any stores," she continued.
The FBI Jacksonville field office is assisting, according to an FBI Jacksonville spokesperson. The incident is being investigated by the FBI as a hate crime, an official said.
"The FBI Jacksonville Field Office is coordinating with the Justice Department's Civil Rights Division and the U.S. Attorney's Office for the Middle District of Florida on the tragic shooting in Jacksonville, Florida. The FBI has opened a federal civil rights investigation and we will pursue this incident as a hate crime. The FBI will bring every resource to bear in this investigation. As this is an ongoing matter, we are not able to provide additional information at this time," the FBI said in a statement.
Homeland security Secretary Alejandro Mayorkas said he's spoken to the Mayor of Jacksonville and has offered resources to the city.
"Too many Americans – in Jacksonville and across our country – have lost a loved one because of racially-motivated violence. The Department of Homeland Security is committed to working with our state and local partners to help prevent another such abhorrent, tragic event from occurring," Mayorkas said in a statement.
Florida Gov. Ron DeSantis called the shooting a "very cowardly act."
"This shooting based on the manifesto that they discovered from the scumbag that did this was racially motivated," he said in a video statement. "He was targeting people based on their race. That is totally unacceptable."
The Anti-Defamation League condemned the attack, which occurred as the 60th anniversary of the March on Washington, a prominent moment in the Civil Rights Movement, was being marked in Washington, D.C.
"That this attack occurred while tens of thousands gathered in our nation's capital for the 60th anniversary of the March on Washington, serves as a painful reminder of how much work needs to be done to realize Dr. King's Dream," the ADL said in a statement.
Rev. Al Sharpton, Martin Luther King, III, Arndrea Waters King issued a joint statement with Jonathan Greenblatt, CEO of ADL.
"This hate is abhorrent, detestable, beyond humanity, and must be condemned by all. We all need to come together in solidarity in standing up to the evils of white supremacy and intolerance of all forms. Such bigotry should have no place in our society. And it is a reminder that the hate-fueled violence that Dr. King called out sixty years ago and that we condemned today from the steps of the Lincoln Memorial, aren't antiquated concerns, but remain a clear and present danger that threatens us all," the statement said.
ABC News' Matt Foster, Bernie Lubell, Luke Barr and Will McDuffie contributed to this report.