— -- For Kim Davis, the Kentucky county clerk in jail for refusing a judge's order to issue marriage licenses to same-sex couples, she herself holds a jailhouse key.
Davis, who was taken into custody Thursday, could be released as soon as she complies with U.S. District Judge David Bunning's order to resume issuing licenses in Rowan County.
"With civil contempt, you hold the jailhouse key," Howard Wasserman, law professor at Florida International University College of Law, told ABC News. "As soon as you comply, you are let out of jail."
But Davis' attorney Matthew Staver said this afternoon she "has no intention to resign."
"She will never violate her conscience," Staver said, adding that he does not know how long she will be jailed.
Professor Wasserman says he believes Bunning chose jail for Davis because "the less severe sanction of monetary fines would not have been sufficient to get her to comply. So the judge concluded that this was the only sanction he had left."
Whatever the judge's thinking, Davis' lawyer Staver said he believes Bunning had already decided to incarcerate Davis before court testimony Thursday.
Either way, Davis' options appear to be to comply, resign or stay in jail, Wasserman said, adding that it's unclear what will happen next. But Wasserman noted that it seems as though Davis is "benefiting in an odd way from being in jail."
"I wouldn't say she wants to be there ... [but] for her cause, this is actually an advantageous thing," Wasserman said. "Because she has been a martyr to this cause. She has presidential candidates talking about [her as a] victim in a war against Christianity ... and how she's a victim of being the first person ever put in jail for adhering to their conscience, which is not true."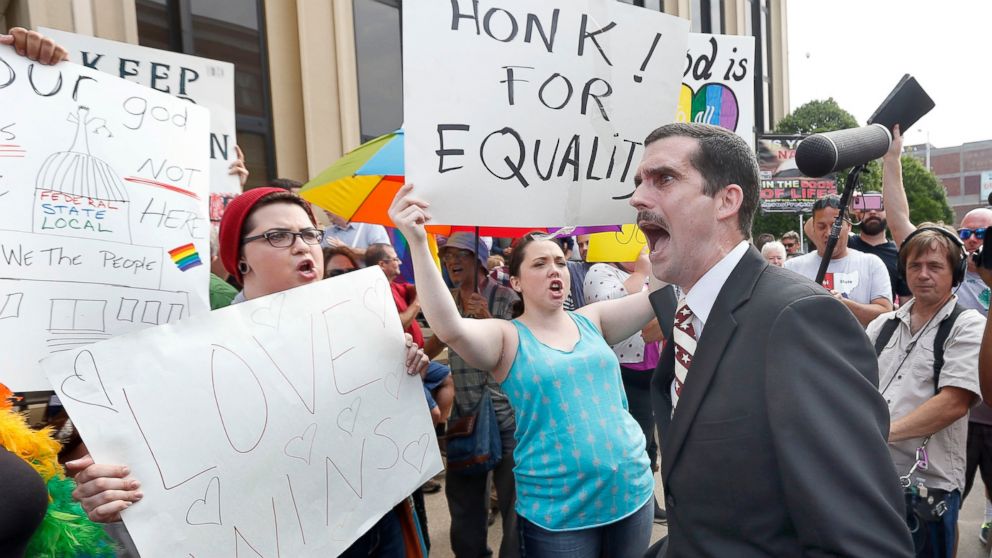 Judge Bunning also has options.
Five of Davis' deputies said under oath they would comply with the court's order to issue the licenses. A sixth clerk, Kim Davis' son, remains a holdout but has not been jailed.
If the other clerks in Rowan County continue to comply with issuing marriage licenses like they have today, Bunning might "lift the contempt citation, which would let [Davis] out of jail," Wasserman said.
But, Wasserman said, Bunning is likely concerned that if he lifted the contempt citation, Davis will go back to work and immediately order her clerks to stop issuing licenses.
"And we'll end up right back where we started," Wasserman said. "I don't think he [Bunning] is going to want to end up right back in the same place."
Davis' lawyer Staver called Thursday's court session a "charade" during a news conference this afternoon and said Davis will appeal the contempt order. He said the marriage licenses handed out in Rowan County today are void and "not worth paper that they are written on," although the Rowan County Attorney's Office said Thursday in court it would consider the licenses valid even without Davis' signature. Judge Bunning declined to address the issue.
Deputy clerk Brian Mason today initialed at least one of the licenses on the line where Davis would have normally signed.
Kim Davis' husband, Joe Davis, told reporters that Davis will stay in jail "as long as it takes."
Davis, an Apostolic Christian who won office last year as a Democrat, wept during her testimony in federal court Thursday, telling the judge she was "always a good person" but that she gave her heart to the Lord in 2011 and "promised to love Him with all my heart, mind and soul because I wanted to make heaven my home."
"God's moral law conflicts with my job duties," Davis told the judge before she was taken away by a U.S. marshal. "You can't be separated from something that's in your heart and in your soul."
The Associated Press contributed to this report.