— -- Ray Rice's wife Janay has been forced into the spotlight where she has adamantly defended her husband and her family despite a video showing her getting knocked to the floor of a hotel elevator.
Janay and Ray Rice grew up in neighboring New York City suburbs. She was in Mount Vernon while he lived in New Rochelle. She enrolled in Towson University in Maryland in 2008 to be with Rice after he was drafted out of Rutgers University by the Baltimore Ravens.
That football career may have come to an end with release of a video showing Rice knocking out his then-fiancee in an Atlantic City elevator. But that video has also put Janay Rice and her relationship with her husband in the spotlight.
Janay Rice, 26, has used that spotlight to staunchly defend her husband and their relationship and to decry the decision to ban him from the NFL for hitting her.
Ray Rice in 'Good Spirits' and 'Staying Strong for My Wife'
Ray Rice's Nike Contract Canceled Over Punch Video
After Ray Rice Video, Women Explain #WhyIStayed
"To take something away from the man I love that he has worked his a** off for all his life just to gain ratings is a horrific [sic]. THIS IS OUR LIFE!" she wrote in an Instagram posted today.
She repeated her defense of her husband today in a brief interview with ESPN, saying, "I love my husband. I support him. I want people to respect our privacy in this family matter."
While her husband, 27, starred on the Ravens, Janay Rice attended Towson College and was known as Janay Palmer. The school said she graduated in December 2013 with a major in communications studies. During that time the couple had a daughter, now 2, that they named Rayven -- a nickname given to Ray Rice when he was drafted by the Baltimore team in 2008.
Janay Rice first came to the public's attention in March when a hotel surveillance video emerged showing Ray Rice dragging her unconscious out of the elevator Revel Casino Hotel in Atlantic City on Feb. 15.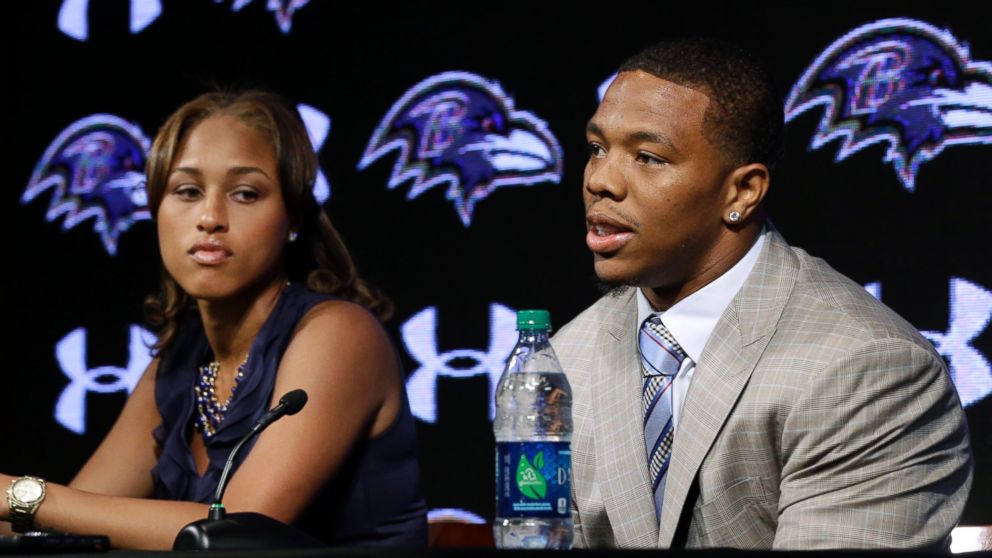 The couple appeared together at a press conference held by the Ravens on March 23, where Ray Rice said that they had been through marriage counseling and were determined to strengthen their relationship.
"Me and Janay together, what counseling has done for us, we want the world to see that it definitely did help us out," he said at the time.
He thanked his family for their support and singled out his future father-in-law: "Mr Palmer, the father I never had, thank you for teaching me to be a better man."
His fiancee sat next to him and calmly, clearly read a statement she had written for the occasion.
"I do deeply regret the role that I played in the incident that night, but I can say that I am happy that we continued to work through it together," she told the press conference. An unedited version of the video in the elevator which circulated Monday appeared to show that Janay and Ray Rice exchanged obscenities and that she spit in his face before he hit her.
"I love Ray and I know he will continue to prove himself," she said at the March press conference.
Just six days after she made her public statement, The Baltimore Sun reported that the couple got married even though there were earlier reports that they would get married in June.
Janay has remained strong in her defense of her husband and her family, reiterating her commitment in her Instagram post today.
"If your intentions were to hurt us, embarrass us, make us feel alone, take all happiness away, you've succeeded on so many levels. Just know we will continue to grow & show the world what real love is! Ravensnation we love you!" she wrote.