— -- One do-gooder from New Jersey got a very magical surprise of his own on "Good Morning America" today with help from his idol, magician David Copperfield.
Chad Juros, 27, is a child leukemia survivor who has established a foundation called "Spread the Magic" where he travels the world performing magic for children with cancer "in the hopes that they can find magic in their lives as Chad did in his," Juros' mother, Penny Juros Bilker, told ABC News.
"The day Chad was born was such a wonderful, magical day for our family," Juros Bilker, 57, of Egg Harbor Township, New Jersey, said about her son. "He was a very sweet, kind, loving, energetic, happy-go-lucky kid."
But when Juros, also of Egg Harbor Township, was only 3, he was diagnosed with acute lymphoblastic leukemia.
"It was absolutely devastating," his sister, Faith Maelis, 29, said. "It changed our lives forever. My dad wanted to provide Chad with a distraction so he would bring little bedside magic tricks, whether it would be a deck of cards or using sleight of hand, and my brother was really entertained by it."
Then more tragedy struck. As soon as Juros was considered in remission and released from the hospital in 1998, his father, Don Juros, was diagnosed with a malignant brain tumor and died two years later, in 2000.
"The doctors came to me and said, 'He has brain cancer,'" Juros Bilker recalled. "His dying wish was for him [Juros] to continue to spread the magic across the world in the hopes that everyone can find the magic in their life the way Chad did his."
That's exactly what Juros has made his life's mission to do, performing magic at hospitals across the country and for foundations to raise money for pediatric cancer patients.
But for Juros, there's one man in the magic business whom he finds especially magical, the legendary magician David Copperfield.
"Since Chad was a little boy he's always idolized him, looked up to him, wanted to be like him," Juros's mom said.
Juros has met Copperfield before and when his idol heard that his stage name was The Magical Chadkazam, Copperfield told him to get rid of that name and "just go back to the magic of Chad Juros."
In Atlantic City, New Jersey, Thursday, "GMA" surprised Juros under the cover that he was at Bally's Atlantic City Hotel and Casino to perform a magic show. Instead, Juros was whisked away in a limousine, driven by the one-and-only David Copperfield.
Copperfield drove Juros and his mother to an Atlantic City beach where "GMA" had commissioned aerial artist John Quigley to create a human sculpture of an old photo of Juros and his dad. The people in the sculpture were all friends and family of Juros and others whose lives he has touched.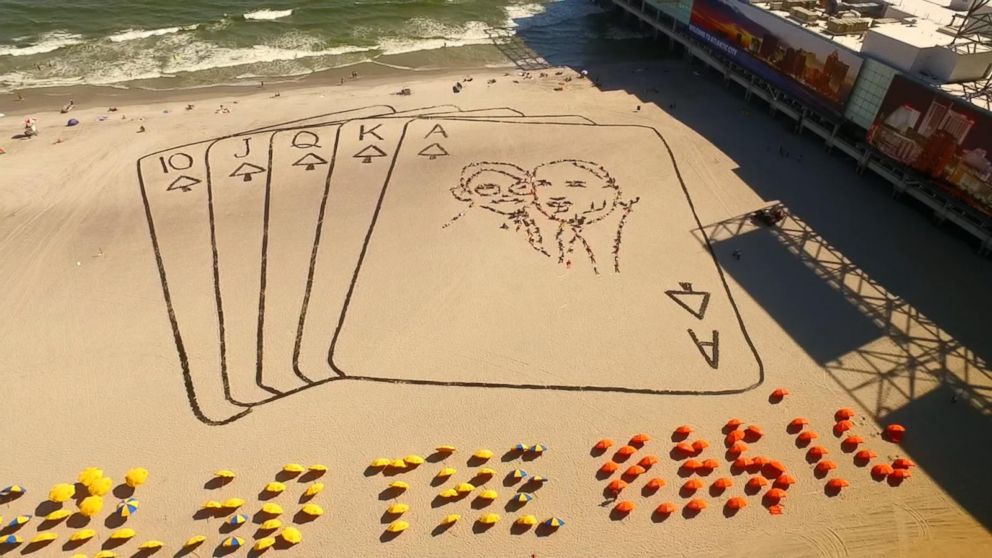 "I'm in complete shock. This is absolutely unbelievable," Juros said of the surprise unveiled by his magician idol. "The image itself was powerful but then knowing that it was created by family and friends was even more powerful."
Copperfield, whose own foundation, Project Magic, also uses magic as a form of therapy, met Juros again today for another surprise, this time in Times Square.
Juros was shocked when Copperfield surprised him with a trip to Las Vegas to see his magic show and tour his museum, but a bigger surprise was still to come.
When Juros walked out into the middle of Times Square, he learned that he had been given a brand new car by Ford to replace the "mom van" he uses to haul his magic supplies from hospital to hospital.
"What is happening," Juros said while taking a seat in his new Ford Explorer Platinum. "Thank you so much."
The new car will give Juros a chance to see more children like 10-year-old Carter Suozzi, one of the countless hospital patients for whom Juros has made a difference.
"I met Chad by him coming to my birthday in my hospital room to do some magic tricks and he asked if I wanted to see some magic and I was like, 'Yes!'" Carter told ABC News. "He made me happy on a day that was probably supposed to be crappy. I had a fever.
"He's like my Superman. He's like Spider-man. He's like Batman, all the super heroes because he is that amazing," Carter said.