New Jersey Police Chief on Leave After Email Allegedly Defending Racial Profiling Surfaces
Wyckoff Police Department chief said to check out "suspicious black people."
— -- A New Jersey police chief has been placed on administrative leave during an investigation into an email he allegedly wrote in 2014 defending racial profiling that recently surfaced.
During an emergency township meeting Tuesday, Wyckoff Police Department Chief Benjamin Fox requested the immediate leave while he is investigated by the Bergen County Prosecutor, according to a statement issued by the Township of Wyckoff.
In the 2014 email to dozens of recipients, made public by the American Civil Liberties Union of New Jersey, the sender, identified as "CHF BENJAMIN C FOX," appears to justify profiling in policing tactics.
"Profiling, racial or otherwise, has it's [sic] place in law enforcement when used correctly and applied fairly," the email reads.
The email suggests that black gang members from the nearby township of Teaneck rob white neighborhoods in Wyckoff, and white kids buy heroin from black neighborhoods in New York City.
"That's why we check out suspicious black people in white neighborhoods," the sender wrote. "That's why the NYPD stops those white kids."
The email, dated Dec. 5, 2014, came in the midst of national racial tensions following the death of Michael Brown, a black teen who was unarmed when he was shot by white Ferguson Police Officer Darren Wilson in August of that year.
"I think that most police officers are finding the national rhetoric about police abuse and racial profiling quite upsetting," the first line in the email reads.
The sender of the email goes on to say that suspects resisting arrest was a "common thread" in incidents that had recently been featured in national media coverage.
"That resistance then creates your counter reaction," the email states. "We don't run from fights."
The sender ended the email by promising "100 percent support" should anyone complain about officers correctly dealing with those who resist arrest.
"If you have done your job correctly, they don't want to get me on the other end of the phone," it reads.
The email also states: "Continue to be fair with people and treat them with respect" and "Above all, do what you have to do and that which the law allows you to do to remain safe."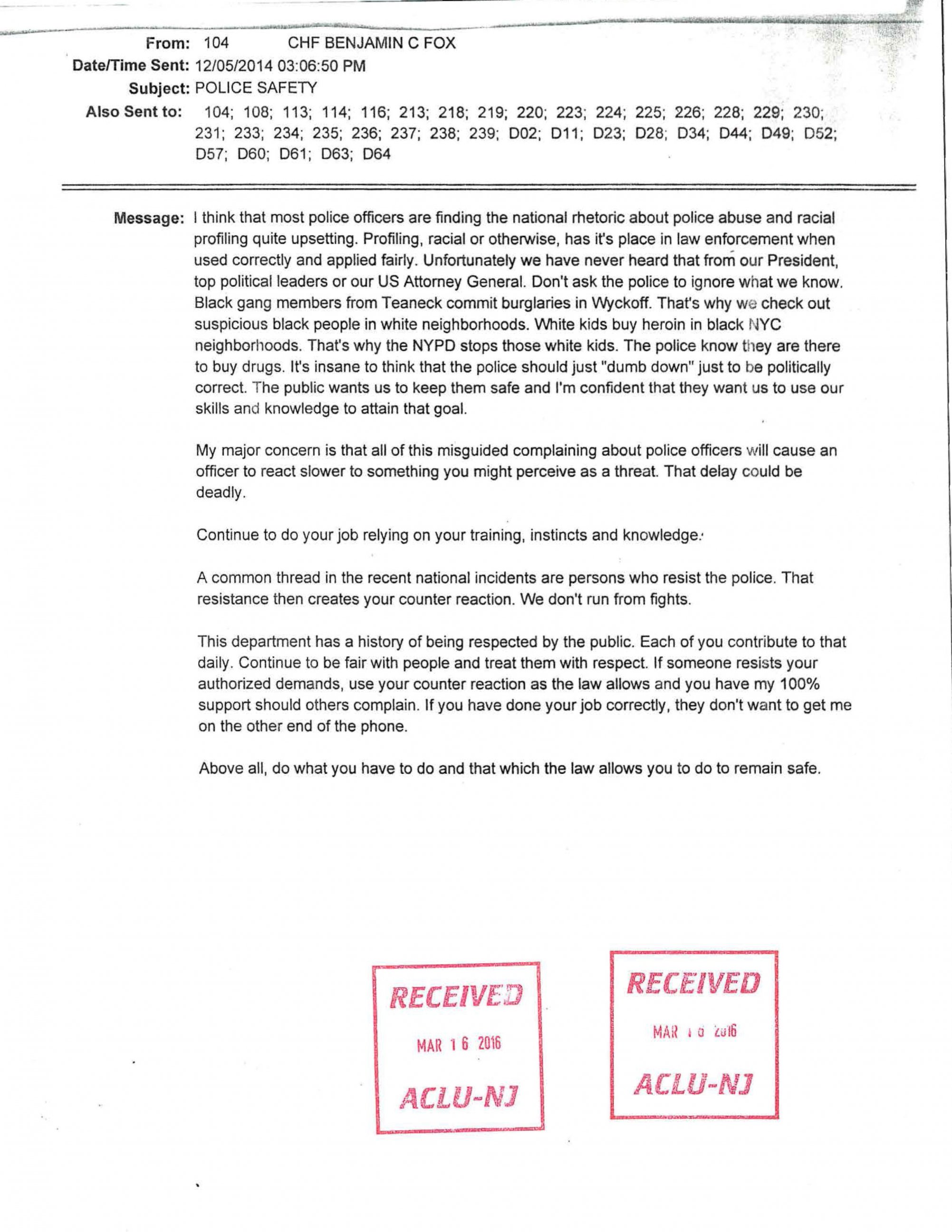 Acting New Jersey Attorney General Robert Lougy said in a joint statement with the Bergen County Prosecutor on Tuesday that "the email appears to be a clear violation of the Attorney General's policy strictly prohibiting racial profiling by police officers. We are conducting a full investigation and will take all appropriate measures."
Neither office immediately responded to a question from ABC News regarding whether the email's author has been determined to be Fox, though the township's statement refers to Chief Fox's having the opportunity to discuss "his email" with the prosecutor's office.
Chief Frank D. Regino, president of the Bergen County Police Chiefs Association, said it supports the Attorney General's guidelines on racial profiling and does not condone targeting individuals based on race, creed, religion, national origin or ethnic background. The association will not be offering further comment until the investigation is complete, Regino said.
The ACLU of New Jersey released a statement calling for Fox to be fired if he is found to be the author of the email.
"Racial profiling has no place in New Jersey, and if Chief Fox sent the email in question, then he must be held accountable," ACLU-NJ Executive Director Udi Ofer said. "But removing one chief will not ensure accountability over police departments. This is a wake-up call for New Jersey to implement stronger oversight and transparency in policing practices across the state."
The president of the Bergen County NAACP, Anthony Cureton, said in a statement that the email is incendiary and promotes distrust in the African-American community.
"Using profiling as a justification to combat crime in law enforcement encourages bias policing and is insulting to ... all officers that do the job with true intentions of serving and protecting ALL people," Cureton said.
Fox did not immediately respond to ABC News' request for comment.