Joey Chestnut wins 16th hot dog eating contest after storm delays event
The victory marked eight consecutive wins for Chestnut.
Joey Chestnut won the Nathan's Famous Hot Dog Eating Contest for the 16th time on Tuesday, adding to his record for the most career championships of any eater in the contest's roughly 50-year history.
Chestnut, who goes by the nickname "Jaws," ate 62 hot dogs in 10 minutes at the annual July 4th event on Coney Island in Brooklyn, New York.
Torrential rain and lightning delayed the start of the competition by two hours but did not alter the expected outcome for Chestnut, who entered the contest a heavy favorite.
The victory marked eight consecutive wins for Vallejo, California-native Chestnut. He first entered the contest in 2005 and has not suffered a defeat since 2015.
The runner up Geoffrey Esper, of Oxford, Massachusetts, ate 49 hot dogs.
While dominant, the performance by Chestnut fell 14 hot dogs short of his record set in 2021. He has eaten more than 70 hot dogs and buns in six contests, data collected by ESPN showed.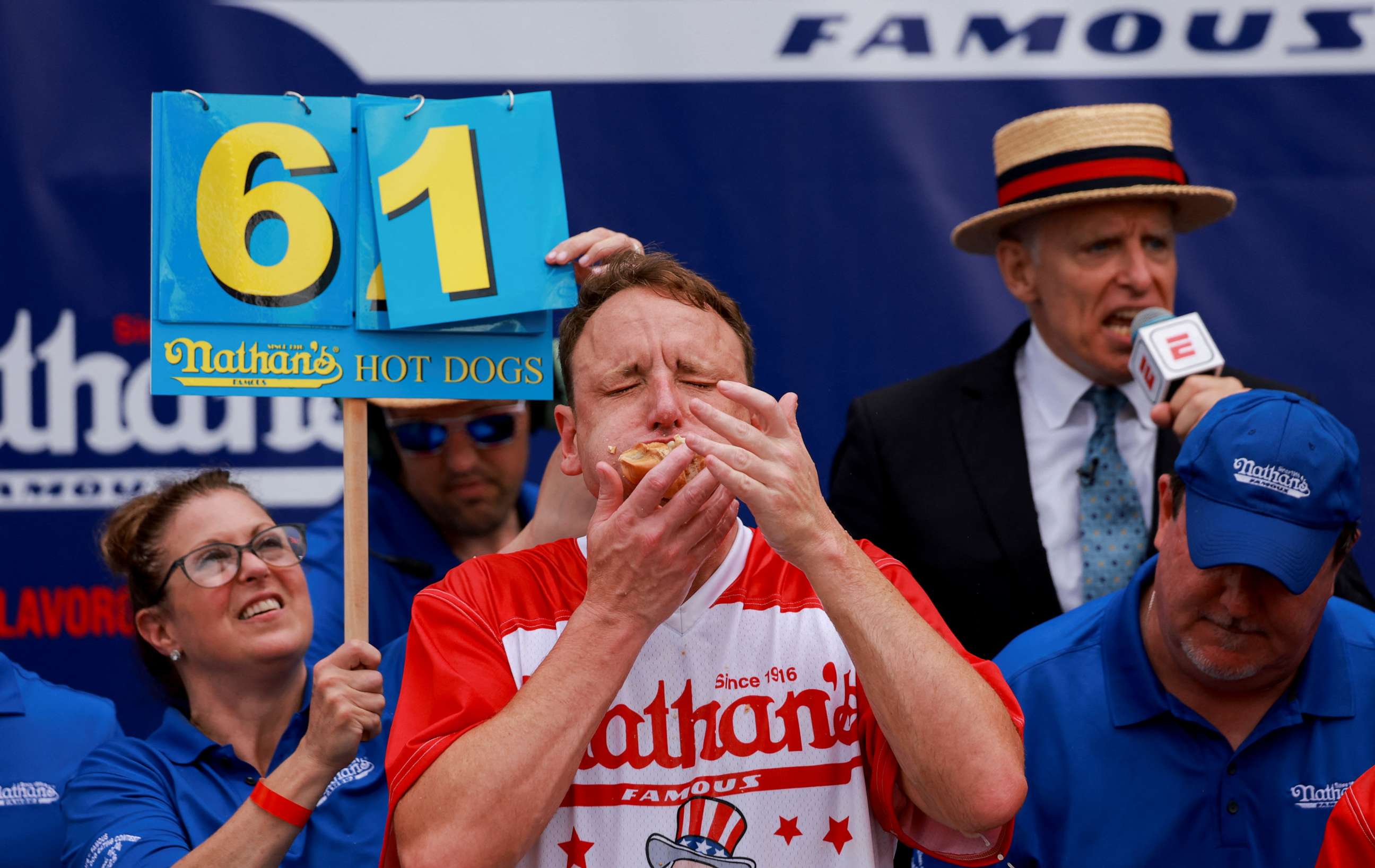 Due to the storm, contest officials told the participants earlier on Tuesday that the event had been canceled, Chestnut said in an interview with ESPN after the event.
"What a rollercoaster emotionally," said Chestnut. "I wasn't even sure if we were going to eat today."
"I'm just happy," he added. "It's 4th of July and I got to eat some hot dogs."
In the women's division, Miki Sudo ate 39.5 hot dogs en route to her ninth consecutive championship. The second-place finisher, Mayoi Ebihara, ate 33.5 hot dogs.
Sudo, of Port Richey, Florida, said the stiff challenge from Ebihara distracted her.
"The first couple minutes, I found myself watching her, which I never want to do. I never want to be distracted by the other competitors," Sudo said after the event, the Associated Press reported.
"Watching her, I fumbled my hands. I got stuck with a big burp early on but was able to correct," Sudo added.