A judge in Connecticut has ruled cheerleading is not a sport -- and universities therefore cannot direct money to the activity to meet federal gender-equality regulations.
U.S. District Judge Stefan Underhill ruled Wednesday that Quinnipiac University violated the law when it pulled funding from its women's volleyball team to support a competitive cheerleading squad.
"I conclude as a matter of law that Quinnipiac University discriminated on the basis of sex during the 2009-10 academic years by failing to provide equal athletic participation opportunities for women," Underhill wrote in his ruling.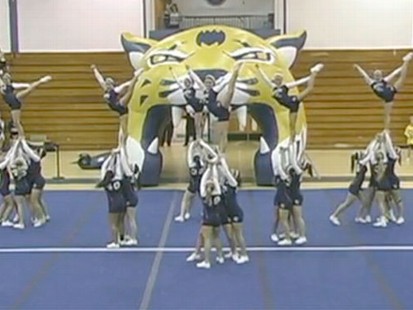 The volleyball team sued the school, claiming that redirecting money intended for women's sports teams to a cheerleading squad violated Title IX, the groundbreaking civil rights legislation that mandates men and women's athletic program receive equal funding.
The school claimed modern competitive cheerleading is a sport and it could therefore count the squad's members as women athletes.
The judge, however, found the activity did not yet meet the criteria to be defined as a sport under Title IX, calling it "underdeveloped and disorganized."
"Specifically, I hold that the University's competitive cheerleading team does not qualify as a varsity sport for the purposes of Title IX and, therefore, its members may not be counted as athletic participants under the statute," Underhill wrote in his decision.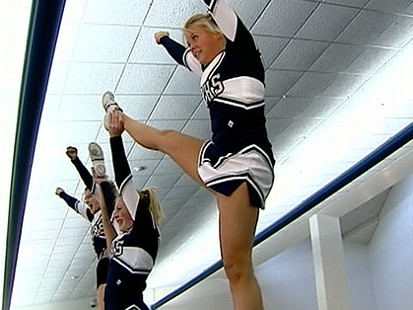 "Competitive cheer may, sometime in the future qualify as a sport under Title IX; today, however the activity is too underdeveloped and disorganized to be treated as offering genuine varsity athletic opportunities for students," he wrote.
The judge gave Quinnipiac 60 days to come up with a plan to keep the volleyball team and comply with gender rules.
Though Quinnipiac, located in Hamden, Conn. and known more for its political polling than its athletics programs, is a private school, it receives some federal funding and is therefore subject to Title IX requirements.
Judge: Cheerleading Not a Sport, University Cannot Use Squad to Satisfy Federal Law
The case became a cause celebre for women's sports activists, who said the school would never attempt to justify pulling funding from a men's team to fund cheerleading.
"No one wants to denigrate cheerleading, but should it be considered sport at the expense of legitimate women's competitive team sports? It's a question of equality," said Mary Jo Kane, director of the Tucker Center for Girls and Women in Sports at the University of Minnesota and a Title IX expert unaffiliated with the case.
"How would people react if the school cut a men's sport like baseball or lacrosse and used those funds for a male cheerleading squad?" she asked.
School officials argued that the benefit of a competitive cheer team is more athletic opportunities for women at a lower cost. Quinnipiac's cheerleading team cost the school about $1,250 per roster spot, the school testified last year. The squad currently has 30 members. The volleyball team cost more than $6,300 per team member, with 11 players in 2008-09 and a budget of more than $70,000, according to the testimony.
The player also said in their suit that the university has a pattern of discriminating against women athletes and manipulating rosters to appear to be in compliance with Title IX.
The school, they claimed, overcounts its female runners. Women who run track, they claim, are counted on the rosters for indoor track, outdoor track and cross country, even though all those sports are essentially one team.
In order to make it look as if it had eliminated men's teams to balance the total number of opportunities available, the school eliminated men's outdoor and indoor track, but kept the same number of male runners, competing for a single track team.
The judge found that the school had manipulated its rosters to make it appear there were an equal number of male and female athletes.
"Although that roster management is insufficient to conclude Quinnipiac violated Title IX as a matter of law, it supports the ultimate conclusion that the University is not offering equal participation opportunities for its female students," Underhill wrote.