— -- Many are in mourning and calling for faster prison reform in the U.S. following the recent death of Kalief Browder, who took his own life on Saturday while at his mother's home in the Bronx. He was 22.
Browder spent three years as a teenager at Rikers Island -- two years in solitary confinement -- while waiting for a trial after police accused him of stealing a backpack in May 2010. Browder was released in June 2013 when the charges against him were dismissed.
New York City Department of Correction Commissioner Joseph Ponte told ABC News today that Browder's death is a tragedy.
"During this difficult time, my thoughts and prayers are with Mr. Browder's family, to whom I extend my heartfelt sympathy," he said in a statement.
New York City Mayor Bill de Blasio said on Monday that Browder's "tragic death is a reminder that we must continue to work each day to provide the mental health services so many New Yorkers need."
In an interview last July, Browder told ABC News that he was held at Rikers for three years because his mother could not afford to pay his bail, set at $3,500, and a trial kept getting delayed.
"Only thing on my mind was that I gotta go home, I didn't do this," said Browder, who was 16 when he was first incarcerated at Rikers. "Now, I'm in jail around these grown men and they're, you know, they're fighting each other. I don't know. It was like hell on Earth."
Browder added he was beaten, stomped on and hit with weapons by correction officers.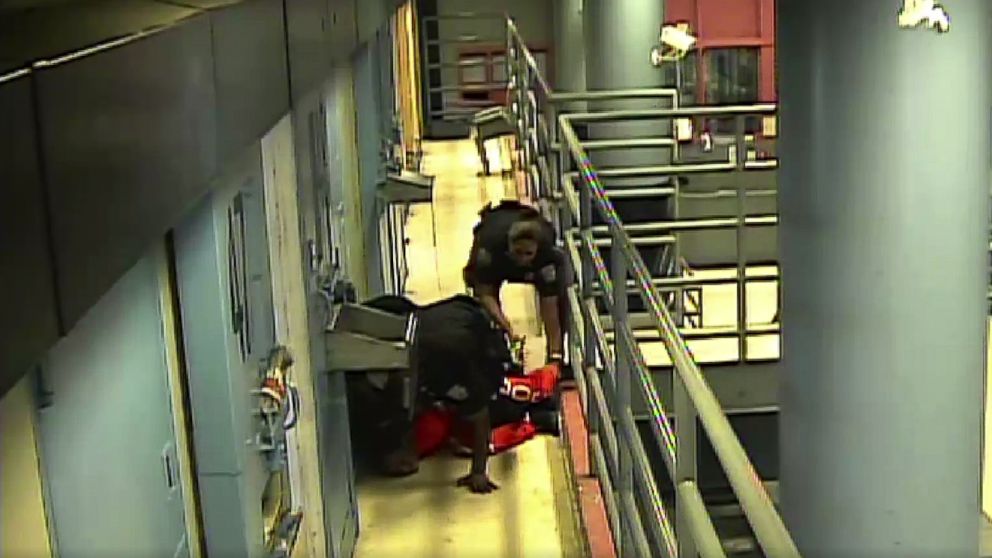 "They cuffed me to the back, and they were just beating on me while I was in the cell," he said.
Browder was put back in the spotlight this past April when surveillance footage from his time in Rikers was released.
In the video, reportedly from Sept. 23, 2012, a guard can be seen arriving at Browder's cell to escort Browder to the shower, The New Yorker reported.
After a few seconds, the guard appears to slam Browder, who is handcuffed, to the ground and then hold him down. Two more guards appear to run up to the guard and Browder.
The video is then followed by footage, reportedly from Oct. 20, 2010, after Browder punched a reputed gang leader at Rikers who spat on him, according to The New Yorker.
A group of inmates can be seen on the video attacking Browder, who appears to be punched and kicked to the ground. Two guards then appear in the video, and they seem to try unsuccessfully to stop the fight. After some time, the video shows Browder being put into another room, where he is seen walking around with his hands to his head.
After a few minutes, another inmate can be seen kicking in the door to the room Browder is isolated in, and the group is seen trying to beat him again. At the end of the footage, guards finally get the inmates out, and Browder kneels on the floor, facing the wall with his hands behind him, as armored officers walk in.
Despite the ordeal Browder endured during his time in Rikers and multiple suicide attempts, Browder made incredible progress, his lawyer Paul Prestia said today.
"Just recently, he finished a semester at Bronx Community college with a 3.5 GPA," Prestia told ABC News. "He was looking forward to working this summer."
De Blasio said he and his wife Chirlane McCray were deeply saddened by Browder's death.
The "Browder family lost a beloved son and brother," de Blasio said in a statement Monday. "Kalief's story helped inspire our efforts on Rikers Island, where we are working to ensure no New Yorkers spend years in jail waiting for their day in court."
Prestia told ABC News he remains cynical and optimistic at the same time.
"I'm cynical because it was the system that essentially killed him and the fact that so many young men have gone through this already, so it's hard for me to believe changes can be implemented so quickly," he said. "However, if there was a time to start, it would be now."
"We'll pick up the pieces, we'll go forward and fight for justice because we don't have a choice," Prestia added. "That's what Kalief would have wanted. Kalief wouldn't have it any other way. We're optimistic that ultimately, there'll be a silver lining for his family, his city and this country."
Prestia said Kalief's funeral is tentatively scheduled for next Tuesday, but he is not sure if it will be open to the public.