Kansas Cop Feeds Baby After Helping Seizure-Stricken Mom
Officer Andy Black says he was just doing his job.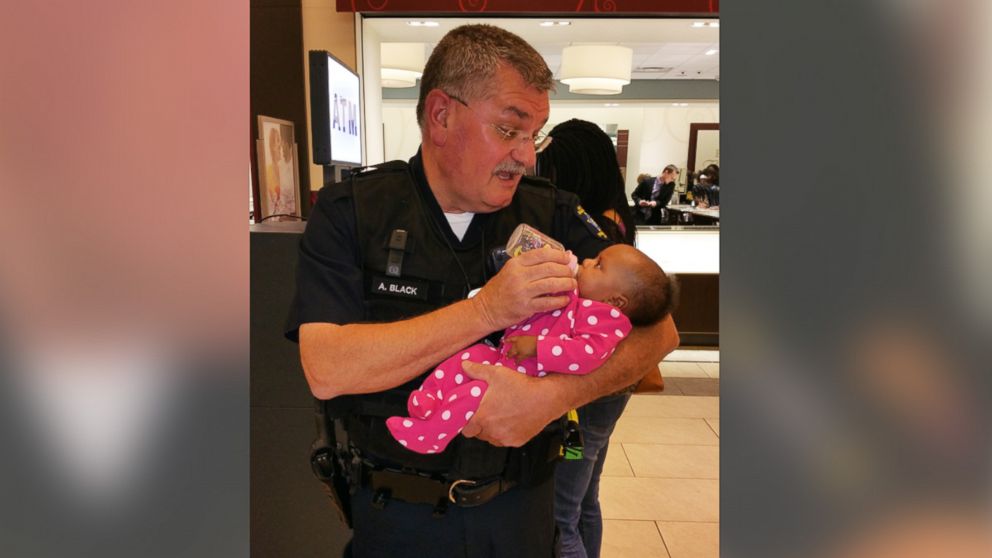 — -- A Kansas police officer is getting worldwide attention after a photo of him feeding a baby whose mom had just had a seizure went viral.
The 27-year police veteran though says it was all in a day's work.
"Myself and my colleagues, we do it daily," Officer Andy Black told ABC News. "We buy gas. We buy groceries."
Black, 59, was working his off-duty job at a mall in Overland Park, Kansas, last month when he got a call that the mother of the baby had a seizure.
When Black got to the scene, he says the mother was recovering from the seizure and trying to take care of her baby at the same time.
"The shoppers had gotten her sitting up on a bench and she leaned down and picked up her baby," Black said. "She was very disoriented and shaking and I was worried she was going to drop the baby."
Black, a South Carolina native who has four children and 14 grandchildren of his own, asked the mom if he could hold the baby for her.
"She let me have the baby with her bottle and the baby was crying and I gave her the bottle," he said. "And somebody took a picture."
The person behind the camera was another shopper, local artist Jilli Nel, who saw the moment and knew she had to capture it on camera.
"The two of them looked as if they were in their own world as she stared into his eyes and he just spoke to her while feeding," Nel told ABC News. "As a mother I felt the pull on my heart seeing such a beautiful moment and I asked him if I may take his photo."
Nel took the now-famous photo and posted it on her Facebook page and shared it with a local news station, where the story quickly grabbed attention.
"Initially I only took the photo for me," Nel said. "I have been through a very rough year and so I love those moments that make me feel alive again...that restore my faith in humanity."
"That evening I decided to share it in fb [Facebook]…," she said. "I knew this was so special and I was so grateful to have been blessed to witness that moment in time."
Black says he and fellow first responders helped escort the mother to an ambulance and, by that time, the baby's appreciative father was on hand to take care of the child.
"I think this touches the hearts of people," Black said, trying to understand why the photo proved so popular. "It has gotten so big and I'm like, really, this is not a big deal,"