— -- When a senior at North High School in Wichita, Kansas, handed the school's principal an empty bucket last Wednesday and told him to hold it, the principal brushed her off, thinking it was a joke.
When the principal, Sherman Padgett, returned to his desk later in the day and saw the same bucket atop his desk, he asked his secretary, Valerie Johnson, what was going on.
"Valerie just kind of gave me that look and said, 'Go out and hold the bucket. It's a senior prank and it's going to be good,'" Padgett recalled.
Nearly one week later Padgett is still holding the bucket that is now overflowing with notes of thanks from the over 400-member senior class.
The thank you cards – which feature the Dr. Seuss poem "How did it get so late so soon? on one side and blank space for a personal note on the other side – are the brainchild of 17-year-old North High senior Emily Jones.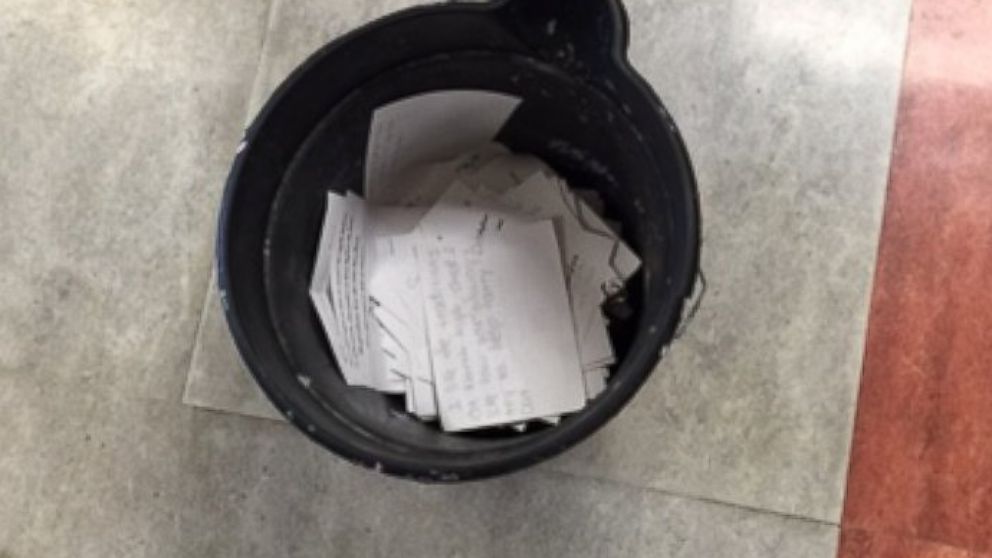 "A few of my friends were trying to think of senior prank ideas and one friend had the idea of all the seniors dropping out of school on the same day," Emily told ABC News. "I went home and told my mom and she said, 'Why don't you do something nice?'"
"I said, 'Like what?,'" and she said, 'Like giving your principal cards,'" Emily said.
Emily worked with a school guidance counselor and two friends to create and print enough cards for the school's entire senior class. She then visited each senior English class to distribute and explain the cards.
"When I went out in the hall with the bucket, at first a few kids came by and then it was like fish to food," Padgett said. "Students just kept coming up."
Padgett, in his eighth year as principal of the 2,100 student school, says he is still getting cards to this day, some also from underclassmen using Post-it notes and scraps of paper to express their thanks.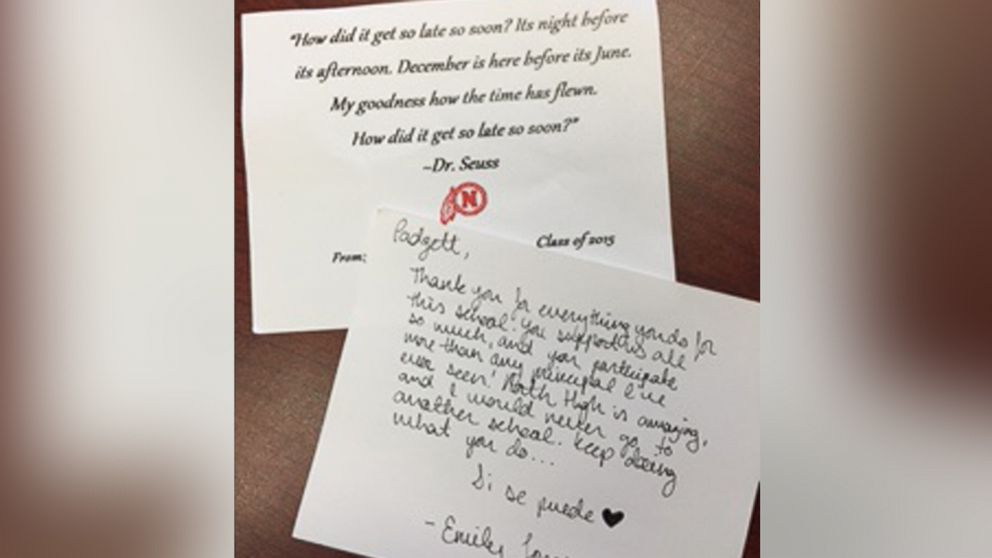 "We spend a lot of time at North talking about being grateful and the concept of gratitude," Padgett said. "It's made me swell up to see so many kids have an option to express gratitude."
"It's been a great experience for me but I'm more amazed at the impact it's having on the students," he said. "It's the old saying that sometimes gratitude benefits the giver more than the receiver."
Padgett says he also credits Emily, who plans to attend Wichita State University next year and major in illustration, with having the courage to not just come up with the idea but to follow through.
"She could have been the only person who put a note in my bucket and she was fine with that," Padgett said. "She wouldn't let that deter her from doing something nice for somebody."
Emily says what she and her fellow seniors did for their principal is a reflection on the entire school that Padgett leads.
"It's kind of through him that we get the whole school," Emily said. "A lot of the notes are thank you's for making North an amazing place."
"When other teachers hear about those thank you's, they know that they are part of that," she said.