— -- Two young kids in Goose Creek, South Carolina, are captivated by their unusual new neighbor: a 10-foot alligator.
The alligator first took up residence in Sonya Gilreath's bushes Thursday morning, she told ABC News today.
"It didn't look very big to me," she said, adding that it seemed like it could have been a baby alligator.
Police responded, Gilreath said, and as the gator laid still, she and her 2-year-old and 3-year-old sat on the front porch "just watching it."
"All of a sudden, it stood up, and I realized how gigantic it was," she said. "I've never seen one this size before. Not loose."
That's when Gilreath took her excited kids inside and snapped the adorable photos from her kids' perspective.
"They thought it was really cool," she said.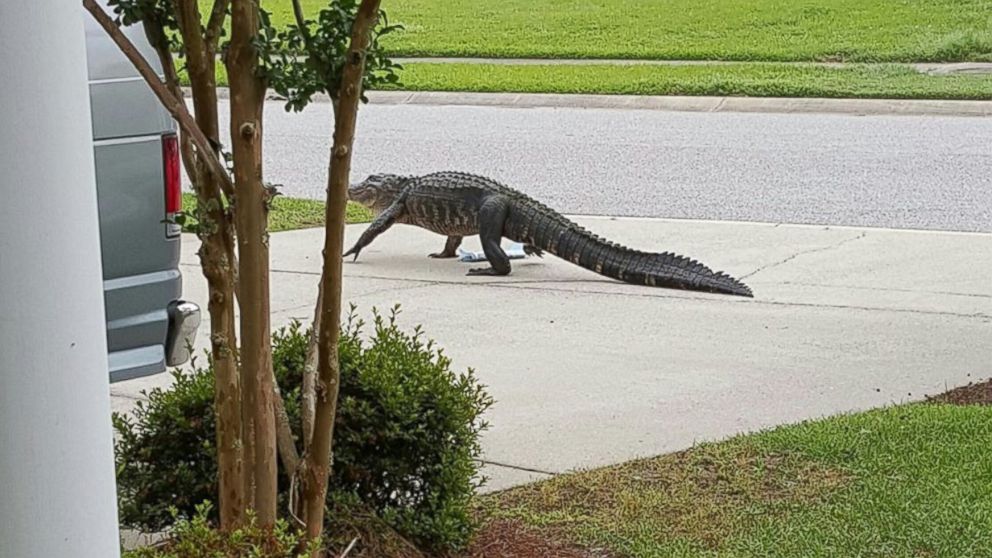 The gator was 10 feet long, according to ABC affiliate WCIV, and taken by local police back into the water. The Department of Natural Resources was notified but did not intervene, WCIV said.
"There's a pond in front of our house and I watched the alligator escort himself into that pond," Gilreath said. "And the animal control and policemen left."
She said she called the Department of Natural Resources, which told her it wouldn't remove the gator from a residential area, instead calling it the homeowner association's responsibility.
"It's a unique situation because it's a private-property lake," Goose Creek Police Capt. John Grainger told ABC News today. "Once the public is out of danger, it becomes a homeowner association's issue."
"It's still in the pond and I really want it gone," Gilreath said, adding that the homeowner association is looking into the issue. "It is really scary having an animal that size... We probably have about 10 kids on the street that walk to the school bus."
Even though the gator is still on the loose, Gilreath's children are still talking about it today, she said, adding that they definitely seemed more excited than afraid.
"I was trying to keep them from being scared," she said. "I don't want to put fear in them where they're afraid to go outside."
The Goose Creek Police Department wrote on Facebook, "If you see an alligator in your neighborhood, don't approach or attempt to handle them on your own. Our animal control officers will respond and determine the best course of action in these situations."