— -- Masked robbers who struck a high-end jewelry and watch store at a luxury hotel in Las Vegas appear to have used sledgehammers to break into the shop's jewelry cases, authorities said.
One suspect is in custody and the investigation is continuing following the robbery of the store at Bellagio Resort & Casino overnight on Friday, Las Vegas Metropolitan Police detectives said Saturday.
Detectives also said earlier reports of shooting during the burglary were unfounded, and they now believe the sound of sledgehammers striking the jewelry cases were mistaken for gunfire.
When police descended upon the resort and casino in response to the burglary, guests fled in panic from the property, flooding surrounding streets, amid false reports of an "active shooter."
"Currently investigating burglary at @bellagio," the Las Vegas Metropolitan Police Department tweeted at 2:13 a.m. "Initial reports indicated there was an 'active shooter' which was false. NO injuries."
Although there was no shooting during the incident, the robbers were armed, the Las Vegas Metropolitan Police Department's Lt. Carlos Hank told ABC News.
The Bellagio was on lockdown after the incident for about 30 minutes.
The store was not open at the time of the incident.
The suspects wore character masks, but Lt. Hank could not confirm the specifics of the mask. One eyewitness, though -- a woman named Kira, who did not want her surname used -- told ABC News she saw a man wearing a pig mask (below).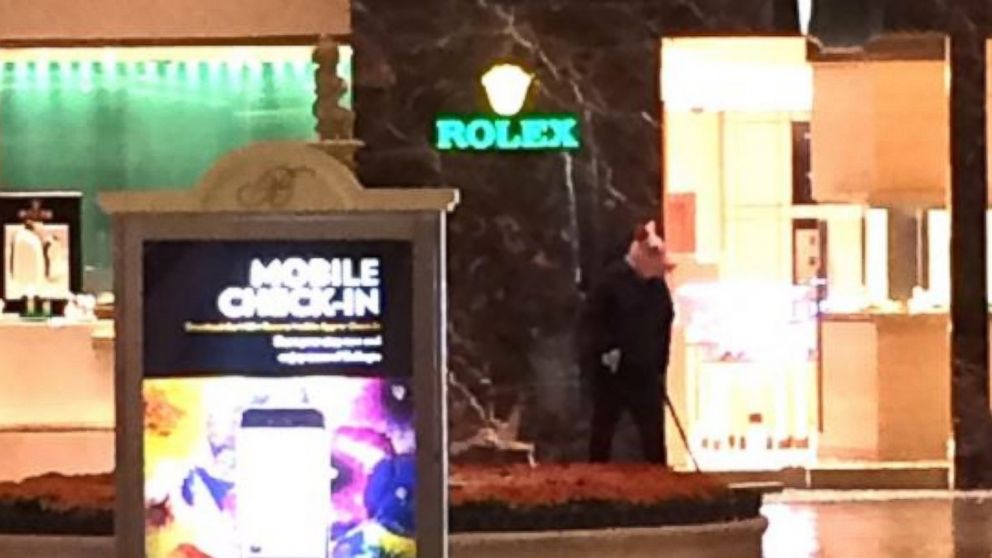 Lt. Hank said early Saturday morning that some people were detained, but it is unclear if the detained individuals are burglary suspects.
ABC News' Alex Stone contributed to this story.