— -- A note containing handwritten numbers for wind, trajectory, and distance was discovered by Stephen Paddock's body inside the Las Vegas hotel room where he took his life last Sunday after slaughtering 58 people and injuring hundreds, officials have confirmed.
Law enforcement officials briefed on the investigation confirmed to ABC News on Sunday that the note found on Paddock's hexagon-shaped nightstand contained such numerical figures.
The note's details, first reported by 60 Minutes, were revealed by Las Vegas Metropolitan Police Department Officer Dave Newton, who said he spotted it resting by Paddock's "shooting platform."
"I could see on it he had written the distance, the elevation he was on, the drop of what his bullet was going to be for the crowd," Newton said in a clip from the the episode, which will be televised on Sunday night. "So he had had that written down, and figured out so he would know where to shoot to hit his targets from there."
Pressed about what the meaning of the numbers were, Newton said, Paddock "must have done the calculations online or something, to figure out what his altitude was going to be, and how high up he was -- how far out the crowd was going to be, and what -- at that distance -- and what the drop of his bullet was going to be.
"He hadn't written out the calculations -- all he had was written out [was] the final numbers that were on the sheet," he added.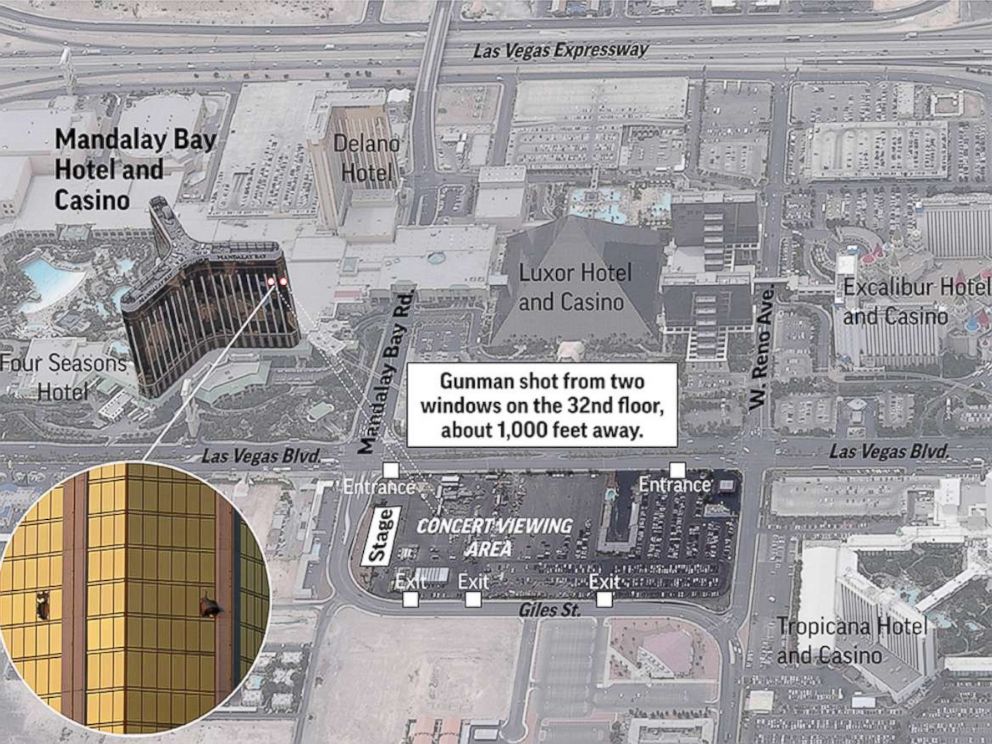 The note's contents give a clearer picture of Paddock's planning before he starting firing on 22,000 concertgoers attending the third day of the Route 91 Harvest Festival along the Las Vegas Strip last Sunday.
Sources have told ABC News that Paddock, a 64-year-old retiree, likely had severe mental illness which appears so far to have remained undiagnosed.
Authorities who have logged hundreds of interviews suggest that though Paddock was a successful businessman, he struggled interacting with people.
The property owner and high-stakes video poker player is described as standoff-ish, disconnected, and a man who had difficulty establishing and maintaining meaningful relationships.
He reportedly was exhibiting many antisocial traits that are typical of past mass shooters, according to one source who spoke to ABC News anonymously.
In addition to killing 58 people in his attack, Paddock injured at least 489 others before taking his own life.
Paddock was known for playing gambling games in casinos for hours at a time, with little or no human contact.
Profilers and behavioral scientists this week were brought in to examine witness interviews and investigative summaries to better understand what drove the Mesquite, Nevada, man to execute and injure so many in such a calculated and detached fashion.
They are particularly focused on the period of September to October 2016, when Paddock began buying 30-plus guns, in concentration -- most of which were rifles, ABC News has learned.
Sources also said that the gunman's gambling wages went up during that time, and he completed computer searches where he was looking at a lot of different hotel venues -- some apparently just to research, some of which he actually traveled to.
Police, according to multiple law enforcement officials, still have found no definitive evidence to prove Paddock had an accomplice, and have not nailed down a definitive motive.
ABC's Pierre Thomas, Josh Margolin and James Hill contributed to this report.