— -- Police body camera video released Tuesday night at a press conference has revealed the sheer chaos of the Las Vegas mass shooting as officers tried to figure out the location of the gunman and shuttle people to safety.
Amid sirens and sounds of gunfire and screams, people yelled, "They're shooting right at us," while officers shouted, "Go that way!"
Police said Stephen Paddock, a 64-year-old resident of Mesquite, Nevada, opened fire on a music festival crowd from the 32nd floor of the Mandalay Bay Resort and Casino, killing 58 people and injuring 530 others.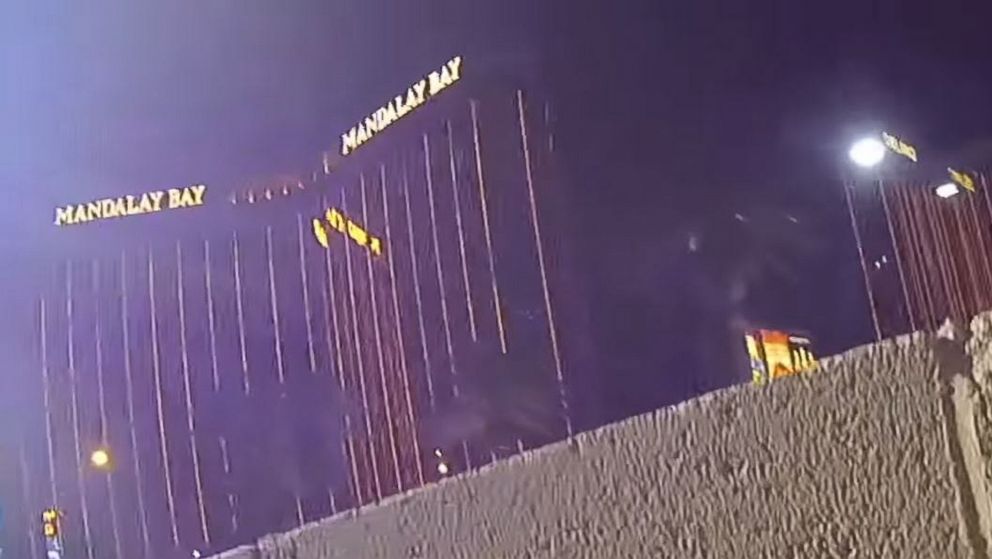 Officials revealed on Tuesday that Paddock had cameras set up inside and outside of his hotel room.
"I anticipate he was looking for anybody coming to take him into custody," Clark County Sheriff Joseph Lombardo said. Sources told ABC News the suspect utilized at least one camera outside the room possibly to monitor approaching police. Lombardo said there was a camera on a service cart in the hallway.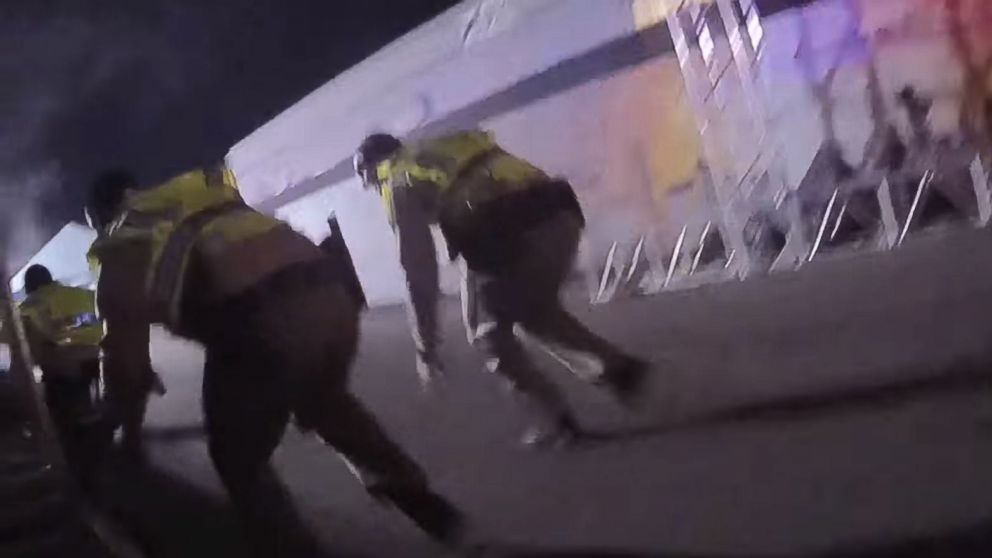 "FBI took all digital and electronic evidence into custody," Lombardo added.
The gunfire sent more than 22,000 country music fans attending the Route 91 Harvest Music Festival across the street from Mandalay Bay scrambling for their lives. Some hid, some ran and others sprang into action, aiding the injured and helping people to safety.
Jason Aldean was the headliner of Sunday night's concert; video showed him rushing off the stage amid the gunfire.
Clark County Undersheriff Kevin McMahill said at Tuesday night's press conference that the shooting spanned between nine and 11 minutes, with the first reports of shots beginning at 10:08 p.m. and the final shots being fired at 10:19 p.m.
The Las Vegas Police Department said authorities responded to a room on the 32nd floor of the Mandalay Bay hotel, where Paddock was found dead. Authorities said they believe Paddock killed himself prior to police entry.
ABC News on Tuesday obtained images from inside Paddock's hotel room at Mandalay Bay. A body is partially visibly in one of the photos; that is believed to be Paddock.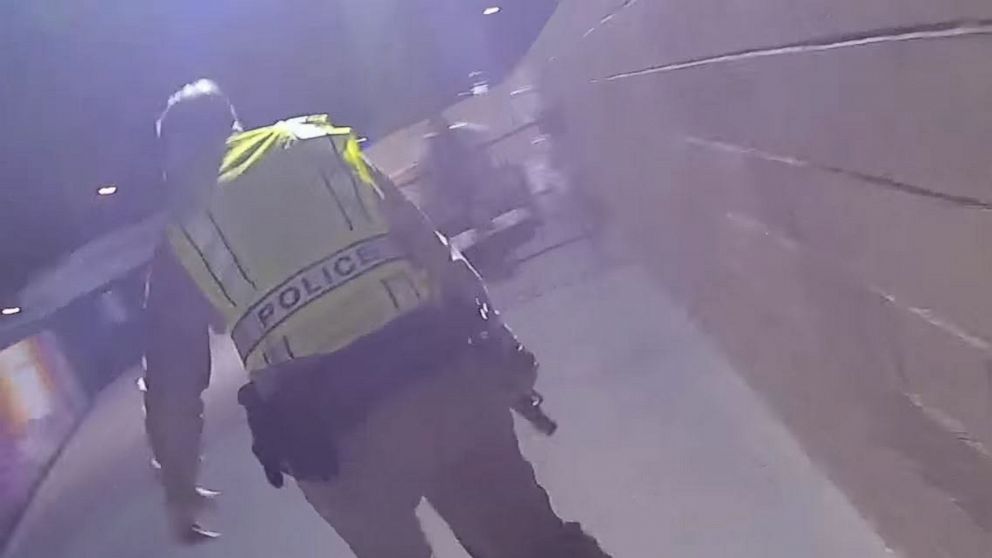 As the nation mourns what has become the worst mass shooting in modern U.S. history, authorities are working to piece together information about the suspected shooter for clues on what may have sparked the rampage.
The motive behind the shooting remains unclear. "I can't get into the mind of a psychopath," Lombardo said at a news conference Monday.
Paddock is believed to have been solely responsible for the attack, according to police.
Lombardo said authorities are reviewing police body cameras.
"This individual was premeditated," Lombardo said today. "I'm sure he evaluated everything he did in his actions, which is troublesome."
"The world has changed. And, you know, who would have ever imagine this situation," Lombardo said. "I couldn't imagine it. And for this individual to take it upon himself to create this chaos and harm is unspeakable."
'How I did not get shot ... I don't know'
Jasmine Barbusca, a mother of two, told ABC News, "All you heard were just gunshots. And every time the gunshots would come down, you just start getting to the ground. And when they would stop, you get up and you just try to climb the fence again. We finally made it over. We were running through the parking lot; everybody just ran through the streets."
She said she was thinking, "'I got to get out, I'm going to be dead in five seconds.'"
"There were men going over their wives, their girlfriends, to block them," she recalled. "Unfortunately, those men got shot, but I mean, there were lives saved."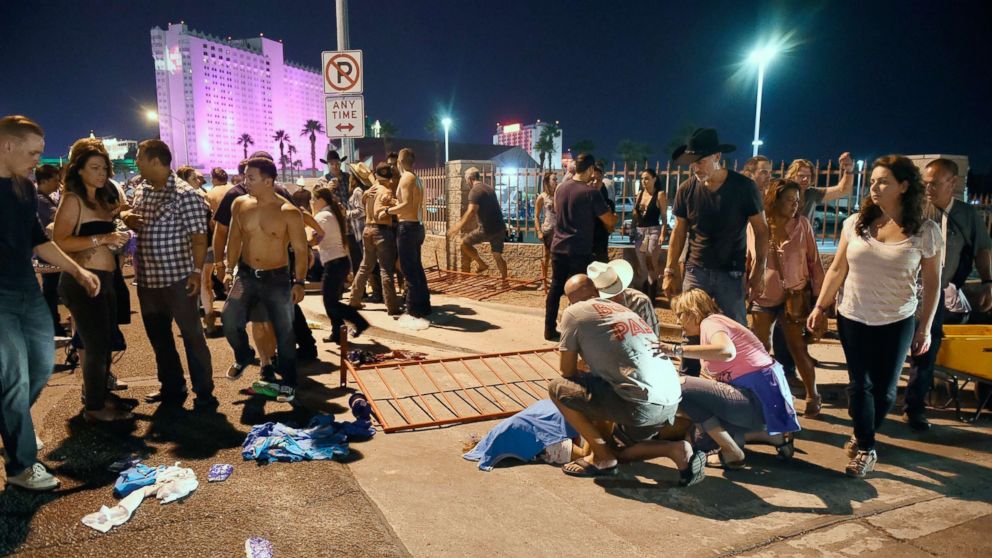 Barbusca said she saw one man as he helped many women climb the fence to escape.
"I don't know who the man was, but there was a man who probably saved a good 20 women's lives. He was really brave," she said.
Tearing up, she said, "How I did not get shot ... by the grace of God. I honestly ... we ran. I don't know."
Arsenal found in shooter's hotel suite
Paddock checked into the Mandalay Bay on Thursday, bringing with him at least 23 guns, police said.
Authorities believe Paddock used a device similar to a hammer to smash the windows of his two-room suite.
A computer and several pieces of media were also recovered in Paddock's hotel suite.
Room service was provided at some point during the suspect's stay, Lombardo said today.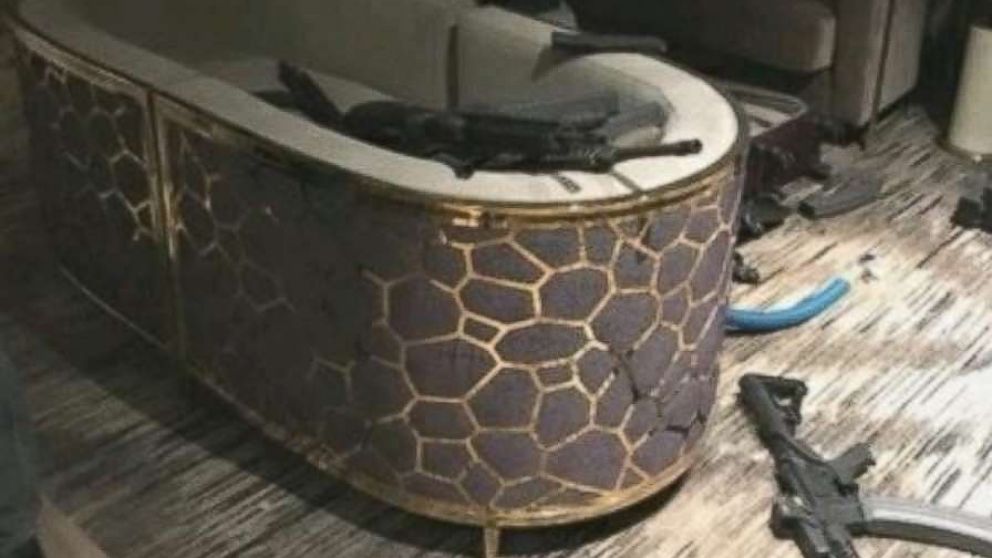 In addition to the weapons discovered at the hotel, authorities said they found 19 additional firearms and explosive material at his home in Mesquite.
Officials said five handguns and two shotguns were also found at the suspect's home in northern Nevada.
A material used to make explosives was found inside the suspect's car, police said.
Police scour the suspect's background
Officials said Paddock was not known to law enforcement.
Officials said he had no criminal history, save for a minor citation.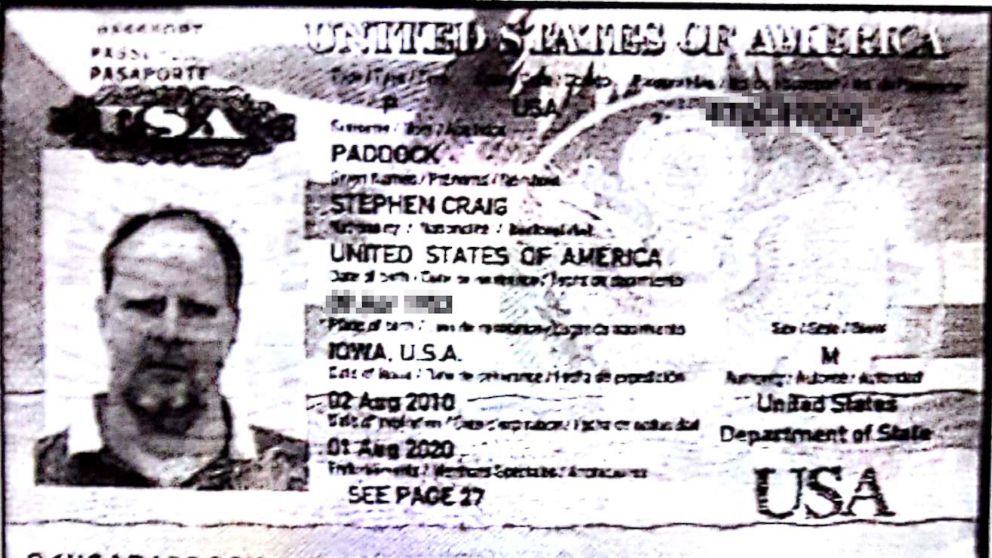 Eric Paddock, the suspect's brother, told ABC News on Monday that the family was "dumbstruck" by the news of the attack.
"We have no idea how or why this happened," Eric Paddock said. "As far as we know, Steve was perfectly fine."
"Our condolences to everyone involved," Eric Paddock said. "We are heartbroken and bewildered."
The suspect's girlfriend, Filipino-born Marilou Danley, 62, lived with Stephen Paddock at his home in a Mesquite retirement community. Police say she was in Asia at the time of the shooting, but she arrived back in the U.S at Los Angeles International Airport on board a flight from the Philippines Tuesday night, multiple law enforcement sources told ABC News. She was met by FBI agents. She was not taken into custody, however.
Police had said the girlfriend is a "person of interest."
Honoring the victims
Among the at least 59 killed was a special education teacher, a kindergarten teacher and a nurse from Tennessee who saved his wife's life. According to White House press secretary Sarah Sanders, Sonny Melton died shielding his wife, Dr. Heather Melton, who survived.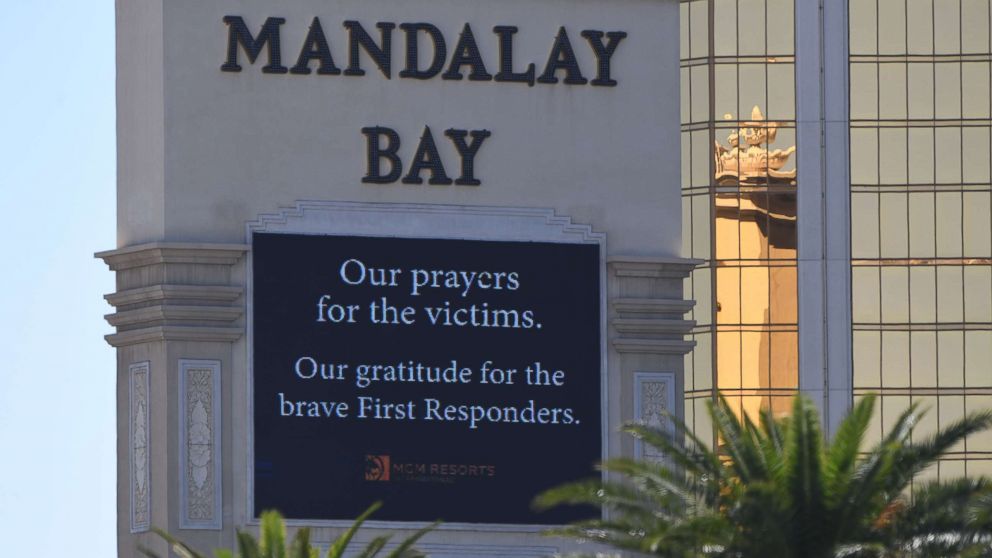 President Donald Trump on Monday called the shooting "an act of pure evil."
Trump said he will visit Las Vegas on Wednesday to meet with law enforcement, first responders and victims' families.
"In moments of tragedy and horror, America comes together as one," Trump said.
He added, "In memory of the fallen, I have directed that our great flag be flown at half staff."
Nevada Gov. Brian Sandoval said at a news conference Monday, "I don't know if I have words to describe what we are going through. ... We are angry, we are grieving, we are confused. People are hurting."
"To the people at the concert, you see courage and compassion there," Sandoval said. "People helping total strangers. Risking their own lives to help people. That really speaks highly to the character of America. "
Nevada Attorney General Adam Paul Laxalt said at a news conference, "When you see one of these men and women who are wearing a badge, tell them, 'Thank you.' Their selfless actions saved the lives of hundreds of people. Not a dozen, but hundreds of people. This death count would have been many hundred more were it not for [their] brave work."
Aldean wrote in an emotional Instagram post Monday night, "Over the last 24 hrs I have gone through lots of emotions. Scared, Anger, Heartache, Compassion and many others. ... We are all humans and we are all Americans and its time to start acting like it and stand together as ONE! That is the only way we will ever get this Country to be better than it has ever been, but we have a long way to go and we have to start now. My heart aches for the Victims and their families of this Senseless act. I am so sorry for the hurt and pain everyone is feeling right now and there are no words i can say to to take that pain away. Just know u all are in my heart and my prayers as we all go through this together. Time to come together and stop the hate! #stopthehate #prayforlasvegas"
ABC News' Pierre Thomas contributed to this report.