— -- Mandalay Bay Resort and Casino security guard Jesus Campos, who has been hailed for being the first to confront Las Vegas shooter Stephen Paddock, gave his first public account of the attack, in an interview on "The Ellen DeGeneres Show."
Campos and Mandalay Bay building engineer Stephen Schuck were DeGeneres' guests in an interview taped Tuesday.
"As I was walking down [the hallway], I heard rapid fire," Campos told DeGeneres in the interview. "I took cover, and I felt a burning sensation. I went to go lift my pant leg up and saw blood. That's when I called in on my radio that shots were fired."
The show released an eight-minute clip of the interview on Tuesday night, and the full episode will air Wednesday afternoon.
Campos laid out his recollection of the events leading up to Paddock's firing on a crowd at a country music festival across the street from the Mandalay Bay hotel on Oct. 1. Fifty-eight people were killed, and hundreds more were injured, in the deadliest shooting in modern U.S. history.
Campos' account on "Ellen" was in line with much of what has been reported on the shooting. He did not specify times for his account — a point of confusion in the investigation.
He said he was on the 31st floor of the hotel when he was called to check on an open door on the 32nd floor. When he went to a stairwell, he found the door to the 32nd floor was jammed. He left the stairwell and took an elevator to the 32nd floor to check why the door wasn't opening.
Campos said the door was jammed using brackets, so he called engineering, which sent Schuck to look.
As Campos was walking back down the hallway, with his back to the suite Paddock was in, the gunman opened fire. Campos said he realized he had been hit and was bleeding.
Schuck reached the 32nd floor and approached the same hallway, completely unaware of the situation unfolding.
"Once I got more than halfway [down the hallway] is when I saw Jesus and heard shooting," Schuck said. "At first I thought it was a jackhammer.
"Jesus leaned out and said, 'Take cover, take cover,' and yelled at me, and within milliseconds, if he didn't say that, I could've got hit."
Schuck described the "pressure" of the bullets flying past his head as he ducked behind a door frame for cover.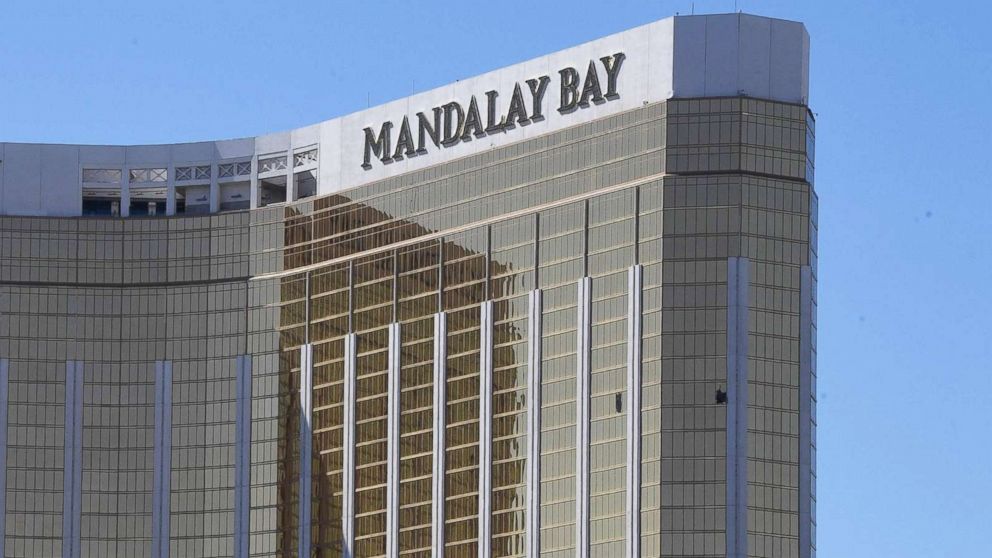 Campos and Schuck did not elaborate further on the situation or clarify why it took so long — about 20 minutes, according to Las Vegas police accounts — for police to reach the 32nd floor. When police eventually breached the door to Paddock's suite, he was found dead of an apparently self-inflicted gunshot.
Schuck and Campos thanked the Las Vegas Metro Police Department and other first responders for their efforts in the aftermath of the shooting.
Campos appeared on "Ellen" for what he said would be his only public comments on the shooting. He was noticeably emotional in the interview, often being patted on the back by Schuck and comforted by DeGeneres.
Schuck previously spoke to NBC, and Campos drew attention recently after he skipped out on scheduled interviews with Fox News and other outlets last Thursday. The Associated Press reported that Campos had "disappeared" after requesting to go to a walk-in medical clinic on Thursday. Other interviews were canceled, and the head of his union had been unable to contact with him.
"Thank you so much for being here," DeGeneres said at the close of the interview. "I know you've had so many people asking for you to tell the story and talk about this, and I understand your reluctance because you just want this to be over."
"You're talking about it now, and then you're not going to talk about it again," DeGeneres continued. "And I don't blame you, because to relive this over and over again ... We just wanted to celebrate you."
Schuck was given an all-expenses-paid trip to an Indianapolis Colts game, and Campos was given Raiders season tickets, after the team moves from Oakland to Las Vegas.