— -- Ten days have passed and investigators still have no clear sense of what led Stephen Paddock to open fire on a country music festival from his 32nd-floor hotel suite in Las Vegas, killing 58 people and wounding hundreds of others before taking his own life.
Multiple officials briefed on the investigation told ABC News on Tuesday night that detectives are still collecting evidence from Paddock's suite at the Mandalay Bay Resort and Casino. They said the 64-year-old retired accountant and high-stakes video poker player was clearly preparing for some sort of extended siege with authorities after carrying out the deadliest mass shooting in modern U.S. history.
The officials told ABC News that Paddock had jammed doors, making them difficult to open. He also had access to the hotel's service elevator and used it in the days leading up to the Oct. 1 shooting.
In an interview with local radio station KNPR, Las Vegas Metropolitan Police Department Undersheriff Kevin McMahill said that a number of items, including gas masks, found in Paddock's hotel room suggest to investigators that he planned to escape the hotel.
Law enforcement officials briefed on the investigation told ABC News a handwritten note with numbers for wind, trajectory and distance was discovered on a nightstand in Paddock's hotel suite. The details of the note were first reported by CBS' "60 Minutes."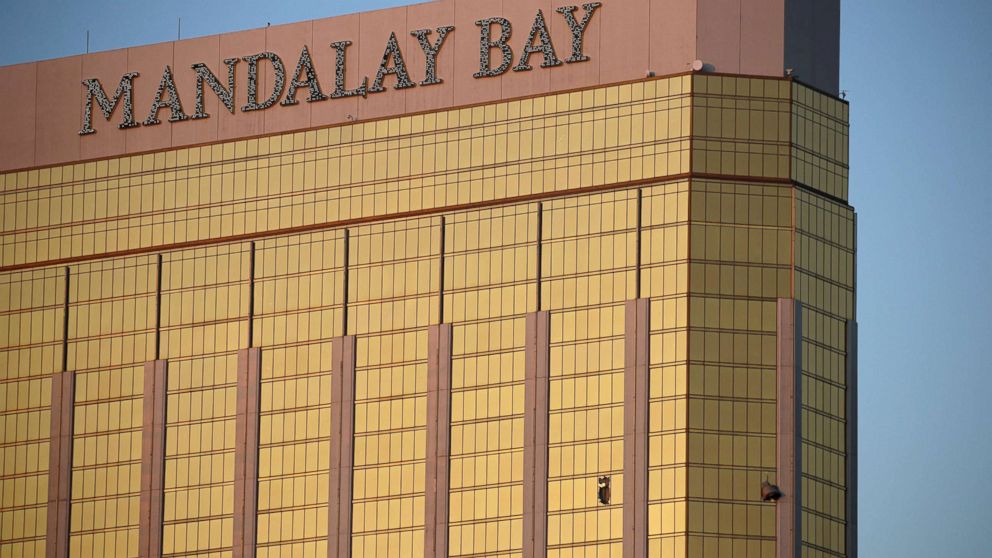 A 'meticulously planned' attack
Paddock checked into the Mandalay Bay Resort and Casino on Sept. 25 and stayed in a different room before moving into the corner suite on Sept. 28 with 10 bags and at least 23 guns, including high-powered rifles. He set up surveillance cameras inside and outside his two-room suite.
There were two cameras on a room service cart in the hallway outside his suite, one on the peephole of the door to his room and a baby monitor in the living room. None of the cameras were recording, authorities said.
Paddock was inside his suite for three days at the giant hotel-casino, perched high above the site of the Route 91 Harvest Festival, which was taking place across the street. Room service was provided at some point during his stay, police said.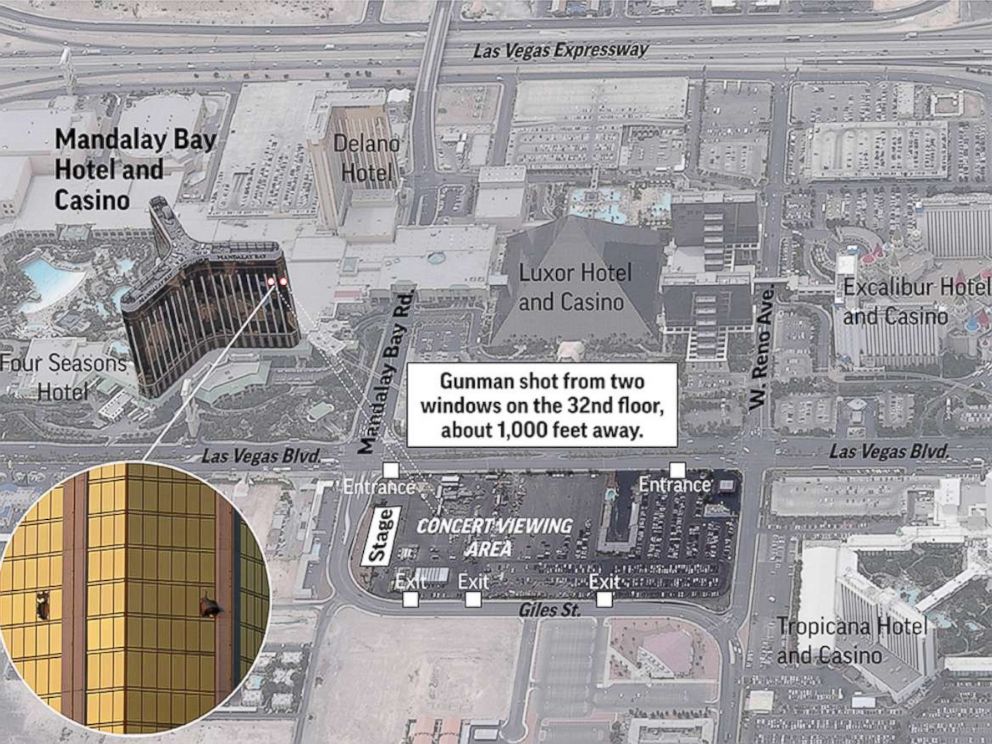 Investigators believe Paddock used a device similar to a hammer to smash two windows in his room before he opened fire on the music festival crowd about an hour after a rendition of "God Bless America."
Police responded to the hotel room, where Paddock was found dead. He is believed to have killed himself before police entered.
Less than 24 hours after the attack, the suspect's brother, Eric Paddock, told reporters outside his home that his brother had no connection to political or religious groups, and no obvious motives.
Clark County Sheriff Joseph Lombardo said the attack was "obviously premeditated" and "meticulously planned," and that Paddock "evaluated everything he did."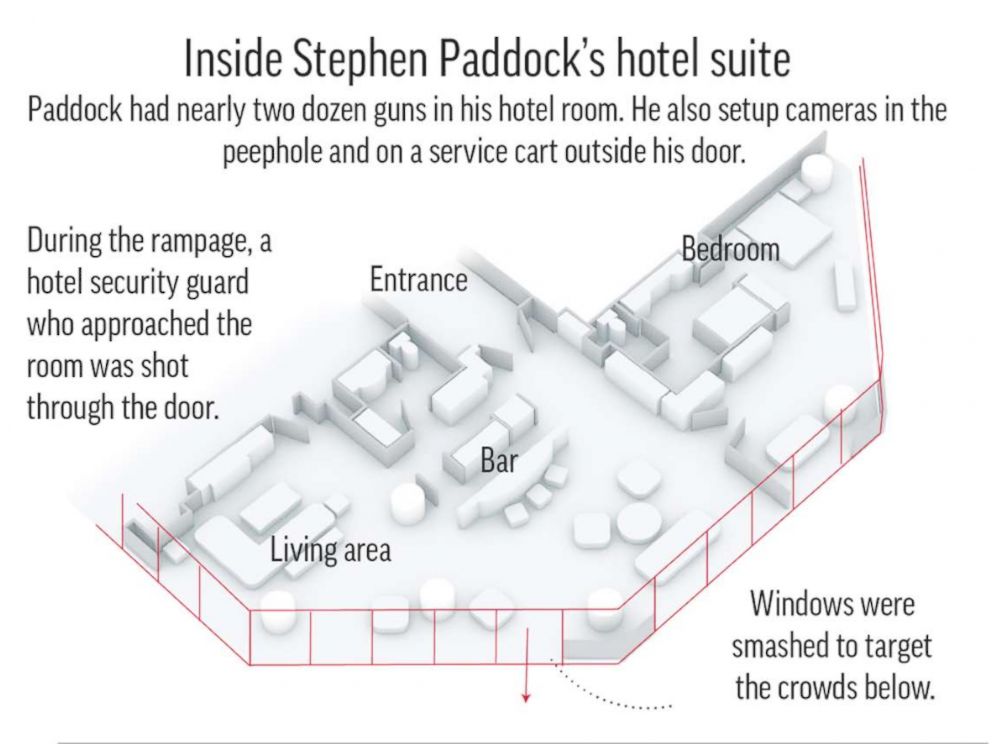 Security guard shot before shooting began
On Monday, Lombardo announced a change to the sequence of events that occurred on Oct. 1, saying a security guard who encountered Paddock was shot at 9:59 p.m. local time, minutes before Paddock unleashed a hail of gunfire on unsuspecting concertgoers who were enjoying the final night of the three-day festival.
Authorities previously said the security guard, identified as Jesus Campos, was shot after Paddock had opened fire on the crowd.
Lombardo said Campos immediately reported to hotel security that he had been shot. However, responding officers did not know Campos had been shot until they arrived on the 32nd floor and found him, the sheriff said.
It's unclear what led Paddock to stop shooting at the crowd below. Officials originally thought Campos distracted him.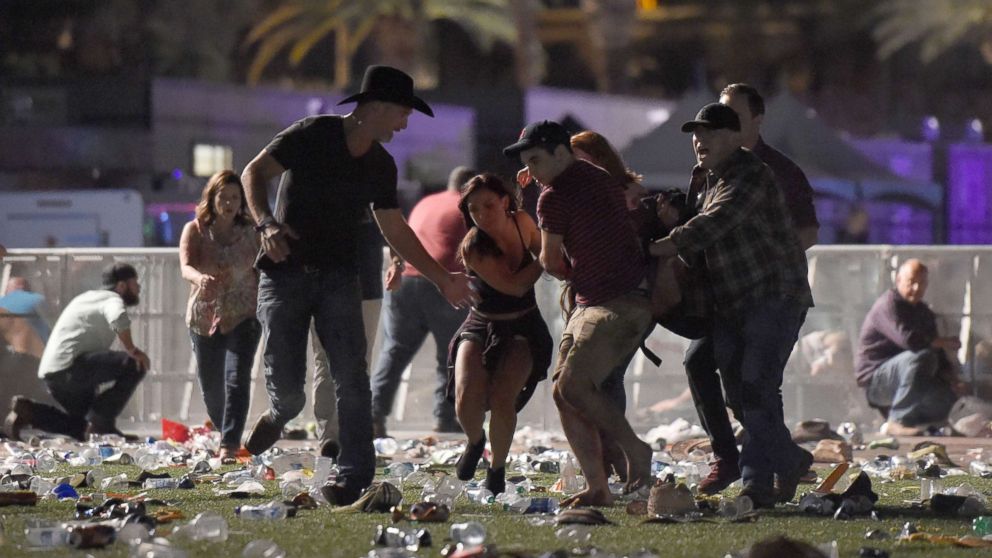 A 'plethora' of high-powered guns and ammo
Authorities have executed search warrants at three locations and for Paddock's vehicle parked at the Mandalay Bay Resort and Casino.
Experts say the weapons found in his hotel suite were high-end and high-powered, the kind used by U.S. special forces and commandoes.
In addition to the 23 guns recovered from Paddock's hotel room — which police said were purchased in Nevada, California, Utah and Texas — authorities found a computer and several pieces of media there. Law enforcement sources said multiple loaded high-capacity magazines and a modified bump stock rifle, which allows a gun to simulate rapid automatic gunfire, were discovered in the room as well.
Investigators are still in the process of examining the firearms to determine whether they were capable of firing automatically.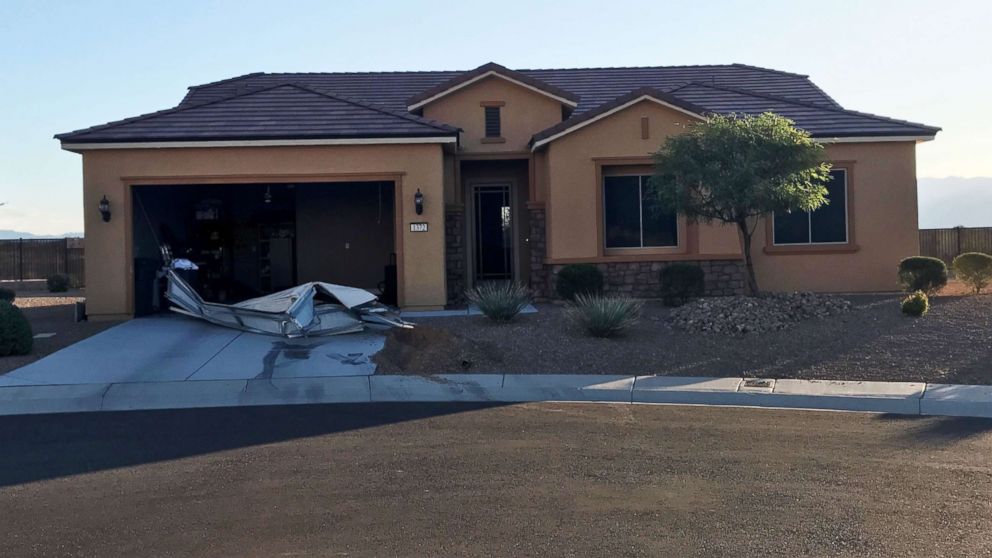 Meanwhile, 50 pounds of an explosive and about 1,600 rounds of ammunition were discovered in Paddock's car.
Explosive material and 19 additional firearms were also found at Paddock's home in a Mesquite retirement community about 70 miles north of Las Vegas.
Five handguns, two shotguns, numerous electronics and a "plethora of ammunition" were recovered from his property in Reno, according to Lombardo.
Jill Snyder, the special agent in charge at the U.S. Bureau of Alcohol, Tobacco, Firearms and Explosives, told "CBS This Morning" in an interview Oct. 4 that Paddock had been stockpiling firearms since 1982. He bought nearly 50 guns legally, she said, but none of those purchases set off any red flags for the ATF.
"From October 2016 to Sept. 28, 2017, he purchased 33 firearms, majority of them rifles," Snyder said. "We wouldn't get notified of the purchases of the rifles. We would only get notified if there was a multiple sale, which would be two or more handguns in an individual purchase."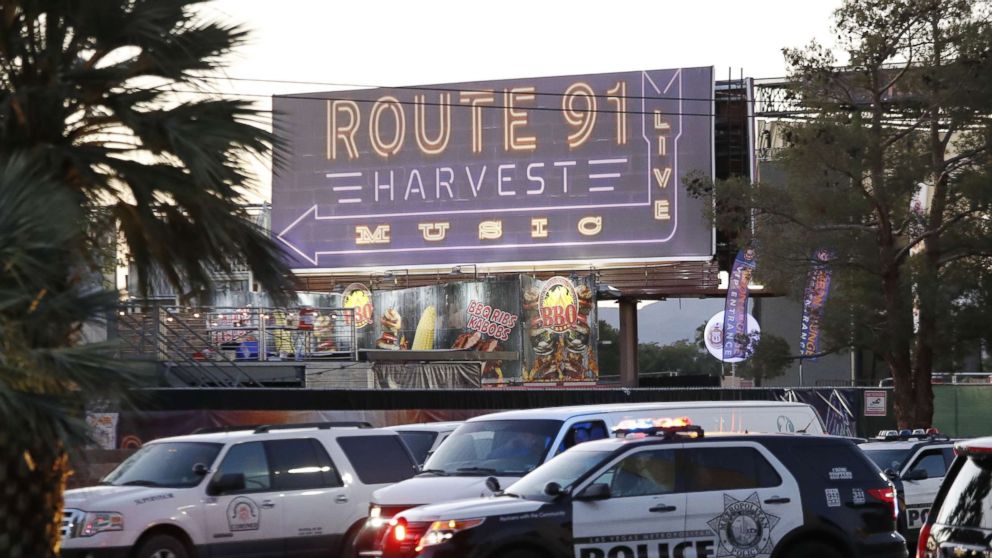 Suspect may have visited other music festivals
Officials briefed on the investigation told ABC News that Paddock booked hotel rooms in Chicago in early August during Lollapalooza, a massive annual music festival that attracted hundreds of thousands of people, including one of President Barack Obama's daughters. One of the hotels where Paddock had reservations was the Blackstone on South Michigan Avenue, across from Grant Park, where the annual event takes place.
The Chicago Police Department said in an Oct. 5 statement, "We are aware of the media reports and have been in communication with our federal partners. As you saw earlier this week the city conducts extensive public safety planning and training around major events, in close coordination with our law enforcement partners, to ensure public safety."
A source with the Chicago Police Department confirmed for ABC News that Paddock had reservations at the Blackstone hotel.
However, a spokesman for the Blackstone told ABC News in an Oct. 5 statement, "We can confirm that there was no guest under [Paddock's] name who stayed at our hotel in August during the Lollapalooza music festival. We are cooperating with the authorities on this matter."
It's unclear whether Paddock traveled to Chicago at that time.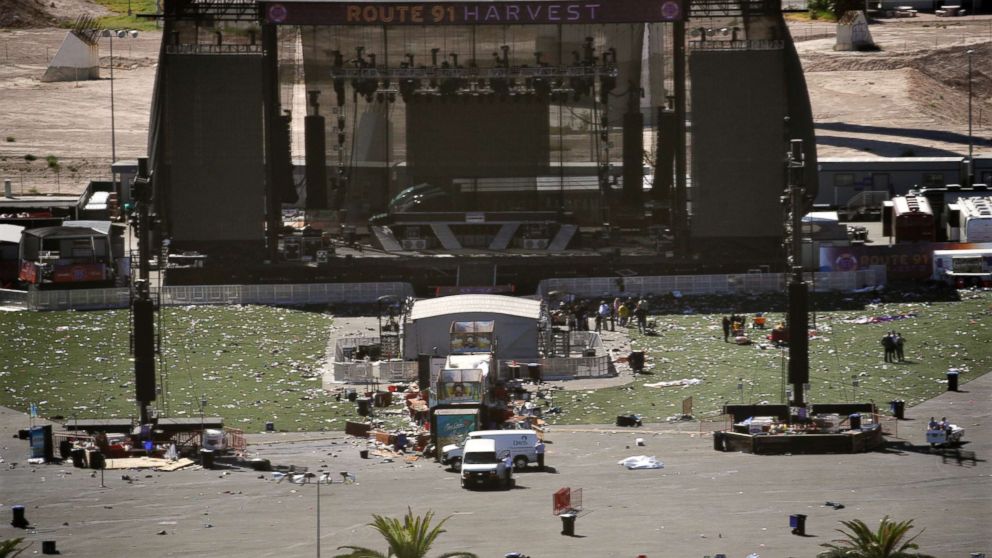 Officials briefed on the investigation also told ABC News that Paddock may have visited several music festivals in the greater Las Vegas area over the past several months. All the venues are believed to have been within driving distance of Las Vegas.
Paddock is also believed to have made regular trips to the Mandalay Bay Resort and Casino starting Sept. 3 and through the rest of the month. He was known at most of the big casinos on the Las Vegas Strip because he was a major player who visited the casinos a lot, the officials said.
Investigators are also looking into whether Paddock tried to secure a room at El Cortez Hotel and Casino, at the opposite end of the Strip from the Mandalay Bay Hotel and Casino, on the weekend that the Life Is Beautiful music festival took place, from Sept. 22 to Sept. 24, the officials told ABC News.
During an Oct. 4 news conference, Lombardo confirmed that Paddock rented a room that weekend at the Ogden condominium building in downtown Las Vegas. Authorities have recovered items and surveillance video from when he stayed there, Lombardo said.
Paddock also searched online for hotels near Fenway Park in Boston, though there is no indication that he traveled there, sources briefed on the investigation told ABC News.
The Boston Police Department said in an Oct. 5 statement, "We are aware of the media reports referencing a Boston connection to the Las Vegas mass shooting incident that occurred on Sunday, Oct. 1, 2017. The Boston Regional Intelligence Center is in contact with our local and federal law enforcement partners here and in Las Vegas and continues to monitor the situation. There is currently no known threat to the Metro Boston homeland security region related to this incident."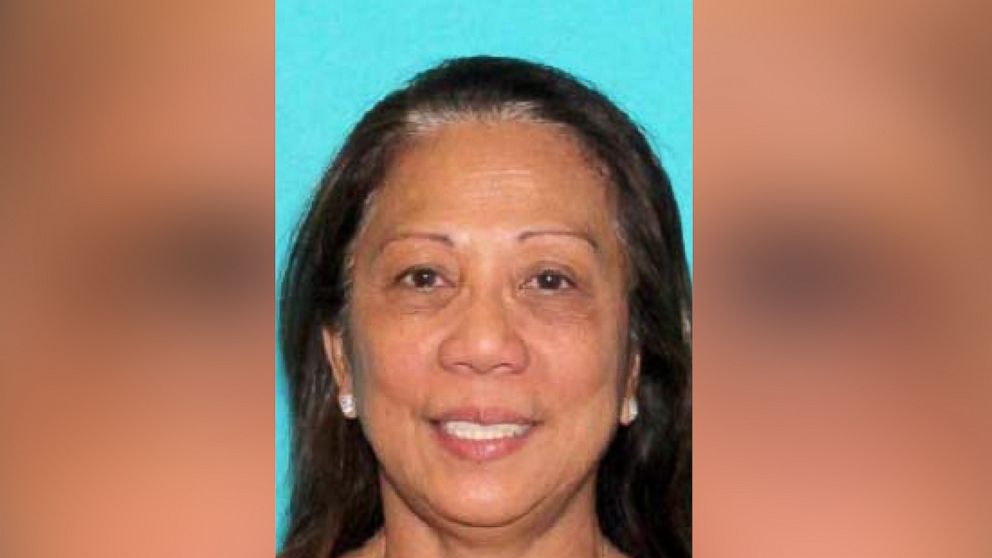 Girlfriend added to travel watch list
Federal law enforcement officials confirmed to ABC News on Wednesday that Paddock's longtime girlfriend, Marilou Danley, has been put on a U.S. government watch list as the FBI continues to press her for information. Danley, who lived with Paddock at his home in a sleepy retirement community Mesquite, Nevada, has been designated a Transportation Security Administration selectee, meaning authorities will be notified if she attempts to board any commercial flight. The designation also gives TSA officers the authority to more aggressively search her luggage.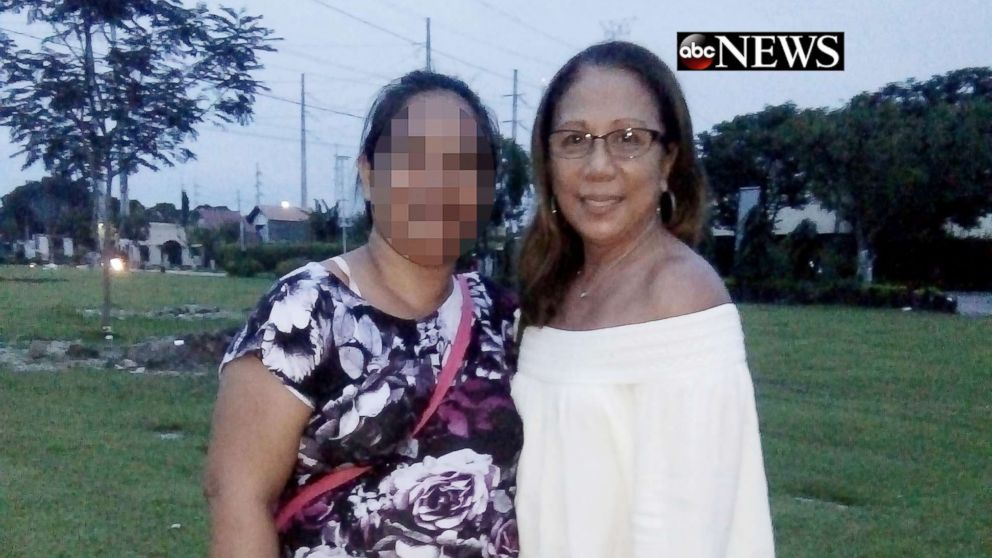 Investigators believe Danley's relationship with Paddock changed over time, evolving from intimate companion to more of a caretaker for him, officials said.
At this stage of the investigation, officials believe Danley played no part in — and had no knowledge of — Paddock's plan to attack the music festival.
Danley's attorney, Matthew Lombard, told reporters on Friday that she continues to cooperate with authorities.
"I knew Stephen Paddock as a kind, caring, quiet man," Danley said in a statement read by her attorney last week. "I loved him and hoped for a quiet future together with him."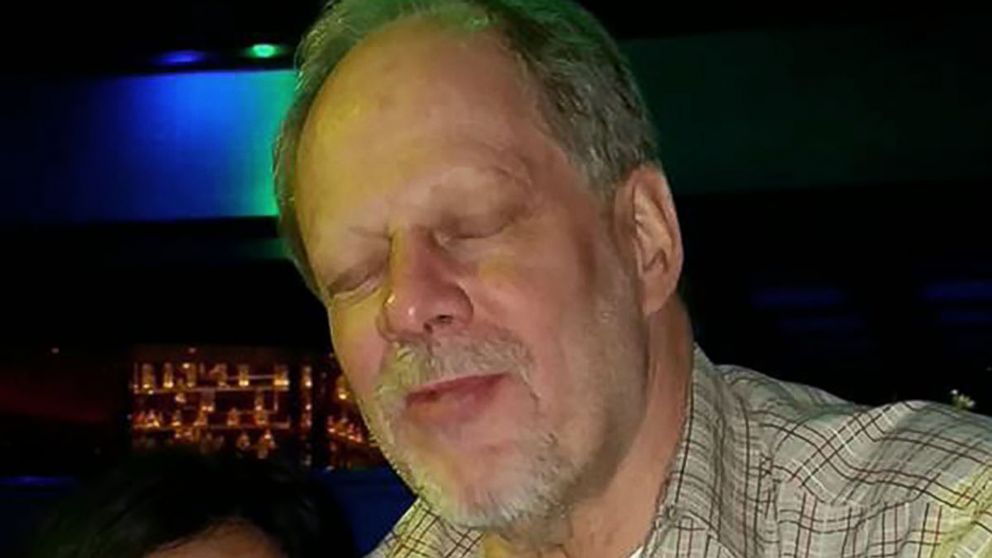 Paddock's 'secret life'
Lombardo has described Paddock as a "disturbed and dangerous" man who had led a "secret life."
An employee at the Mandalay Bay Resort and Casino told ABC News she spent a total of 16 hours serving Paddock in the casino during her shifts there over the weekend. She said she watched him gamble for eight hours straight, from Saturday night to Sunday morning.
He played high-stakes video poker on machines in a separate, "exclusive" section of the casino, she said.
As soon as she saw Paddock's picture on the news, identifying him as the suspected gunman, she said she knew it was the man who was her customer the night before the shooting.
Officials briefed on the investigation told ABC News that Las Vegas prostitutes have provided perhaps the most telling profile of Paddock, known by them as a regular customer and a cheap man who didn't display emotion.
A person briefed on findings from the investigation told ABC News' Brian Ross that Paddock's mental state was deteriorating in the months prior to the attack, including weight gain, an increasingly slovenly appearance and an obsession with his girlfriend's ex-husband.
ABC News' Cindy Galli, Matthew Mosk, M.L. Nestel, Cho Park and Morgan Winsor contributed to this report.