— -- When gunfire broke out on the Las Vegas strip late Sunday night, Michelle Leonard was in a vendor booth near the main entrance of the Route 91 Harvest Festival that was taking place across the street from the Mandalay Bay Resort and Casino.
"It sounded like a thousand shots," Leonard told ABC News in a tearful phone interview on Monday. The shooting just "kept going nonstop."
Leonard said "mass confusion" unfolded as people tried to flee the venue. She said her friend stepped over several dead people as they escaped the "scary" scene.
"I turned around and I looked and people just started running," she said. "People were just running and falling and screaming," she said. "I had no idea of where it was coming from or where to run to."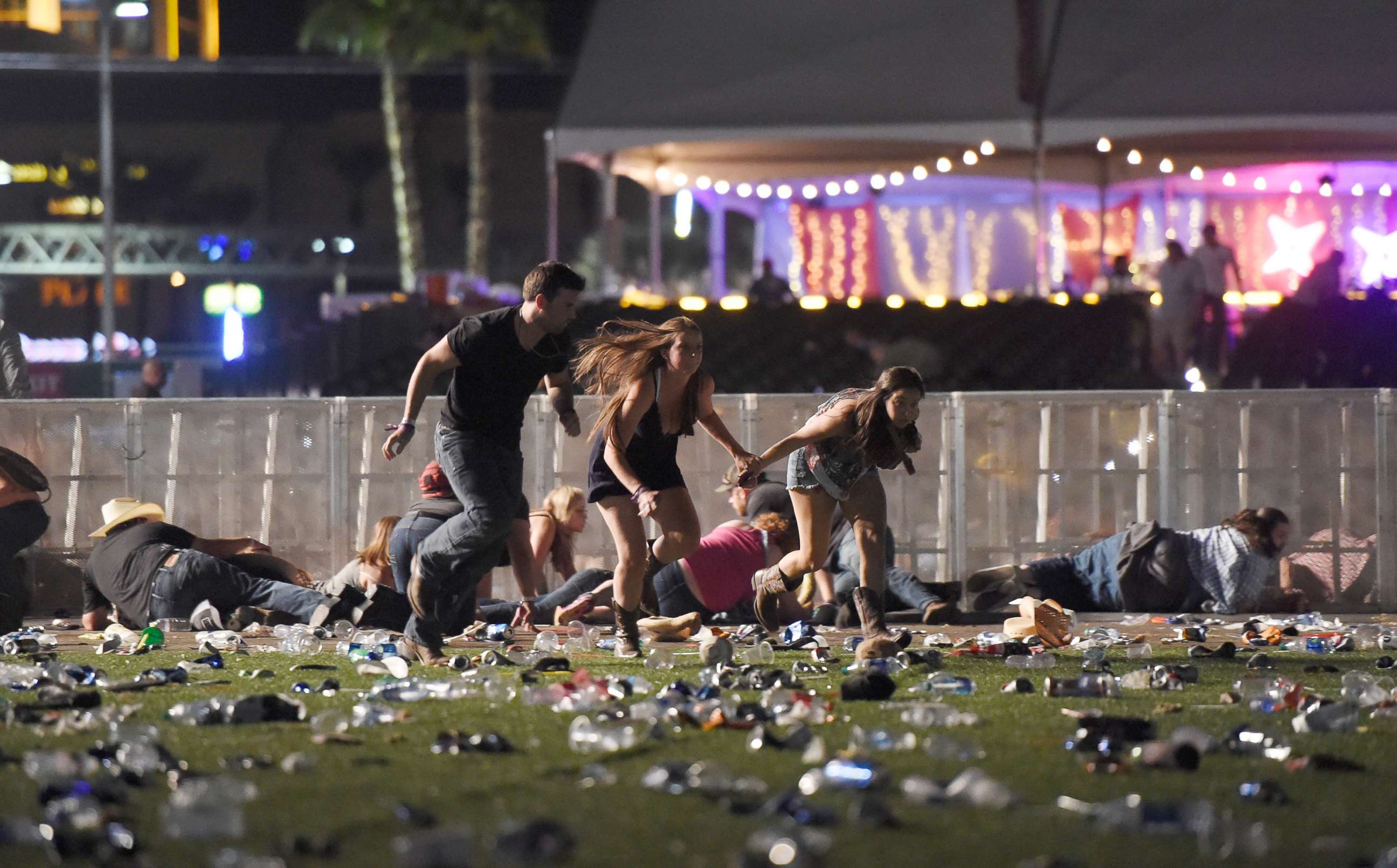 At least 50 people were killed and more than 400 were injured in the shooting. One witness said the "non-stop gunfire" sent people running for their lives and sparked confusion.
Lindsey Padgett and her fiance were in the crowd and ended up shuttling people in their truck to get help.
"We were trying to leave and when we were leaving we realized there were people everywhere that needed help and in stretchers – there was a girl in a wheelbarrow and she wasn't moving," Padgett told ABC News.
She said one person died in the bed of her truck.
"We didn't know where the hospital was so we were like, 'Where do we go, where do we go,' and the ambulance told us to follow them to the hospital with the rest of the injured people," said Padgett, who is from Mountain's Edge, Nevada.
Once they arrived, her fiance carried the dead person into the hospital.
"I'm surprised, I really am, that no one I know was injured – I thought for sure we were all going to die," she said.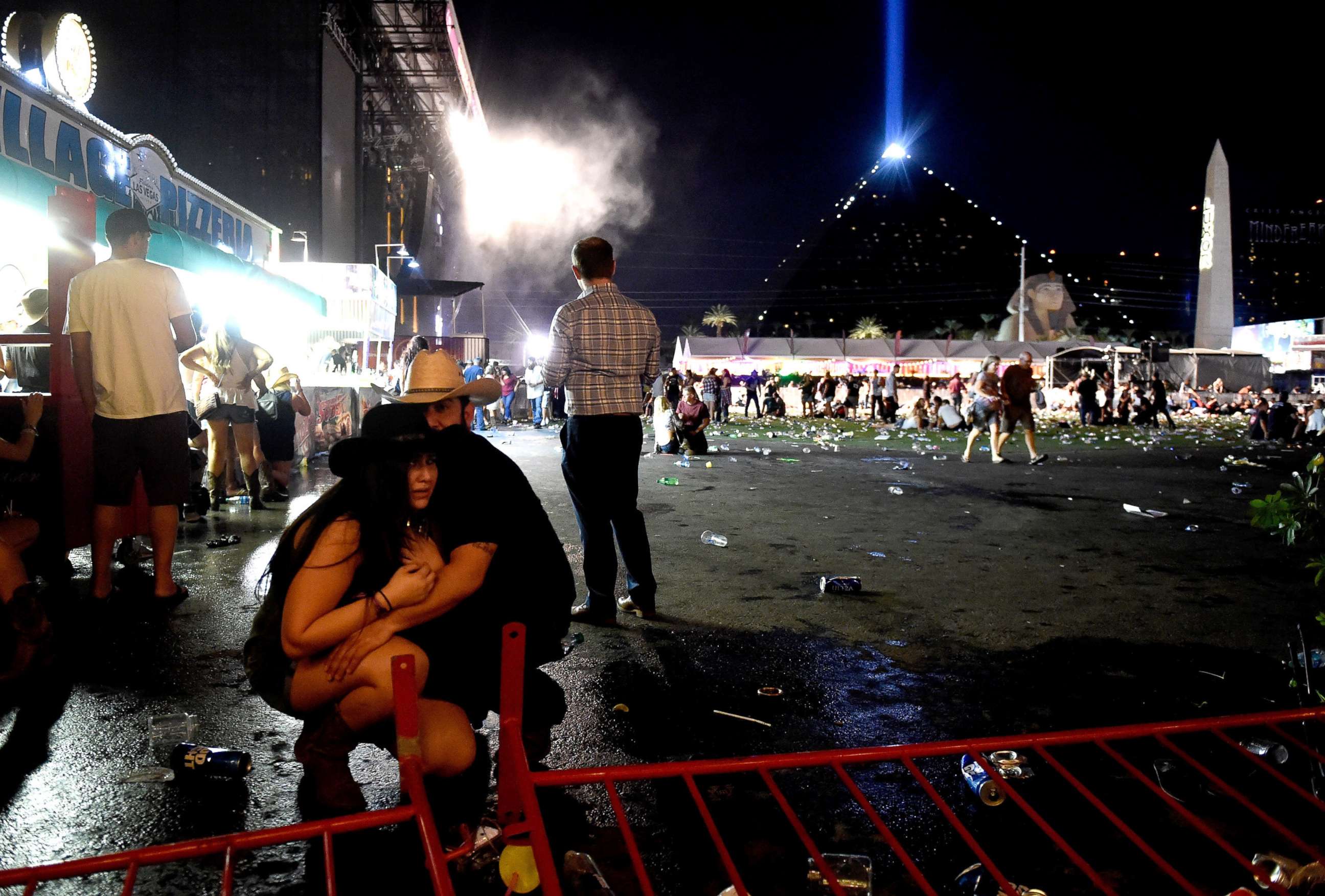 Concertgoer Adam Payne carried his friend out of the area after his friend was shot in the stomach.
"I carried him out as far as I could carry him until paramedics came and took over for me," Payne told ABC News. "The initial string of gunfire sounded like a small chain of like fireworks, like firecrackers."
The friend is now in stable condition and doctors have removed the bullet, Payne said.
Another witness, Vincent Sager, said he mistook the shots for "fireworks" but quickly realized he was wrong when he saw "someone run by me in blood," he said in an Instagram post.
Social media video showed witnesses as they scrambled to flee the scene. Some people were seen crouching on the ground, stumbling over each other, as others attempted to run.
Another witness said the concert venue felt like a "kill box" because it was so hard for people to get out.
As bursts of gunfire crackled in the air, people outside of the casino ducked and screamed.
"We're going to get trampled if we don't go," a bystander could be heard saying in a dramatic video of the incident.
Another witness, Jake Freeman, said he was standing on a nearby hotel rooftop when the shooting broke out.
"I had a bird's-eye view" of the shooting, Freeman said in a phone interview with ABC News. He said he saw "crowds of people running" as people "dropped to the ground."
"At the moment we didn't realized that they were being shot," he said.