— -- Sheldon Mack, a 21-year-old from Canada who was shot twice during the deadly mass shooting at a Las Vegas music festival, was reunited today with the stranger he says got him to a hospital and stayed with him despite being injured himself.
"He wouldn't leave my side, saved my life. ... I really appreciate all he's done for me," Mack told ABC News' David Muir Tuesday from his bed at Desert Springs Hospital Medical Center. "I think he got shot in the leg as well but he was so occupied with helping me out and helping others that he put it aside."
On Sunday, Mack from Victoria, British, Columbia, and his friends were attending the Route 21 Harvest Music Festival for his birthday when gunfire erupted, sending concertgoers running for their lives.
Mack said that as he was helping a girl who'd been shot in the leg, he felt bullets penetrate his elbow and midsection. He said a man had gotten him into a truck and he was taken to Desert Springs Hospital Medical Center. Mack said Tuesday that he'd never learned the man's name.
"He's an angel," his mother, Patty Mack, said Tuesday. "We'd love to find that fellow."
Today, the two were reunited in Sheldon Mack's hospital room.
Las Vegas shooting: Survivors tell of complete strangers who helped them escape
Investigators delve deeper into Las Vegas shooting as more chilling details emerge
Jimmy Grovom, 25, of Orange County, California, was at the music festival with friends Sunday night when the shooting started. Grovom, a paramedic, also suffered a gunshot wound to his right leg as he attempted to help others escape. He came to the hospital today to meet Sheldon Mack after his friends saw the story on ABC News and reached out to him.
He told Sheldon Mack and his parents, Hudson and Patty Mack, that the bullet had not hit the bone in his leg. The two injured men shook hands and Patty Mack gave Grovom a hug.
Grovom said that even though he'd been shot, he knew that Sheldon Mack was in trouble and rode with him in a truck all the way to the hospital. During their meeting in the hospital, Sheldon Mack and Grovom also met Erik Frazier, a Marine veteran who'd driven the duo -- and several other injured people -- to the hospital Sunday night in his truck.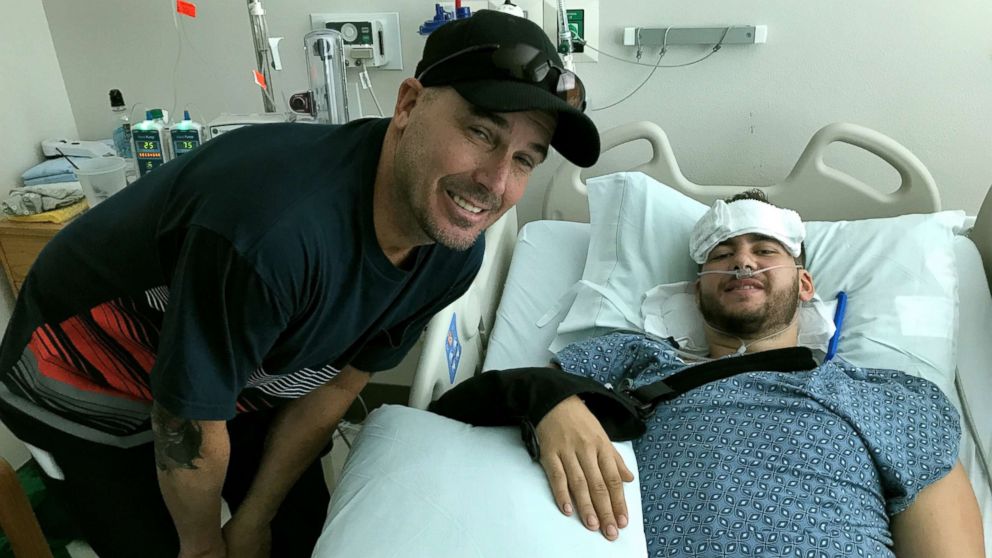 On Tuesday, before meeting Grovom, Sheldon Mack said that he owed a beer to the stranger who'd helped him. Today, Hudson Mack said he was already working on getting that drink order set up.
According to police, Stephen Paddock, 64, of Mesquite, Nevada, opened fire on the crowd from a room on the 32nd floor of the Mandalay Bay hotel. At least 58 people were killed and more than 500 others were injured in the shooting.
When police responded to the hotel room, they said Paddock was found dead. Authorities said they believe Paddock killed himself prior to police entry. The motive behind the shooting remains unclear.
ABC News' Christine Romo contributed to this story.