ABC News took a look at a "special nine" from 2009, acts of compassion, sacrifice, bravery and talent that were, in every case, inspired by a single someone, or a group of many, reaching out perhaps a bit further to help a fellow man.
We chose nine stories that illustrate achievements both bold and benevolent, all representative of how people make a difference in the lives of others.
Risking It All
The residents of Layton Avenue in Milwaukee began the day of July 19, 2009, as neighbors but they ended it as heroes.
What should have been a quiet Sunday evening was interrupted when an SUV driving past their homes crashed and burst into flames. Angela P. Baldessari, 32, and her two small children were trapped in the upside-down car and it looked as if they were about to die, until neighbors and passersby rushed in to save them.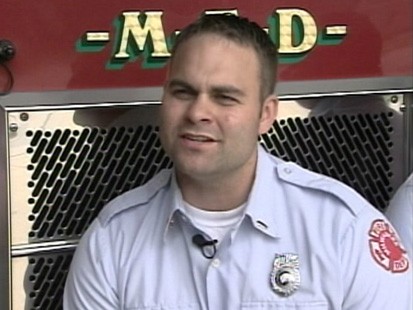 Baldessari and her 2-year-old daughter were pulled from the car but her 4-year-old son, David "DJ" Harper, was trapped in his car-seat.
John and Joel Rechlitz, two off-duty firefighters, took turns diving into the burning car to rescue the boy and, as a result of their bravery, DJ is now recuperating from burns covering 20 percent of his body.
DJ would have died had it not been for their fearless efforts but the Rechlitz brothers do not call themselves heroes.
"We were in the right place at the right time," Joel Rechlitz told ABC News.
To the Harper family, they were so much more.
"There are angels all around us," DJ's father, James Harper, said.
To learn more about DJ or donate money to help pay for his medical bills, click here.
Teaching by Example
For mountaineer Greg Mortenson, the path to peace begins in the mind of a child.
Mortenson has spent the past decade building schools in some of the most challenging parts of the world, Afghanistan and Pakistan, in order to help educate the boys and girls of the local villages.
Since its inception, Mortenson's non-profit, Central Asia Institute, has built 78 schools for 33,000 children.
Mortenson's work has not always been easy.
"I had a fatwa issued against me because I was trying to promote girls' education," Mortenson told ABC News.
In 2009, Mortenson received the Sitara-E-Pakistan, or Star of Pakistan, the country's highest civilian award, in recognition of his accomplishments in the area.
Inspiring Stories of 2009
"If you fight terrorism, that's based in fear," Mortenson said, "but if you promote peace, that's based in hope. It's ignorance that breeds hatred."
To learn more about the organization or make a donation, click here.
Drawing a Following
Lots of children like to draw but for 7-year-old Isabelle Redford, art is about helping others.
"I like to draw cards because I can raise money to help the orphans," Isabelle told ABC News.
Isabelle's project began after her mother told her a story of two girls in Haiti whose mother died during childbirth. Although she was only 5 at the time, Isabelle began selling her drawings to raise money, hoping to help.
The cards are now sold through the Global Orphan Project, a charity that builds and runs orphanages.
Isabelle has already raised more than $45,000, enough to build "The Isabelle Redford House of Hope" for orphaned girls in Haiti.
Isabelle and the Global Orphan Project plan to break ground on another orphanage in Uganda sometime in the next two months.
"I really want to do this all over the world where they really need it," she told ABC News.
To learn more about the Global Orphan Project or make a donation, click here.
Fair Health
Congress has been debating the health care bill for months but while Congress deliberates, Dr. Stan Brock has been taking action.
Brock, inspired in part by his own story, being homeless, being without food, being without medical care, oversees an organization dedicated to bringing doctor and patient together.
Brock's brain-child, Remote Area Medical, runs free health care clinics around the world. The all-volunteer organization was originally founded to offer aid in developing countries but 64 percent of its work is now done in the United States.
This year, Brock took RAM out of the remote areas of the United States and moved it to Los Angeles for an eight-day clinic.
"People ask me what are you doing in Los Angeles?" Brock told ABC News. "For people that simply can't afford health care in this country, the opportunity to get it is remote."
Remote Area Medical has already scheduled its 2010 clinics, beginning Feb. 6, 2010, in Chilhowee Park, Tenn.
To learn more about Remote Area Medical or make a donation, click here.
Delivering the Goods
Bus driver Jorge Munoz gives new meaning to the phrase "sharing is caring."
Munoz has been feeding New York's hungry for the past five years, and he's been doing it by cooking hundreds of meals each night in his small kitchen in Queens, N.Y.
Munoz witnessed the toll the recession took on his fellow New Yorkers this past year as he watched the number of mouths he was feeding double. Munoz even found himself unemployed for a month, but he continued to feed the more than 100 people who showed up nightly looking for food.
Munoz spends half of his $650 a week salary on food, but the value of the dollar means little to him.
"The best way we get paid back is that we in these guys smile," Munoz told ABC News.
To learn more about Munoz's efforts or to donate money, click here.
Millions of Reasons
Helen LaKelly Hunt, the daughter of Texas oil tycoon H.L. Hunt, was born into wealth. Raised to be a Southern belle and not think of money, she was startled to learn as an adult that affluent women were not making significant donations to charities that directly aided women.
"Women and girls shoulder 85 percent of the burden of poverty today," Hunt told ABC News. "Yet today they receive 7 percent of the funding philanthropically."
In partnership with the Women's Funding Network and with the help of a generous donation from her sister, Swanee Hunt, she launched "Women Moving Millions," a campaign to raise $150 million for women's funds through donations by wealthy women.
"It's time for high net-worth women to stand by their sisters," Hunt told ABC News. "We wanted these women to step up to the plate and not sit on the sidelines while these other women are helping to heal the planet."
Women Moving Millions has already raised more than $185 millions from only 101 donors, including two men.
The donations have been disbursed among 43 women's organizations with the promise of much more to come.
"We're beginning the unleashing of something that's going to cascade and keep going," Hunt said. "We are just getting started."
To learn more about Women Moving Millions or to make a donation, click here.
Wish Fulfillment
Dave Girgenti is in the business of granting wishes.
His Web site, WishUponAHero.com, connects those in need to those with the power, and desire, to grant wishes.
"Sometimes, it's as simple as advice or a birthday card," Girganti told ABC News. "They're not always huge, huge wishes. So anyone can be a hero."
Inspiring Stories of 2009
Heroes have sent a World War II veteran back to Pearl Harbor for his 90th birthday, a prom dress and shoes to a girl whose house burned down, and introduced a boy with terminal cancer to his basketball idols.
Nancy Mitchell has granted 21 wishes, kindness that was repaid when someone else granted her wish.
Mitchell's husband has just lost one of his jobs, their dryer stopped working and their car needed thousands of dollars in repairs when their refrigerator died.
After she posted to the site, Ginny Winderman, who volunteers to help run the site, bought a refrigerator for Mitchell.
"It's just not an appliance," Mitchell said. "She gave me my holidays back."
To learn more about the Web site or get involved, click here.
Profiles in Courage
For the tens of thousands of U.S. troops far from home, their commitment to purpose, their focus on the mission, their devotion to each other and their love of country and family, perhaps explains their unwavering dedication in the face of all the personal sacrifice.
"I really feel that I've made an impact or participated in something really critical to our nation," Col. Gary Volesky told ABC News this year. "I truly believe that our families are safer because we are right here."
President Obama recently announced plans to send an additional 30,000 troops to Afghanistan. They will join the 68,000 already there. Another 114,000 continue to serve in Iraq.
These servicemen and women have left husbands, wives, children and loved ones behind this year, in order to help defend and grow communities in Afghanistan and Iraq.
And those abroad are not the only ones showing courage.
"[My son Alex] always makes me smile because he says, 'Ok, dad, you go over there and you help those people and I'll wait for you back here,'" Volesky said.
If you're interested in making donations to troops serving abroad or helping their families at home, click here.
A Sorrowful Ritual
In February 2009, the Pentagon lifted an 18-year ban on media coverage, with the family's permission, of the return of fallen service members to Dover Air Force Base in Delaware.
More than 5,000 coffins have arrived at Dover since the wars in Afghanistan and Iraq began. All have received a dignified transfer.