— -- A man took a joyride up and down the Seven Mile Bridge in the Florida Keys, causing havoc for over an hour on Tuesday morning in a backhoe construction vehicle before cops were able to pull him over.
"It was certainly a dangerous and destructive ride," Becky Herrin, spokesperson for the Monroe County Sheriff's Department, told ABC News today.
The man, identified by deputies as 59-year-old Carl Blahnik, took a backhoe from a nearby construction site and drove the vehicle onto the Seven Mile Bridge, wreaking havoc on the roadway. He was dragging the jackhammer attachment on the back of the vehicle on the road causing reflectors to come off and leaving debris and other damage on the road, according to Herrin.
The department received a call late Monday night about boulders being dumped on Seven Mile Bridge, Herrin said. When officers arrived at the scene, they saw a man driving the backhoe around 10 to 15 mph on the roadway.
"Initially they were following him very closely," Herrin said, but then the man put the backhoe in reverse and was chasing the police backwards with the jackhammer. The police then followed from a distance for their own safety, but "trying to keep him in sight," according to Herrin.
"At one point a deputy got out of his car and tried to reason with the man and almost got hit with the jackhammer," Herrin said.
While on his joyride, there were a few other cars on the road that had to maneuver around the backhoe, but police were able to close the road and eventually stop traffic from both ends of the bridge, according to Herrin.
After an hour and a half, the man exited the bridge and ran over spikes that the police placed on the road. The man still tried to drive the backhoe for a little while with flat tires, but the deputies were able to pull him out after a short amount of time, Herrin said.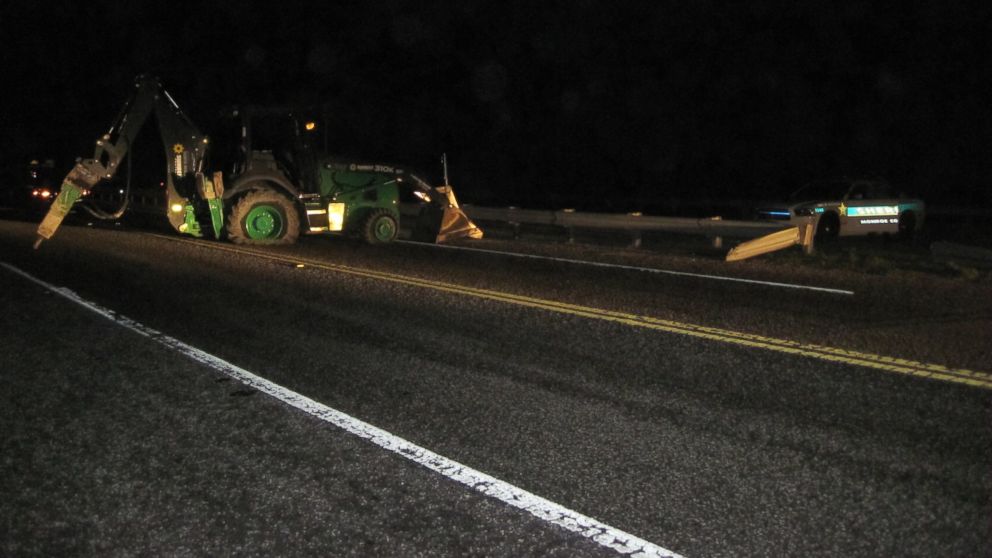 The man complained that his arm hurt, Herrin said, so the police took him to the hospital, where they popped in his dislocated shoulder and then brought him into custody. No other injuries were reported.
Police were able to open the bridge back up after 3 a.m. on Tuesday, but Herrin said there is still considerable damage on the road and it is not as safe to drive on at night with the reflectors ripped off.
Blahnik was in custody this morning with his bail set at $32,500. He was not thought to be driving under the influence and it appears he took a construction vehicle from a site that still had the keys in it, Herrin said. The court will decide whether Blahnik will have to cover the costs to repair the roadway, Herrin said.
"I've been here 28 years. I have never recalled a situation like this before," Herrin said.
It was not immediately clear whether Blahnik had hired an attorney.