For Kyle Pease, living with cerebral palsy with spastic quadriplegia means he has been in a wheelchair his entire life.
The 30-year-old Atlanta resident has also crossed the finish line of 44 endurance races, including two Ironman triathlons and the New York City Marathon last month.
Pease, a college graduate who works in customer service for the Publix grocery store chain, is also an author whose new kids' book, "Where There's a Wheel, There Is a Way," is an extension of his philosophy on life: that people with disabilities have no limits.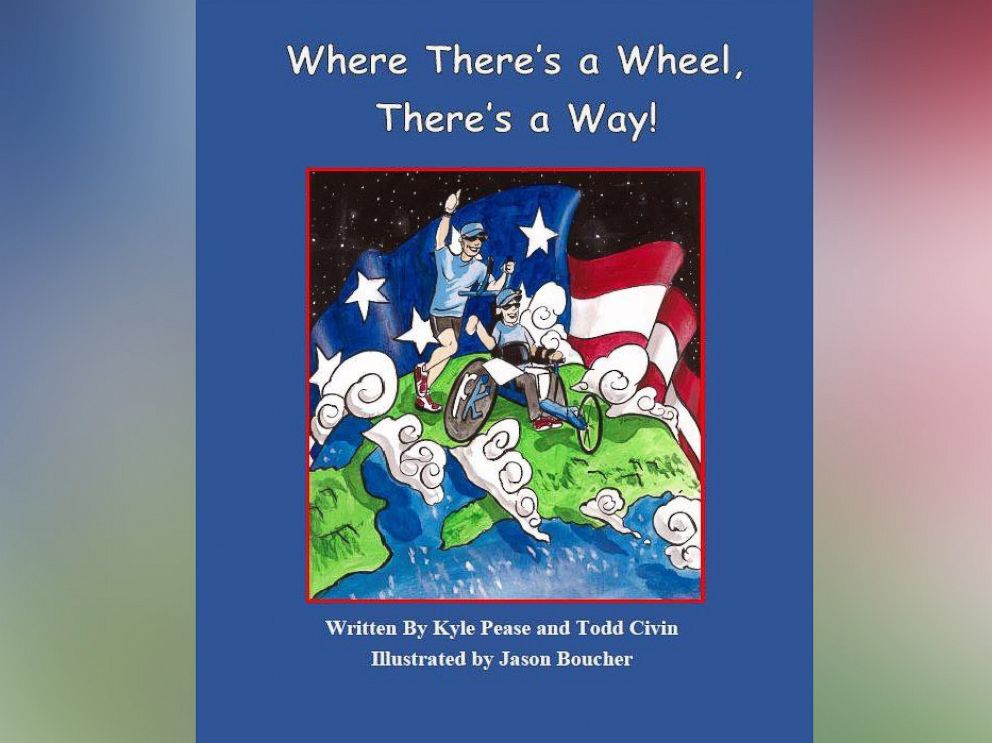 "I'm hoping that readers understand that anything is possible if you put your mind to it and that predestined conditions don't ever dictate the outcome of the final chapter," Pease told ABC News. "I want children to realize that no matter what, where there's a will or in my case a wheel, there's a way."
While Pease is at the heart of the 44 endurance races he has finished, the legs running across each finish line belong to his older brother, Brent Pease, who pushes Kyle through miles of races on the road and on the bike.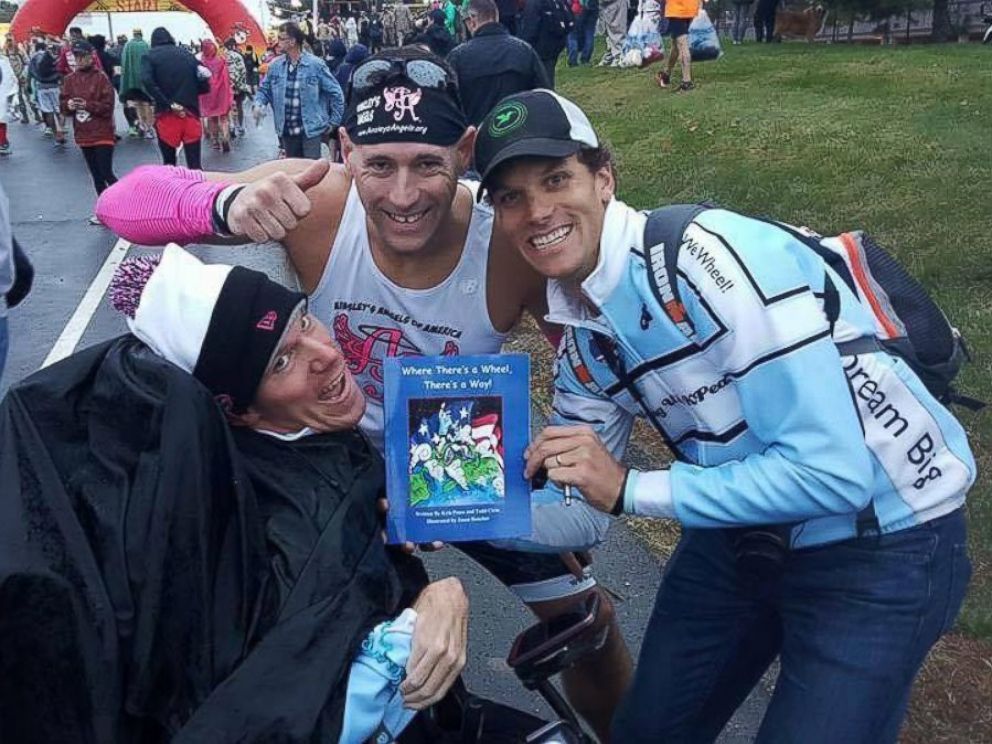 Together, the two brothers run The Kyle Pease Foundation which helps other people with disabilities get to experience the finish line of an endurance race. The foundation helps cover race fees, travel and training for the foundation's athletes.
The brothers began racing together in 2011 after Brent, 32, a marathon and triathlon coach, signed up for an Ironman race.
"Kyle came and watched and asked, 'Can people in wheelchairs do Ironmans?'" Brent said of the race, which consists of a 2.4-mile swim, 112-mile bicycle ride and 26.2-mile run. "The response was an emphatic yes and that was the start of all of this."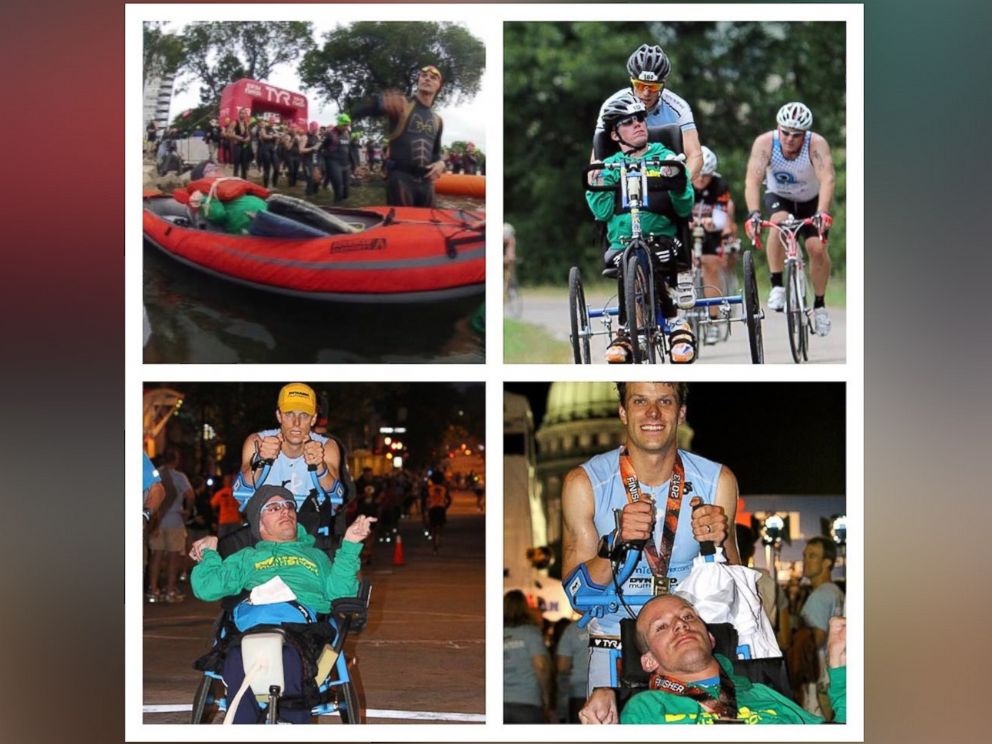 Last month, just as Kyle was wrapping up his book on overcoming odds, the Pease brothers had to put their philosophy to the test when Kyle's custom-made racing chair broke about 12 miles into the New York City Marathon.
"I just took Kyle out of the chair and started walking with him, thinking I could walk 14 miles to the finish line," Brent said. "One of us would have ended up in the hospital."
The pair spent 90 minutes on the side of the road before a police officer took Brent to a bike shop a few blocks off the marathon route. Kyle's chair was too customized to be fully repaired, so the brothers faced elimination from the very marathon for which they had worked three years to gain entry.
"When we got back to the medical tent there was someone there with something to sign to drop out of the race," Brent recalled. "For what our foundation's mission is and for who we are personally and what we teach our families and our athletes, we weren't going to quit."
The medical team supplied Brent with a blanket and a string so he could carry some of the chair on his shoulder and he began to walk the marathon route again, partially holding Kyle and the chair. Less than one mile in, a fellow runner, a woman named Amy, stopped and told Brent she was going to stop her race to help him, refusing his plea for her to keep going.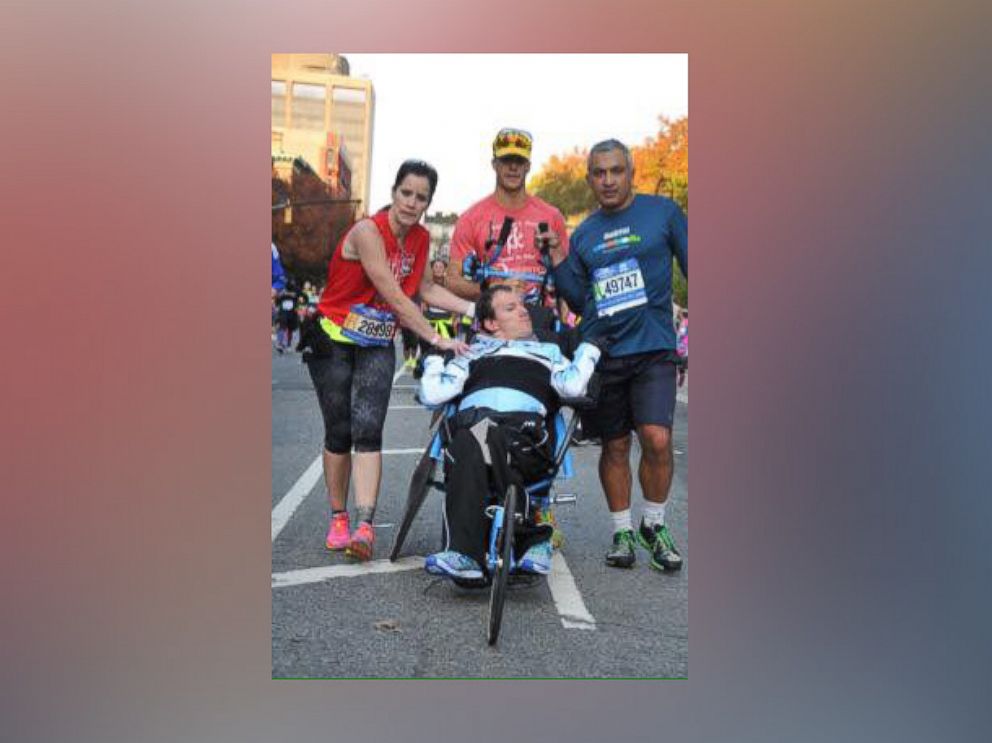 Another two miles or so back into the race, a second runner, a man named Cameron, stopped his race to help carry the chair too. The three of them -- Brent, Amy and Cameron -- then carried Kyle and his chair, which weighed around 120 pounds in all, the rest of the nine miles to the marathon's finish line.
The brothers crossed the finish line in the dark, more than seven hours after they started, to a small crowd still lingering at the finish line.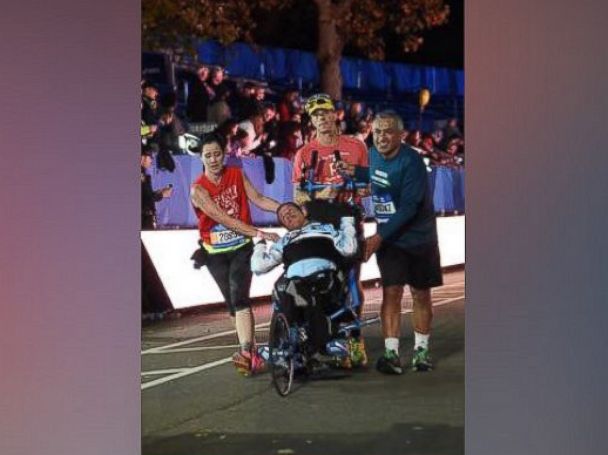 "I was exhausted mentally and physically," said Brent, who was on pace for a sub-4 hour marathon before the chair broke. "Kyle said at one point, 'If you want to quit, you can quit,' and I said back, 'I heard everything in your voice I needed to hear. We're going to keep going.'"
When asked how he felt at the end of the race, Kyle, who coaches Brent with his split times during their races, said simply, "Relief that it was over and overwhelmed at what had just happened."
Kyle, who is also a motivational speaker, is recovering from the marathon by sharing the message of his book, including releasing a video in which he reads aloud a book excerpt.
Just last week, a Kyle Pease Foundation athlete raced across the finish line of Ironman Panama City, and the brothers say their mission will continue.
"I think to them it gives them hope, that's the word," Brent said of the disabled athletes he coaches. "We're not trying to solve every issue they have but just give them hope that if they can complete a marathon or an Ironman, there's nothing that's stopping them."