— -- Rob Jones, a Marine who lost his legs in 2010 to an explosion while overseas in Afghanistan, is traveling the country to run 31 marathons in 31 days while raising money for wounded veteran charities.
Jones' month of marathons started across the pond in London on Oct. 11. He has since made his way to North America -- running the 26.2-mile distance every day wherever he can and even inviting people to join him some days.
The journey will end in Washington, D.C. "I'm excited about the last one in D.C. because it is really poignant on Veterans Day on the National Mall," Jones told ABC News, adding that he's "looking forward" to each day.
Jones hopes his journey will be an inspiration to other veterans. "Being a person that has successfully gone to Afghanistan and Iraq, had a traumatic experience, and reintegrated into society, I am an example and want to show I've succeeded," Jones said.
Jones' worked as a combat engineer in Afghanistan, where his job involved detecting improvised explosive devices (IEDs). "I would clear a route through that area and people would follow behind me," said Jones.
But one day, Jones "found an IED before it found him," he said, ultimately leading to a double above the knee amputation surgery.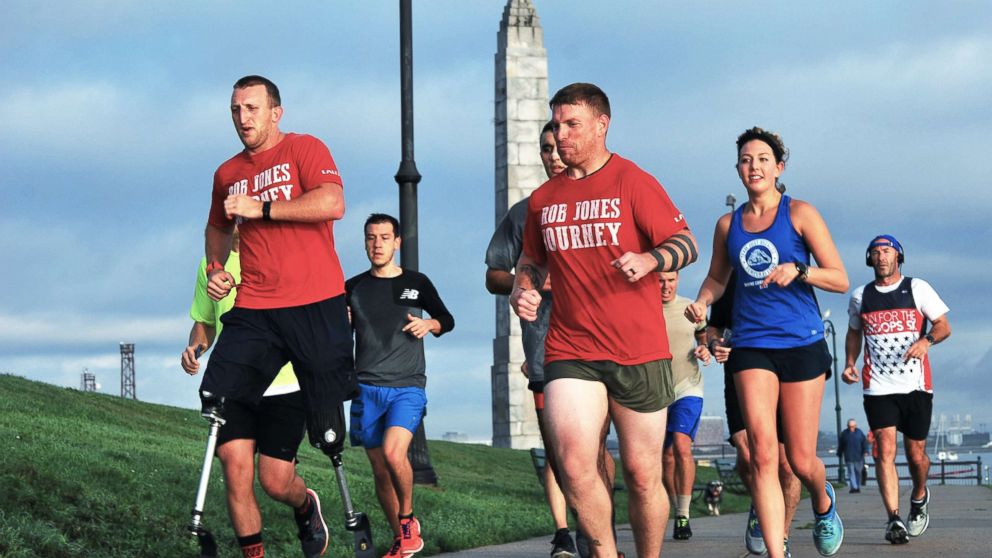 After his surgery, Jones' first goal set was to become a Paralympic medalist, so he started training in rowing, he said.
In September 2012, Jones and his partner brought home the bronze medal in their event.
"I still feel proud of it. It was refreshing because it was the first thing I wanted to do. It set me on track to achieve my goals in a physical realm," Jones said of his victory.
But that wasn't enough for Jones.
In 2013, he embarked on a solo bike ride across the country from Maine to southern California.
The 5,180-mile ride took him 181 days but he said it was worth it because of the money he raised for wounded veterans' charities, which he is doing again on his running journey.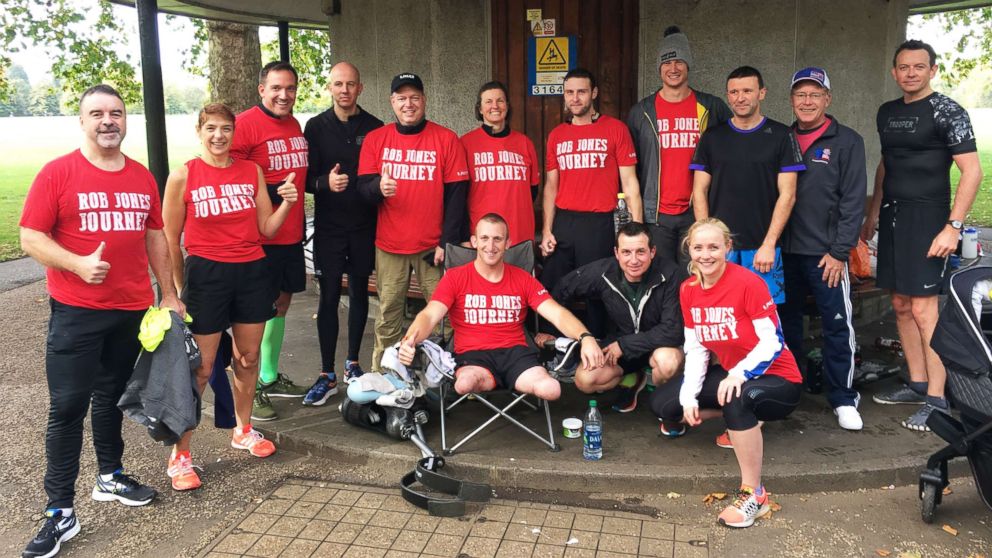 Running is a different beast than biking, Jones said, explaining that his muscles ache, there are skin abrasions on his body, and there's "a dull ache in the background" throughout running.
"The biggest challenge is the repetitive stress every day for such a long period of time. It will add up eventually," said Jones.
But the pain won't deter him in his mission. "I am doing it for a purpose. The purpose is a lot more important than me being comfortable," added Jones.
Jones is inviting people to run with him along his marathon route.