— -- A U.S. Marine Corps veteran made history Thursday as the first ever combat-wounded amputee to reach the summit of Mount Everest.
Staff Sgt. Charlie Linville, 30, climbed the 29,029-foot summit of the highest mountain on earth with a prosthetic leg after being involved in a blast in Afghanistan in 2011 that left him with serious injuries to his right food and hand.
Linville, a father of two from Boise, Idaho, decided to have his right leg amputated below the knee after rehabilitation and reconstructive surgeries, according to The Heroes Project , an organization that leads mountaineering expeditions with gravely wounded veterans and active service members. Linville and his climbing partners battled winds of up to 50 miles per hour during the nine hours it took them to reach Mt. Everest's summit.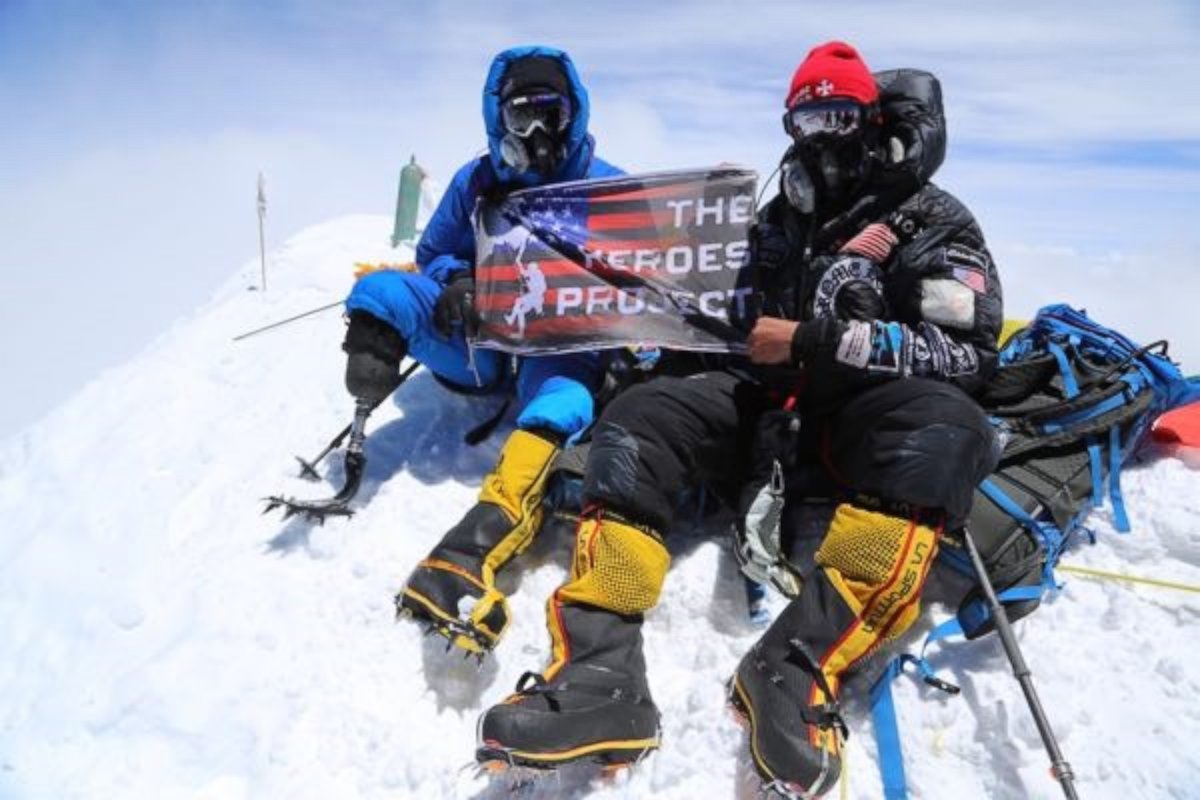 This was Linville's third attempt to reach the summit of Everest with The Heroes Project. The team canceled its climb in 2014 to honor the 18 Sherpas who died in an avalanche. Last year's earthquake in Nepal ended the second attempt.
Also climbing Everest is former U.S. Army Reserve Staff Sgt. Chad Jukes, who lost his right leg in Iraq in December 2006 when an improvised explosive device (IED) struck his vehicle.
Jukes is climbing with a separate team -- the USX Veteran Everest Expedition -- which is believed to be about four days away from reaching Everest's summit. The USX Veteran Everest Expedition's team aims to honor veterans and raise awareness about their mental health.
"I have found great satisfaction and great happiness in getting to the outdoors," Jukes told ABC News Thursday by satellite phone at 21,000 feet elevation on Mount Everest. "I think that a lot of people can share in that healing power."
Jukes said he was never worried about being first to summit and that it doesn't matter to him. He always wanted to do this climb to bring awareness to veterans' issues.
The USX Veteran Everest Expedition's climb is being led by Lt. Harold Earls the 4th, an active-duty soldier assigned to the 3rd Infantry Division at Fort Stewart in Georgia. Earls, 23, told ABC News the team is "feeling strong."
"We are feeling really good, feeling strong and I think the team is going to be successful," he said by satellite phone. "I think for our team, the fact that we are climbing for a cause makes it that much more meaningful and it and it is definitely what drives me."
Earls continued, "We are raising awareness for soldiers' mental health which is post-traumatic stress and soldier suicide so there are some staggering statistics. 22 veterans a day commit suicide, one active duty soldier a day commits suicide and that is more deaths per suicide than in the past five years in combat."