— -- The U.S. Marines Corps released the names of fifteen Marines and one Navy corpsman killed in a military plane crash on Monday.
The Marine Corps KC-130 transport plane was flying from the Marine Corps Air Station in Cherry Point, North Carolina, to the Naval Air Facility in El Centro, California, when it crashed in a field in LeFlore County, Mississippi, about 85 miles north of Jackson.
While an investigation is underway to determine what caused the KC-130 to go down, Marines Forces Reserves said the plane vanished from air traffic control radar somewhere over Mississippi.
Witnesses described hearing a loud crackling noise around the time of the plane crash.
Nine Marines on board were from Marine Aerial Refueling and Transport Squadron VMGR 452 based out of Stewart Air National Guard Base in Newburgh, New York. The other six Marines and one Navy corpsman were from Marine Corps Forces Special Operations Command (MARSOC), part of the elite 2nd Marine Raider Battalion based in Camp Lejeune, North Carolina.
The Raiders were traveling on from El Centro to Yuma, Arizona for pre-deployment training, carrying cargo, body armor, radios, weapons and small arms ammunition with them on the KC-130, said Maj. Nick Mannweiler, spokesman for MARSOC.
HONOR THE FALLEN: U.S. Marine Corps identifies the 15 Marines and 1 sailor who were killed in the KC-130T crash in Mississippi this week. pic.twitter.com/V74C7dCbnS
— ABC News (@ABC) July 14, 2017
Mannweiler told ABC News that seven other team members from the 2nd Marine Raider Battalion had already flown to Yuma and were waiting for the six Marines and one Navy corpsman to arrive on Monday.
While it's unknown exactly where this Raider team would have deployed, the 2nd Marine Raider Battalion is paired with U.S. Central Command, which means they would have likely gone to the Middle East.
In a press conference on Friday, Col. Steven Grass, Deputy Commander of MARSOC, called the organization a "tight-knit community."
"The command's top priority right now is caring for the families of our fallen," Grass said, adding later, "As a team, as a family, we're going to pull together. We'll see this through."
He pointed to the motto for MARSOC, "Spiritus Invictus," which means "unconquerable spirit," adding that he was impressed with their strength and resilience in the wake of Monday's crash.
MARSOC, totaling 2,742 people, is the smallest component of U.S. Special Operations Command.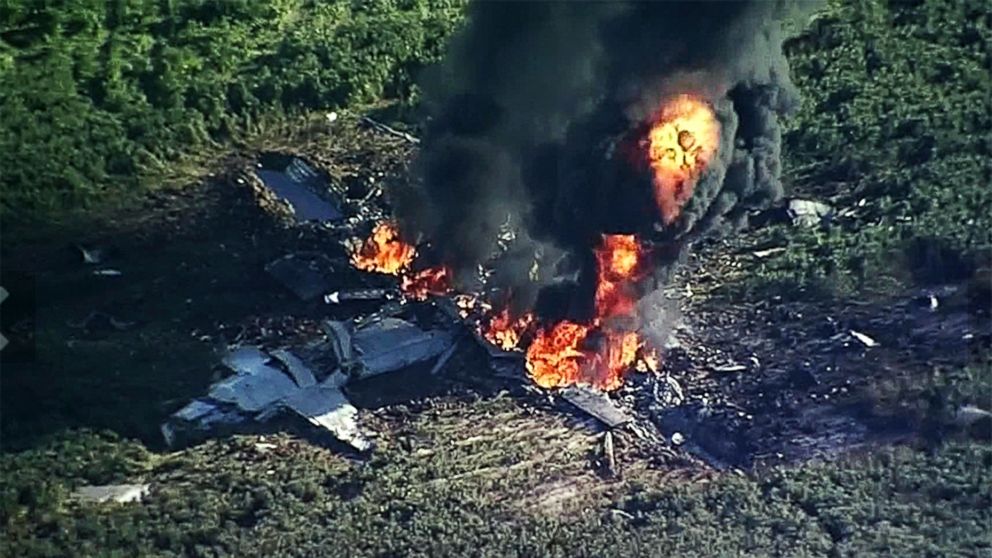 Monday's crash was the deadliest aviation accident for the Marine Corps since 2005, according to the Washington Post. In 2015, seven Marines, also from the 2nd Marine Raider Battalion, were killed when an Army helicopter crashed off the coast of Florida.
"We remain committed to the surviving families and will continue the thorough investigation into the cause of this tragedy," Gen. Robert Neller, Commandant of the Marine Corps, tweeted on Friday.
Here are the names of the sixteen service members who were killed in the crash:
Maj. Caine M. Goyette; Capt. Sean E. Elliott; Gunnery Sgt. Mark A. Hopkins; Gunnery Sgt. Brendan C. Johnson; Staff Sgt. Joshua M. Snowden; Sgt. Julian M. Kevianne; Sgt. Owen J. Lennon; Cpl. Daniel I. Baldassare; Cpl. Collin J. Schaaff; Staff Sgt. Robert H. Cox; Staff Sgt. William J. Kundrat; Sgt. Chad E. Jenson; Sgt. Talon R. Leach; Sgt. Joseph J. Murray; Sgt. Dietrich A. Schmieman; and Petty Officer 2nd Class Ryan M. Lohrey
More information on all of these service members can be found here.