30 injured, 2 fatally, in Baltimore mass shooting: 'It was a war zone'
Baltimore Mayor Brandon Scott called the shooting a "reckless, cowardly act."
At least 30 people were injured, two fatally, when a mass shooting erupted early Sunday in Baltimore, turning what had been a festive neighborhood block party into what one witness described as a "war zone."
An 18-year-old girl was found dead at the scene from a gunshot wound and a 20-year-old man was taken to a hospital, where he died, authorities said. Three of the injured people were in critical condition, officials said.
The deceased victims were later identified by police by the Baltimore Police Department as Aaliyah Gonzales, 18, and Kylis Fagbemi, 20.
At a press conference held Sunday afternoon, Police Commissioner Richard Worley told reporters that all victims are gunshot victims. They range in age from 13 to 32, with around 14 victims under 18, police said.
Among the victims were girls aged 13, 14 and 15; 16-year-olds and 17-year-olds, as well as women aged 18, 19, 20, 23 and 32, police said.
Among the victims were boys aged 13 and 15; 16-year-olds and 17-year-olds, as well as men aged 18, 22 and 31, according to Baltimore police.
"It was a war zone. It was definitively a warzone," one witness, who only wanted to be identified by her initials L.N. because she feels unsafe in Baltimore, told ABC News.
The mass shooting unfolded around 12:30 a.m. in the Brooklyn Homes neighborhood in the southern district of the city. Worley said police officers rushed to the scene when numerous 911 callers reported shots being fired.
Worley said the barrage of gunfire broke out during a large block party at a housing development in the 800 block of Gretna Court. The event was not permitted, he later told the media.
"When officers got here, we located multiple victims suffering from gunshot wounds," Worley said.
Worley said authorities are looking for multiple suspects.
At press time, no suspects had been arrested in the violence Baltimore Mayor Brandon Scott described as "a reckless, cowardly act."
"This morning, all of Baltimore is grieving the lives that were lost here, and our hearts are with those who are recovering as a result of this mass shooting," Scott said at a news conference near the crime scene. "We will not stop until we find those cowards who decided to just shoot dozens of people, causing people to lose their lives."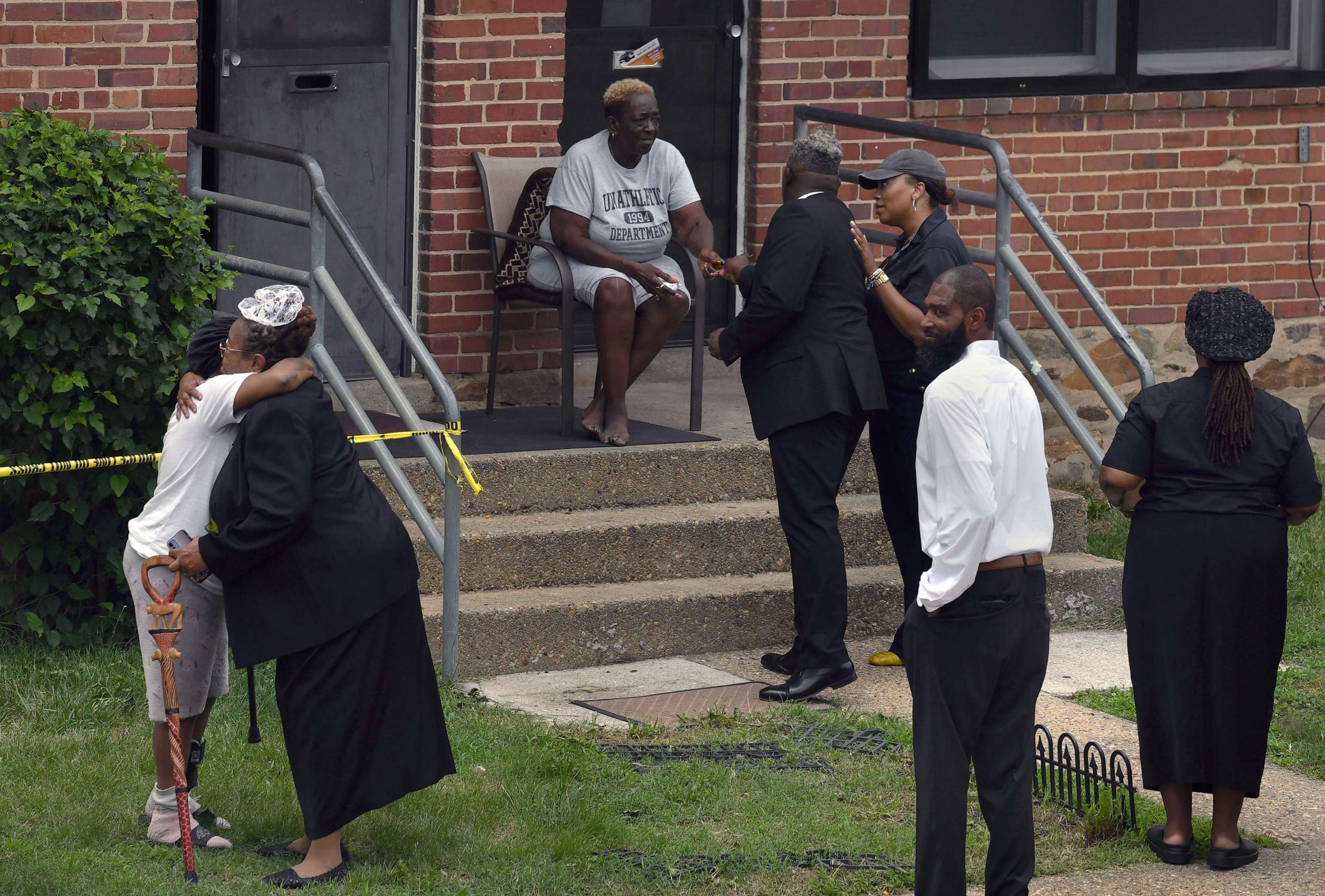 Worley said investigators are combing through security video in an attempt to identify suspects. He said a motive also remains under investigation.
Directing his comments to the assailants, Scott said, "I want those responsible to hear me clearly, we will not stop until we find you. And, we will find you."
"Until then, I hope that with every single breath you take, you think about the lives that you took and you think about the lives that you impacted here tonight."
Both the mayor and Worley asked for the community's help in finding the perpetrators.
"If you saw anything or know anything, please call 911," Worley said.
Scott added, "Treat this as if it were your family, how you would want to be treated if you were mourning, if this was your neighborhood, if this was an event in your community."
The witness, L.N., told ABC News that she was leaving the annual "Brooklyn Day" neighborhood block party and as she was walking to her car, she heard what she immediately recognized as gunfire.
"I mean, it was it was loud," said L.N. "It was messy, all these people were running around the building running everywhere. It was just ... oh my god, all these young people running."
L.N. said two young women who had been shot approached her and asked for help. She said she put both shooting victims in her car and drove to MedStar Harbor Hospital, running red lights along the way. She said one of the wounded women in her car "kept screaming every time I hit a bump."
"I wanted them babies to be OK. They are babies. These are young people, very young people, that were out there," L.N. said.
Worley said nine people, including the young man who died, were taken to area hospitals by ambulance. Additionally, 20 other victims walked into hospital emergency rooms throughout the region seeking treatment for gunshot wounds, he said.
At Sunday afternoon's update, Worley said all but nine of the victims who went to area hospitals had been released, with a few remaining in critical condition.
"This is an extensive crime scene," Worley said. "Our detectives will be here quite a while."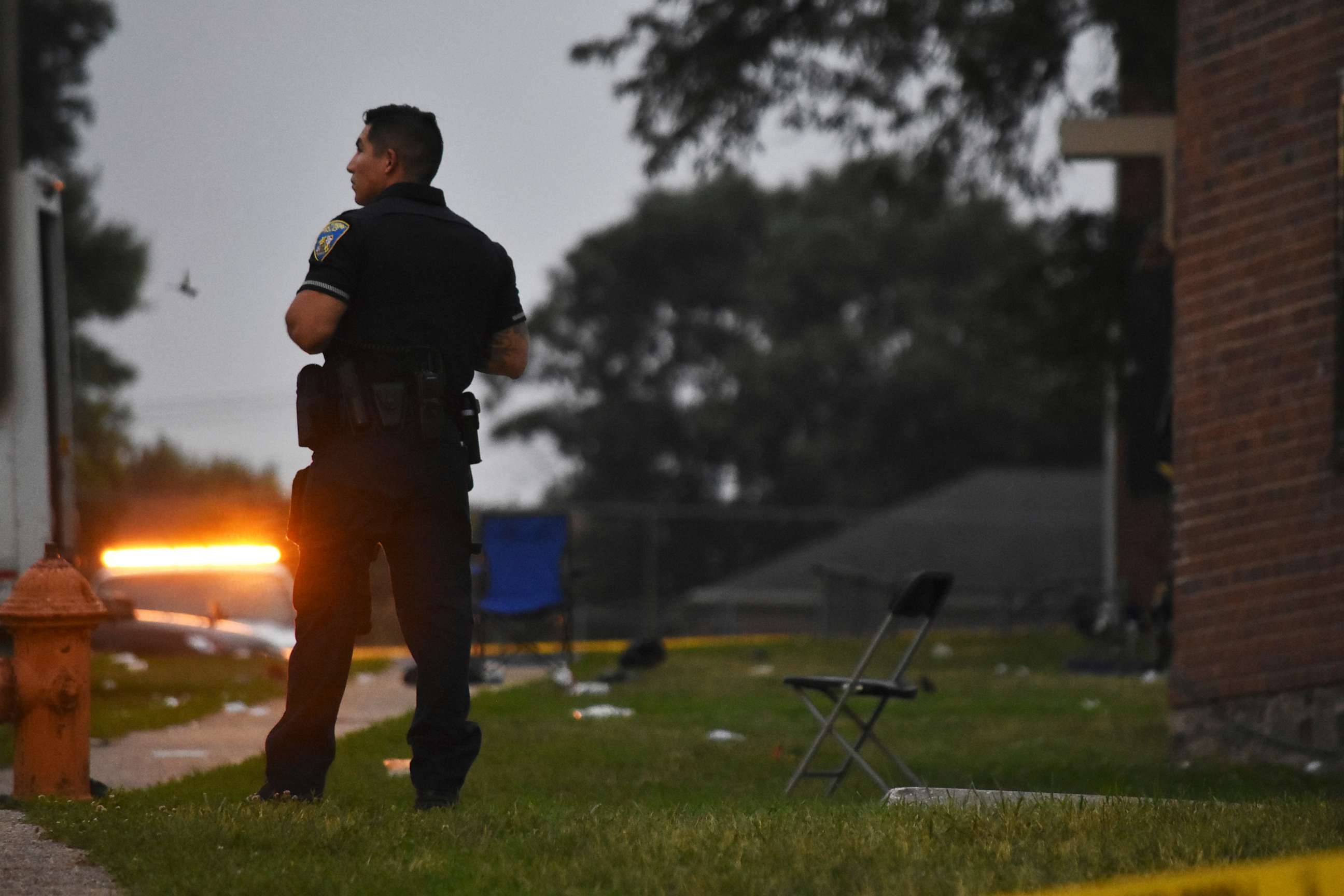 Maryland Gov. Wes Moore released a statement Sunday, condemning "yet another mass shooting (to) strike our community where a celebratory gathering turned deadly."
"Maryland has had enough of watching gun violence continue to ravage our state and our nation," Moore said. "The fact that these horrific shootings continue to take place is abominable. We as a state will continue to do everything we can to prevent senseless acts of violence like the one we saw last night."
ABC News' Deena Zaru and Teddy Grant contributed to this report.