Meet Joy Mangano, the Real-Life 'Joy' Behind the Upcoming Film
Joy Mangano is a home shopping entrepreneur.
December 21, 2015, 9:32 AM
— -- Joy Mangano is the home shopping entrepreneur and inventor whose life story serves as the inspiration for the film "Joy."
The film stars several of Hollywood's biggest actors, including Bradley Cooper, Robert De Niro and Jennifer Lawrence, who plays Mangano. It's directed by David O. Russell.
Mangano talked with Lara Spencer of "Good Morning America" about the film, and Spencer asked her what it was like to be played by Lawrence, who has snagged Golden Globe nomination for the role.
"Oh, my goodness, you know it doesn't get any better than that," Mangano said.
"It's a funny thing because from the moment we met, within a very short period of time, we were finishing each other's sentences," she said of Lawrence.
Spencer asked Mangano how she would describe the film.
"I think it's very inspirational. It will touch millions of people with many touch points because so many of us have ideas and inspirations and the mop just represents all of that," referring to the self-wringing mop she developed that launched her into entrepreneurial stardom. "And how many of us stuck it away and say, 'You know, I don't know, but if you believe in yourself and go after it.' That really is the message."
Mangano, who lives on New York's Long Island, said many people move away from their passions when they grow up and have a family.
"But if you are able to stick to that, and no matter what anybody says, and follow through with it, and then be successful with it. But success in a way that's so natural for me. It means helping other people with my products. That's what success is," she said.
During Mangano's visit to "GMA," she met with two aspiring entrepreneurs who pitched their products to her for some feedback.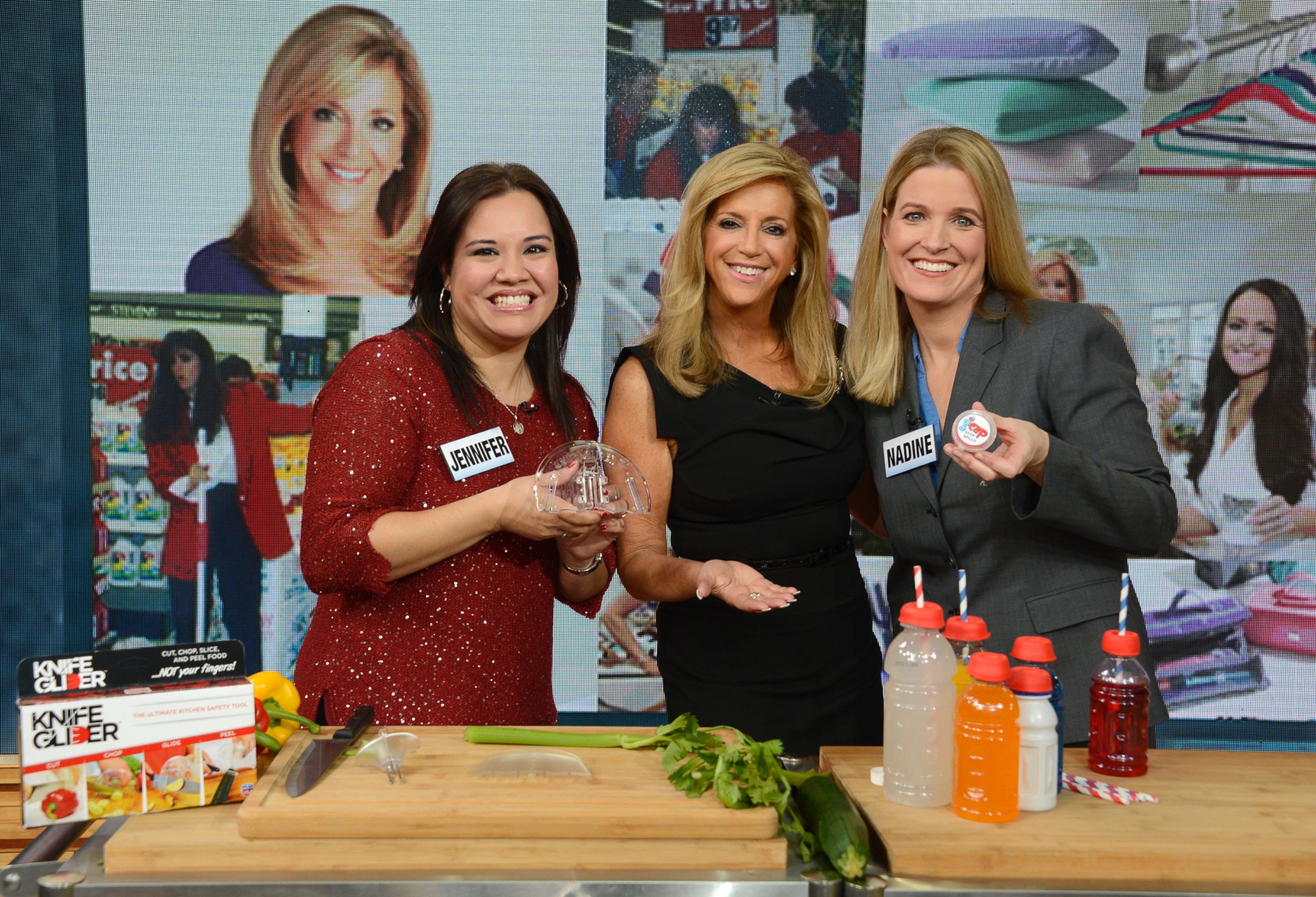 The first entrepreneur, Nadine Savino, presented her product, named the G Cap, which she described as a stretchable, spill-proof bottle cap.
"Simply stretch the G Cap over any beverage bottle and insert any straw. It's that simple," Savino said.
"Oh, I wish I had that when my children were little," Mangano, who has three children, said.
Next, Jennifer Shipp presented her idea, a kitchen safety tool.
"Hi Joy. Have you ever cut yourself in the kitchen before? Never again. With the Knife Glider, it's as easy as chop, glide, slide," Shipp said.
"We have the vegetable peeler. You just pop it on and you can peel your vegetables, your cucumber, your potato. The hot meat attachment for your roast, your barbecue, you can slice that meat without getting burned," she said, adding that the device is collapsible, dishwasher-safe, BPA-free and made in the United States.
"Well, that was a great pitch," Mangano told Shipp. "That is so important and very easy to use and solves a problem that we have when we're cutting, right? In many ways. Very ingenious."
Mangano added that the sign of a great product was "that it solves a problem ... So I think they're both fabulous."
She added: "I actually want both."
Mangano presented each woman with a check for $10,000, saying it was "From the movie 'Joy' that inspired women like you, anybody like you to go follow through with it and you did and I'm so proud of you."
"Joy" will be released in theaters Christmas Day.