— -- Meet Patches, the 5-year-old black Malti-Poo, who wears a crossing guard vest and stop sign to help kids safely cross the street in the town of Jersey Shore, Pennsylvania.
Patches is back to work for the Jersey Shore Area School District, which started the new school year this past week, according to his owner, Bradley Davis. Davis is a retired contractor who has spent his weekday mornings and afternoons for the past two years helping direct traffic and keep kids safe at a busy intersection in town.
"As soon as I started doing the job, Patches did too," Davis, 51, told ABC News. "I didn't really train him to do this. He just started doing it on his own. He follows my every movement, and his eyes are totally focused on my feet. There's no voice command, and I don't have treats. He just follows me when I stop and go. It's amazing."
The small dog's presence alone also helps cars slow down, Davis said.
"A lot of people know he's there in the afternoon, and they get a kick out of seeing him," he said. "They pay more attention. They slow down. He's really helped keep down the speed of traffic in the particular intersection."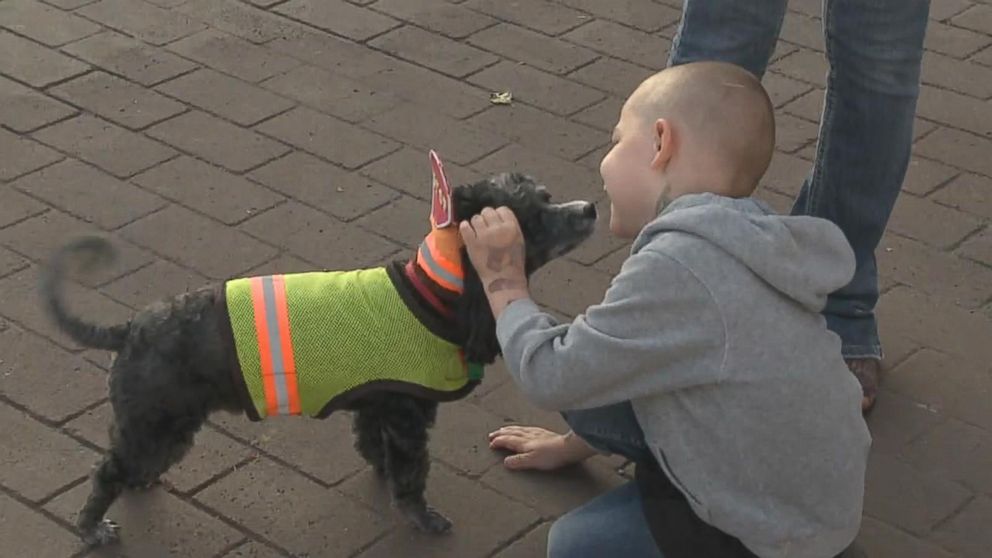 Though Patches has been helping Davis for the past two years, his crossing guard outfit -- a mini highlighter-colored vest and a mini stop sign -- was a later addition.
"One of the kids joked you should have a stop sign and vest for him, so we got him just that," Davis said.
Rosie Weymouth, who owns a salon that overlooks the intersection Davis and Patches work at, told ABC News affiliate WNEP that the dog's new outfit was eye-catching.
"He didn't wear it at first, but then I was like, 'Oh my word, look at that outfit!" Weymouth said. "They love him, stop [and] pet him. Yeah, Patches is loved."
She added that the Malti-Poo is "just like a mascot" for the town.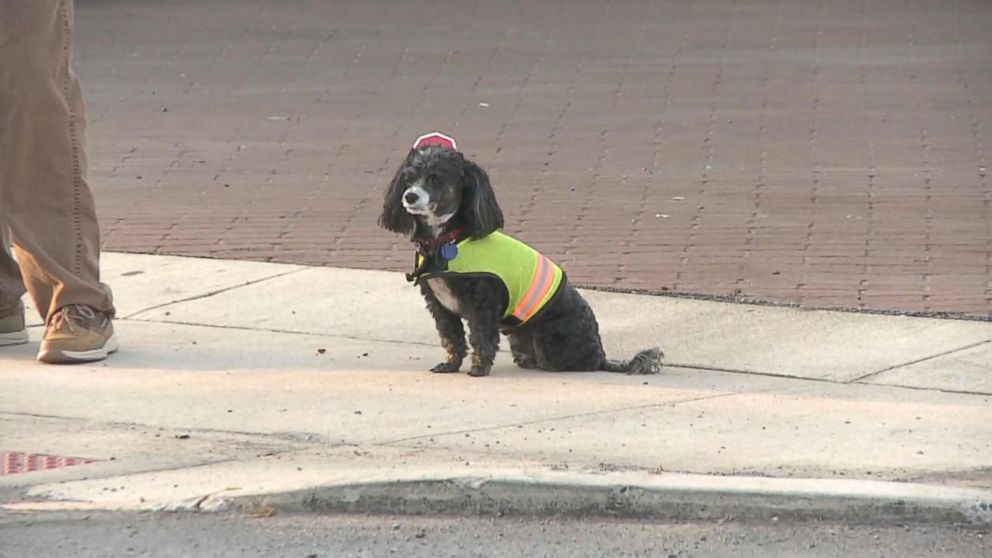 Elementary school students agree.
"Well, it's a cute dog with that little stop sign on it, and it looks really, really cute, and it also looks like a poodle," fourth-grader Landon Mincer told WNEP.
Davis said Patches will be helping him with crossing guard duties during weekday afternoons until the winter.
"He's got a lot of inner-discipline, and he enjoys keeping busy and making people happy, but he hates the cold," he said. "He won't go out in the cold. He won't do that. In the winter time, he only sit on the heated seats in my car."
The duo have been together since Patches was two weeks old, Davis, added, saying that he considers Patches his kid.