May 12, 2014— -- It's college graduation season, and that means commencement speeches.
Over the weekend, celebrities and politicians, including first lady Michelle Obama and rapper P. Diddy, had plenty to say to the class of 2014.
Some highlights:
"It was all a dream. I used to read 'Word Up' magazine." -- P. Diddy, Howard University
Yes, the rapper, whose real name is Sean Combs, quoted Biggie Smalls during his Saturday speech to graduates of Howard University in Washington, D.C.
To great applause, Combs rehashed his experience at the historically black university, sharing memories of his time in "the quad," and how much of a change the school was from his home in New York -- especially the women.
"My mind was blown when I saw so many beautiful shades of brown. I never heard so many accents -- never seen so many beautiful women," he said. "And we all know Howard has the most beautiful, intelligent women in the world."
Combs also paid tribute to his single mom, who raised Combs after his father was murdered.
He also worked hashtags into his speech and pleaded for the return of the kidnapped girls in Nigeria.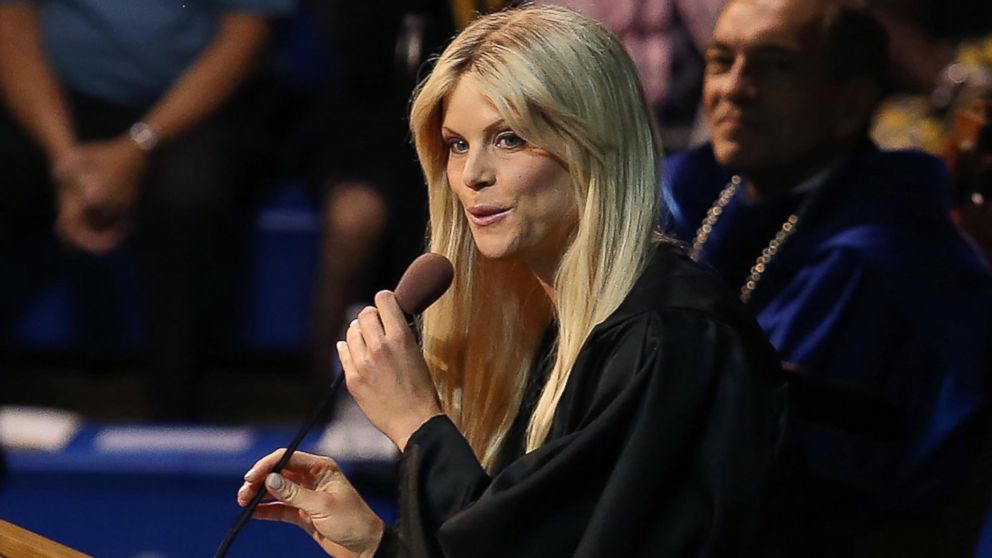 "Yes, nine years is a pretty long time." -- Elin Nordegren, Rollins College
That self-deprecating rib came from Tiger Woods' ex-wife, Elin Nordegren, in reference to how long it took her to get her degree from Rollins College in Winter Park, Florida.
A mention of her divorce from the pro golfer was met with great applause.
"When I entered my student adviser office in the fall of 2005, I was 25 years old. I had just recently moved to America. I was married without children," Nordegren said.
"Today, nine years later, I'm a proud American, and I have two beautiful children -- but I'm no longer married."
Nordegren, a former swimsuit model, also admitted she was surprised to be invited to deliver the commencement speech.
"I have been called a woman with no words in the media and criticized for not talking very much," she said.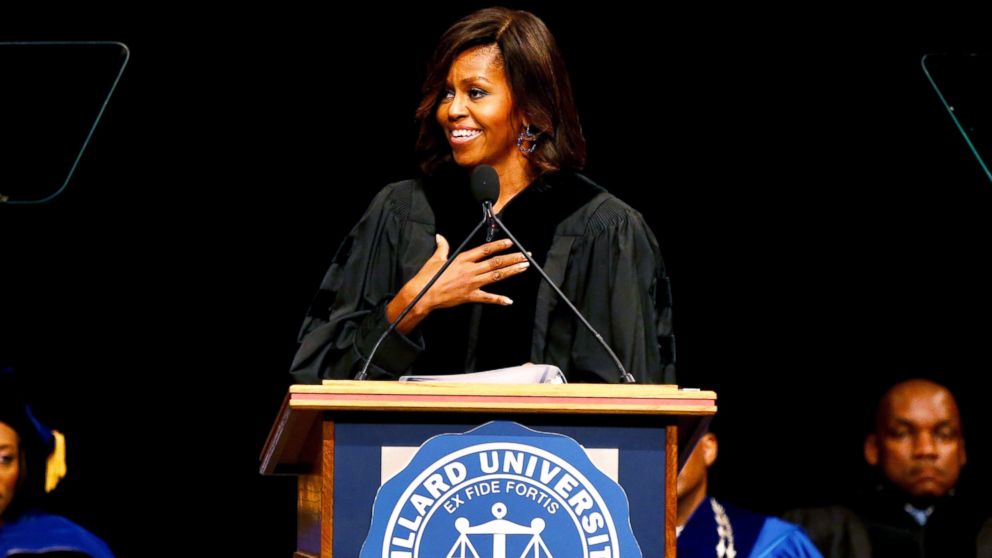 "No dream is too big, no vision is too bold. As long as we stay hungry for education and let that hunger be our North Star, there is nothing, graduates, nothing that we cannot achieve." -- Michelle Obama, Dillard University
There was no shortage of inspirational messages like those during Michelle Obama's speech Saturday at Dillard University in New Orleans.
But first, she posed for a selfie with the school's class president, who introduced the first lady.
Obama stressed the importance of education and shared her own story.
"My mother volunteered at my school -- helping out every day in the front office, making sure our teachers were doing their jobs, holding their feet to the fire if she thought they were falling short," she said. "I'd walk by the office and there she'd be."
Obama admitted it was "mortifying" to have a parent at school all the time, but told students they could learn from her mother's example.
"We need more people who think and act like my mother and all those mothers out there, because the education of our young people is all of our business."
"For all the doubt, you are the most competent, capable, caring, equipped generation in American history." -- Joe Biden, University of South Carolina
Vice President Joe Biden gave millennials an ego boost during his Friday commencement speech at the University of South Carolina in Columbia, S.C.
He told the class of 2014 to ignore "cynics" who might doubt their generation's ability to tackle the future and said the more-than-1,000 students were graduating at a unique and changing time in history.
Biden, who also delivered the commencement speech at Miami Dade College on May 3, spoke about having close ties to the Palmetto State -- including a friendship with Republican Sen. Lindsay Graham.
"In an election year, he wouldn't want me to acknowledge that, I suspect," Biden said.
"I probably have the best job on and off the planet." -- Rick Mastracchio, University of Connecticut
It wasn't so much what NASA astronaut Rick Mastracchio said during his commencement speech on Saturday, but where he said it from -- space.
Mastracchio, who graduated from the University of Connecticut in 1982, spoke to graduates from his alma mater's School of Engineering while orbiting 260 miles above Earth, inside the International Space Station.
By video, he told the class of 2014 how he finally landed the job with NASA in 1996 after three separate interview attempts.
"You become an astronaut the same way you accomplish any goal -- through hard work and perseverance," Mastracchio said.
He's scheduled to return to Earth on Tuesday.