Prosecutors are taking a closer look at the first trial testimony of Jason Young, the North Carolina man accused of killing his pregnant wife, comparing it to previous evidence submitted by the lead investigator.
Sgt. Richard Spivey took the stand Wednesday and Chief Assistant District Attorney Howard Cummings compared Young's statements to find inconsistencies, like what he did on the night of his wife's death, the shirt he wore to his daughter's birthday party and his financial situation in 2008.
Jason Young, 37, was originally tried in 2006 for the death of his 29-year-old, pregnant wife, Michelle, and is now back in court for first-degree murder charges after the trial ended in a deadlocked jury in June.
Michelle's sister, Meredith Fischer, found her sister face-down in a pool of blood with the couple's 2-year-old daughter and only possible witness, Cassidy, hiding under the covers of her parents bed.
Day care worker Ashley Palmatier testified Monday, demonstrating what Young's daughter, now 7, did and said after the killing, using dolls: "While she was hitting the doll she said mommy's getting a spanking for biting and when she laid the doll down she said mommy has boo boos all over, red stuff all over."
A forensic computer examiner, Beth Whitney, also testified about what was found after searching the Young's home computer: "From ask.com the search was head, blow, knockout," she said.
The jury was shown surveillance video from the night of the death of Young checking into a Hampton Inn at 10:49 p.m. The hotel was located about 160 miles from the couple's Raleigh, N.C., home.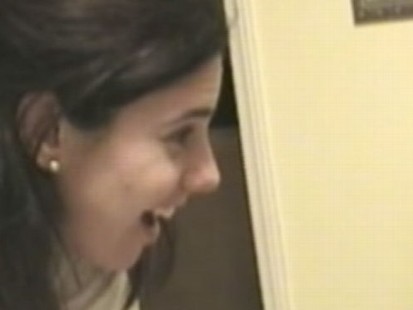 The prosecution believes Young left the hotel and drove home to kill his wife and then stopped on his way back to get gas at 5 a.m., according to the gas attendant's testimony.
"I don't forget nothing like that, when somebody is cussing and fussing at me," the attendant said.
At 11:20 p.m., the surveillance footage went black, as prosecutors argue that Young tampered with the camera, propping the security door open. At 11:59 p.m., he's seen at the front desk of the hotel again.
The defense argued that Young didn't have enough time to kill his wife and that there was no blood in his SUV. They also questioned the witnesses' credibility.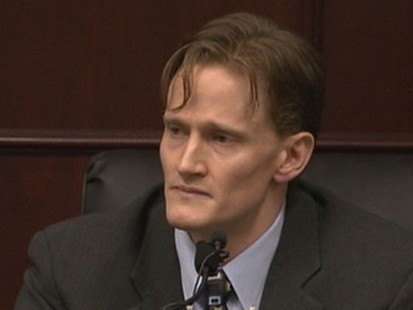 The medical software salesman admitted that the couple had problems but denied that their arguments ever escalated to violence.
In his 2011 testimony, Young denied killing his wife or being at their home the night of the slaying.
If convicted, Young could face life in prison without the possibility of parole.