Another high-altitude object was shot down Sunday afternoon, this one over Lake Huron in Michigan, three U.S. officials confirmed to ABC News, marking the latest in a string of such incidents.
The object was shot down by a U.S. military aircraft, according to one of the officials.
A senior administration official said President Joe Biden directed that the object be shot down "out of an abundance of caution and at the recommendation of military leaders."
This official said the object shot down was detected on radar over Montana on Saturday and was seen again on radar over Wisconsin and Michigan on Sunday.
The object was octagonal in structure, unmanned and traveling at about 20,000 feet, the official said. There is no indication of surveillance capabilities, but the administration cannot rule that out.
A senior U.S. official said this object, like two others recently shot down, is not at all comparable to a suspected Chinese spy balloon that was first spotted in late January.
"There is no sense they are anything but meteorological balloons or some sort of weather balloon, not spy balloons," the official said. None appeared to have any payload; they are much smaller, and such vessels are known to go off course, according to the official.
Each is different and difficult to exactly identify, this official said.
"In light of the People's Republic of China balloon that we took down last Saturday, we have been more closely scrutinizing our airspace at these altitudes, including enhancing our radar, which may at least partly explain the increase in objects that we've detected over the past week," Melissa Dalton, assistant secretary of defense for Homeland Defense and Hemispheric Affairs, said during a Pentagon press briefing Sunday night.
Because they "have not been able to definitively assess what these recent objects are, the president wanted to act out of an abundance of caution to protect our security and our interests," she continued. "We will remain vigilant."
"The most recent objects do not pose a kinetic military threat, but their paths in proximity to sensitive DOD sites and the altitudes that they were flying could be a hazard to civilian aviation and thus raised concerns," Dalton added.
The Pentagon's top spokesman said in a subsequent statement that the object was taken down by an F-16 that fired a sidewinder missile at 2:42 p.m. ET.
"Its path and altitude raised concerns, including that it could be a hazard to civil aviation," Brig. Gen. Pat Ryder said. "The location chosen for this shoot down afforded us the opportunity to avoid impact to people on the ground while improving chances for debris recovery."
"The object has been downed by pilots from the US Air Force and National Guard. Great work by all who carried out this mission both in the air and back at headquarters. We're all interested in exactly what this object was and [its] purpose," Rep. Elissa Slotkin, D-Mich., tweeted.
"As long as these things keep traversing the US and Canada, I'll continue to ask for Congress to get a full briefing based on our exploitation of the wreckage," Slotkin wrote.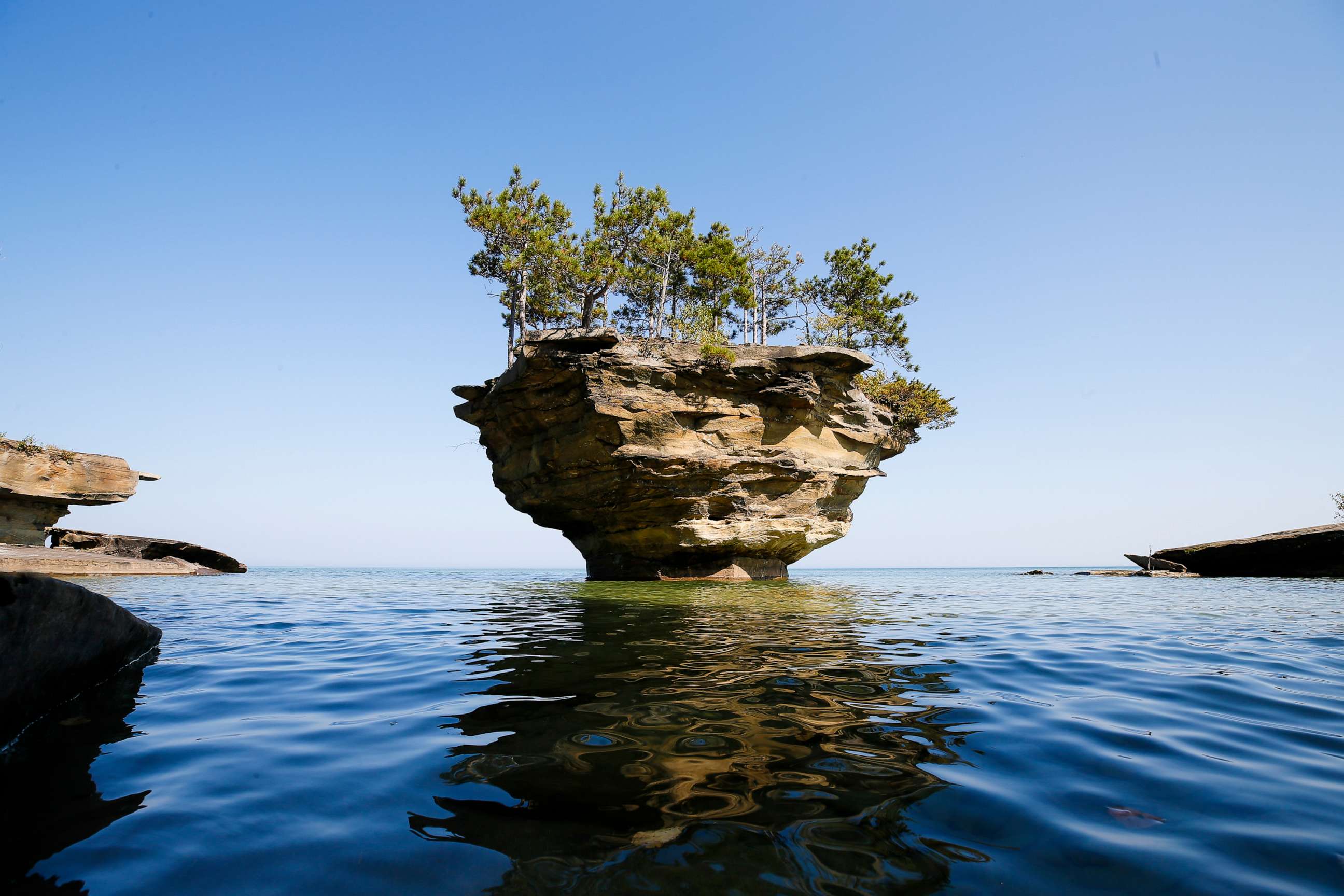 The downing is the fourth time in recent days that a high-altitude object was shot by the military over U.S. or Canadian territory.
The first incident involved a suspected Chinese surveillance balloon that was tracked across the continental U.S. and then shot down off the coast of South Carolina by a U.S. F-22 fighter jet on Feb. 4. That balloon caused bipartisan concern in Washington after it floated across Alaska, Canada and then through the U.S., passing over sensitive military installations, including at least one housing intercontinental ballistic missiles.
The military waited to shoot it over the Atlantic Ocean out of concerns that downing it could risk people on the ground being injured by debris, officials have said. The delay nonetheless sparked criticism from Republicans and some Democrats that President Joe Biden and the Pentagon waited too long to handle the balloon.
Since then, two more objects were shot down before Sunday -- one over Alaska and one over Canada -- both by U.S. F-22 jets.
The military has not confirmed what kind of objects they were, but Senate Majority Leader Chuck Schumer, D-N.Y., said Sunday they too were balloons, though smaller than the first one.
Schumer linked them to the Chinese, who initially claimed the first balloon was a civilian weather craft.
The episodes have only fueled bipartisan calls for more information from the Pentagon over the origin of the subsequent objects and their purpose, with diplomatic tensions between Washington and Beijing already ratcheting up over the initial balloon.
One U.S. official attributed the rise in the sightings to boosted surveillance capabilities by the military and not a rush of new foreign objects flying over American airspace.
"Northern Command has adjusted the parameters of their radar capabilities in a way that they can see more than they could before," this official said.
They explained that the suspected Chinese spy balloon triggered a new state of vigilance for the U.S. military.
"That's not to say they were blissfully ignorant before," the official said, "but there are lots of things floating around and now we are more finely attuned to it."
The senior U.S. official echoed that, explaining how in light of the Chinese vessel, the system itself is now picking up objects that are being interrogated further.