Thomas fire in California now the 2nd largest in state's history
The fire is coming under control.
December 20, 2017, 10:19 AM
— -- The monster Thomas fire north of Los Angeles is leaving its place in the state's record books as it is now officially the second largest fire in California history.
For the past 16 days, the fire that has been turning mountainsides to ash has grown. The fire only needs to consume a couple thousand more acres to dethrone the 2003 Cedar fire that maintains the top spot on the list.
The California Department of Forestry and Fire Protection announced this morning that 60 percent of the fire is contained, up from 55 percent Tuesday and 50 percent on Monday. Cal Fire reported that it was the same size -- 272,000 acres -- as the night before.
So far, the overpowering Thomas fire has claimed two lives, caused more than 100,000 people to flee their homes and destroyed 1,313 structures. More than 8,526 firefighters have put their lives on their line to stop it, running up a cost of roughly $124 million.
Over the weekend, tens of thousands of residents in the wealthy enclaves of Montecito and Santa Barbara were notified they should be ready to evacuate. Many adhered to the warnings. On Monday, the Santa Barbara Office of Emergency Management airlifted some of them out.
In the meantime, actor Rob Lowe converted his palatial seaside kitchen into a heartwarming mess hall.
"Dinner for new friends at our house," he posted on his Instagram account.
Almost a dozen brave firefighters grinned in the photo, appearing to help themselves to heaping portions of pasta and burgers.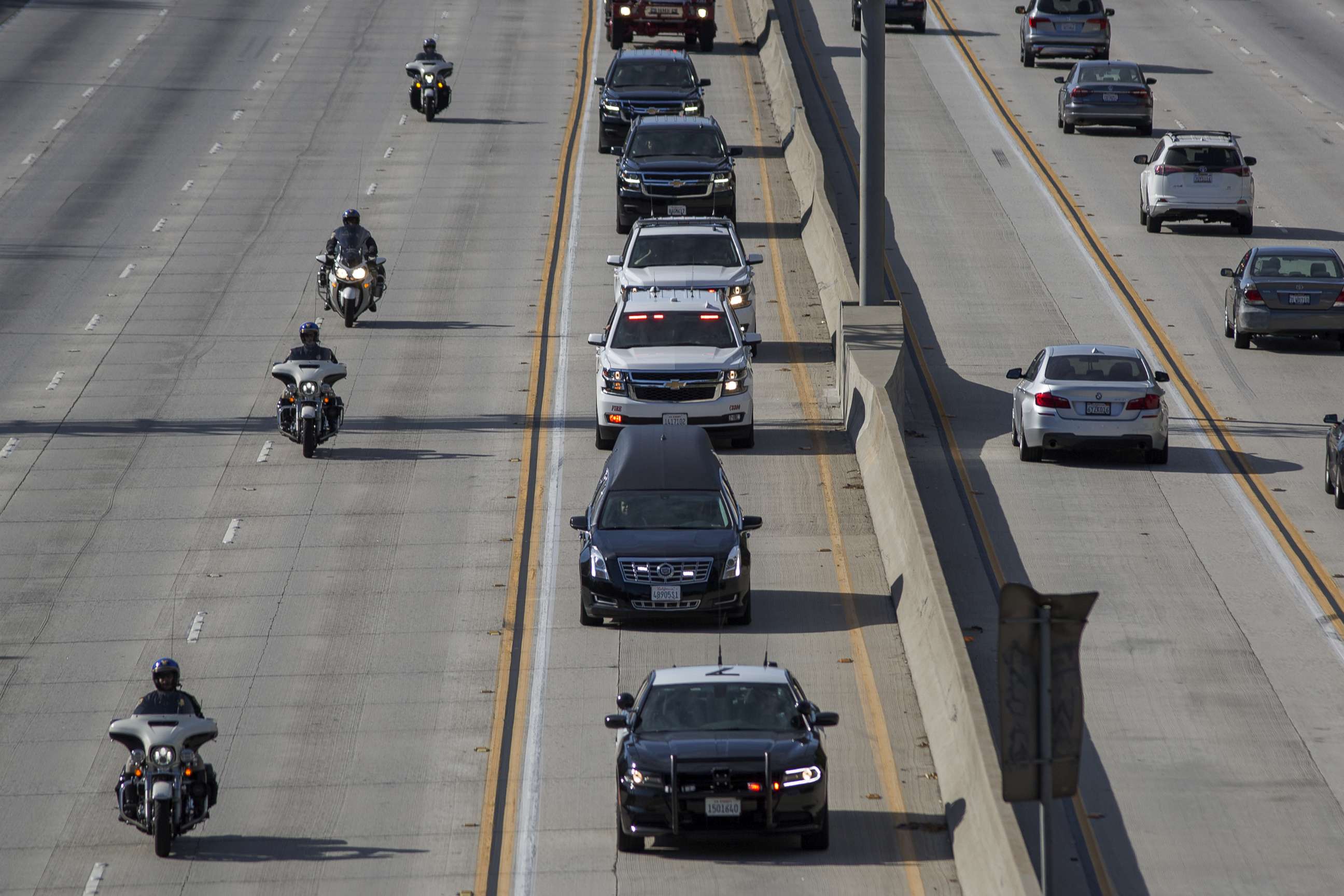 The weather in the region has begun to improve, with Santa Ana winds relenting down to 30 to 35 mph gusts. The red flag warning that has been in place since the fire first began on Dec. 4 has also come down.
Officials and meteorologists see cooler temperatures and a rise of humidity through Tuesday, which would be better conditions for firefighting.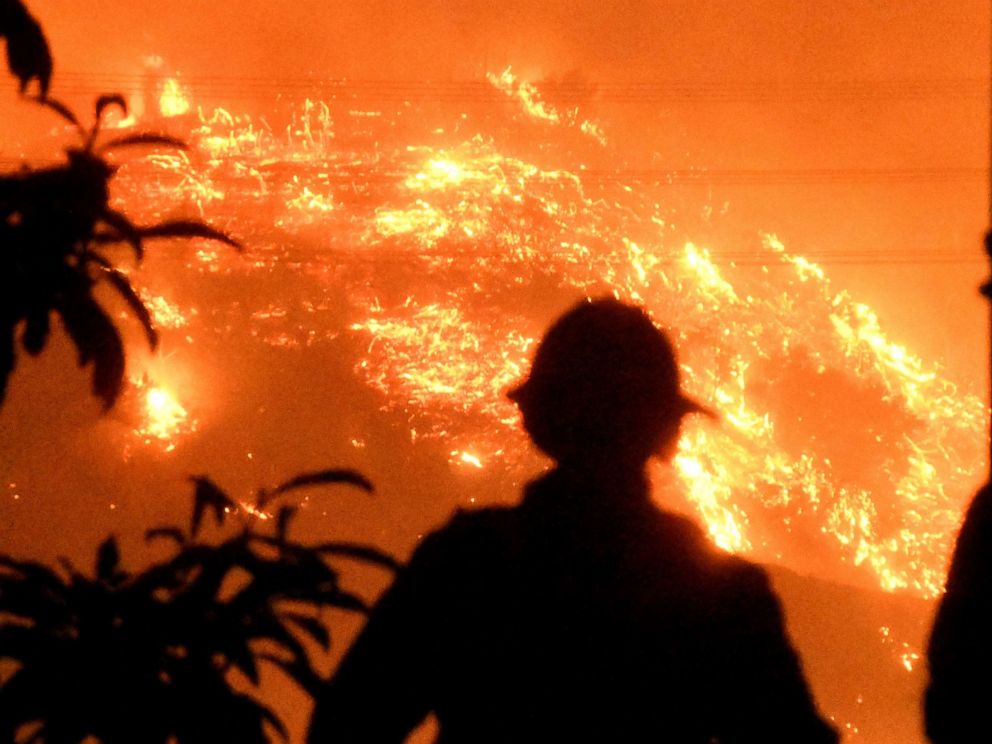 The fire has tested the firefighters, who have been forced to fight fires during a time of year when rain showers usually arrive to help their efforts. Instead, they are left to combat these bone-dry spells that kick up the Santa Ana winds and lower the humidity to the teens.
But, fire officials say their team has shown unmatched resolve.
"California has the most robust firefighting entity in the world when we all come together, our mutual aid system is unparalleled," Cal Fire Capt. Sean Norman explained on Sunday on getting ahead of the Thomas Fire.
This two-day window, Cal Fire officials said, will help increase the containment before the temperatures rise and winds whip up by the end of the week, which could lead to further flare-ups by midweek.
Multiple victims, including a firefighter, have been claimed by the fire.
Fallen firefighter Cory Iverson, 32, who succumbed to burns and smoke inhalation while battling the massive Thomas fire, was honored. His casket was the centerpiece of a procession that started on Sunday from Ventura County and drove for several hours to rejoin San Diego his fire company and his widowed wife Ashley, who is five months pregnant, and their 2-year-old daughter, Evie.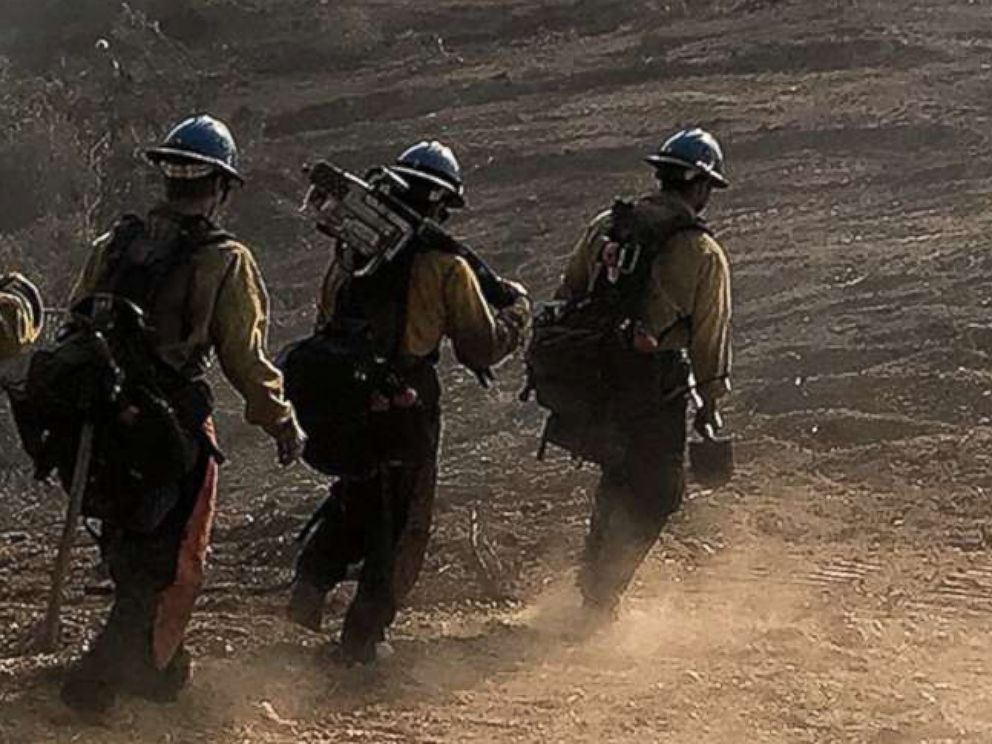 Virginia Pesola, a 70-year-old Santa Paula woman, also perished in a car accident while attempting to evacuate.
On Saturday night, Santa Barbara County Fire Division Chief Martin Johnson described fighting the Thomas Fire as a battle against a beast.
"It's a monster," he said. "We all recognize that."
"But, we will kill it," Johnson said.