— -- After former Stanford University swimmer was sentenced to six months in jail for sexually assaulting an unconscious woman on campus and the victim's emotional letter to her attacker went viral, the assault case made waves on social media, with some questioning why the former Stanford student received so little jail time.
In an emotional letter read in court during sentencing, the victim, who is not being identified, recounted the moment she showered at the hospital after she was assaulted by then-freshman Brock Turner behind a Stanford dumpster in January 2015.
"I stood there examining my body beneath the stream of water and decided, I don't want my body anymore. I was terrified of it, I didn't know what had been in it, if it had been contaminated, who had touched it," she said. "I wanted to take off my body like a jacket and leave it at the hospital with everything else."
Turner, 20, was sentenced Thursday to six months in Santa Clara County Jail by Judge Aaron Persky. A jury found him guilty in March of three felony charges: assault with intent to commit rape of an intoxicated/unconscious person, penetration of an intoxicated person and penetration of an unconscious person.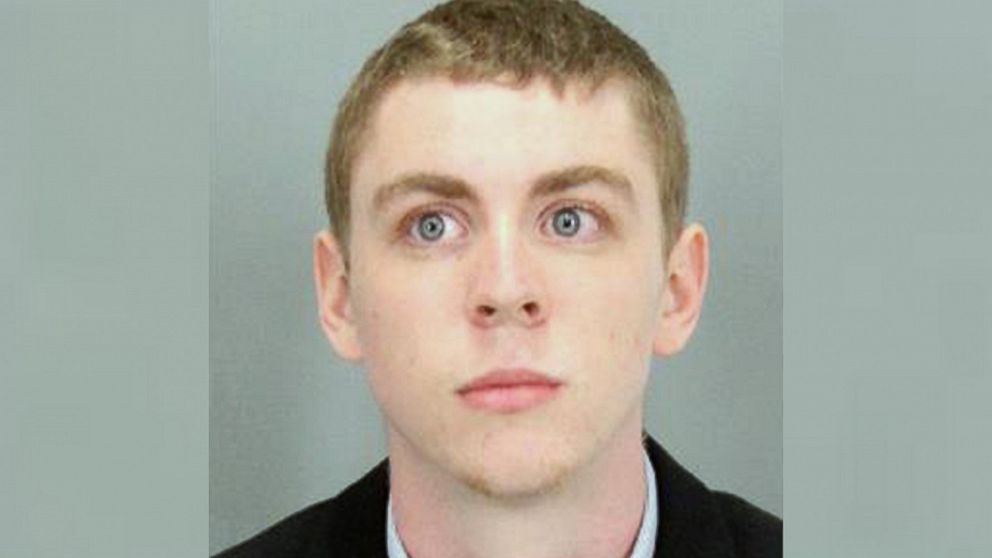 "There's no question it was a lenient sentence," ABC News' chief legal analyst Dan Abrams said today. "He was facing up to 14 years. Prosecutors asked for six years. He had asked for four months. The judge gave him six months. But let's keep in mind that that is exactly what the probation department recommended — that six-month sentence.
"Doesn't mean that you shouldn't criticize it, but the reality is that this judge accepted the probation department's recommendation of a six-month sentence," Abrams said. "And so when people are looking at this case, thinking about this case, getting angry about this case, it's not just the judge. It's the probation department as well."
The victim's letter and the lenient sentence made some question why he received so little time incarcerated.
The assault was stopped by two men on bikes who noticed that the victim wasn't moving. Turner fled, but the witnesses tackled him and held him until police arrived, according to the Santa Clara District Attorney's Office.
"The punishment does not fit the crime," District Attorney Jeff Rosen said after the sentencing. "The predatory offender has failed to take responsibility, failed to show remorse and failed to tell the truth. The sentence does not factor in the true seriousness of this sexual assault or the victim's ongoing trauma. Campus rape is no different than off-campus rape."
Turner's father said in a letter addressed to Judge Persky ahead of sentencing: "He is truly sorry for what occurred that night and for all the pain and suffering that it has caused for all of those involved."
He said his son was "desperately trying to fit in at Stanford and fell into the culture of alcohol consumption and partying."
"These verdicts have broken and shattered him and our family in so many ways. His life will never be the one that he dreamed about and worked so hard to achieve. That is a steep price to pay for 20 minutes of action out of his 20 plus years of life," he said. "Incarceration is not the appropriate punishment for Brock. He has no prior criminal history and has never been violent to anyone. ... Probation is the best answer for Brock in this situation and allows him to give back to society."
Turner's attorney declined to comment today to ABC News.
The victim's statement at sentencing also included responses to parts of Turner's statement. He had said he wanted to "show people that one night of drinking can ruin a life." The victim responded forcefully in her statement, "You forgot about [my life]. Let me rephrase for you, I want to show people that one night of drinking can ruin two lives. You and me. You are the cause, I am the effect. You have dragged me through this hell with you, dipped me back into that night again and again ... Your damage was concrete — stripped of titles, degrees, enrollment. My damage was internal, unseen, I carry it with me. You took away my worth, my privacy, my energy, my time, my safety, my intimacy, my confidence, my own voice, until today."
"Her statement was so eloquent," Abrams said. "And I think that this case is now getting so much attention not just because of the sentence itself but because of her eloquence, because her comments have been shared so much."
He added, "I think she's having an impact. With her words, with her advocacy, with her anger and frustration at this sentence. And this is one of those cases where it resonates beyond the courtroom, where the impact can be felt in other courtrooms."
A statement today from Stanford said the university "did everything within its power to assure that justice was served in this case."
"Once Stanford learned the identity of the young woman involved, the university reached out confidentially to offer her support and to tell her the steps we were taking," the statement said. "In less than two weeks after the incident, Stanford had conducted an investigation and banned Turner from setting foot on campus – as a student or otherwise. This is the harshest sanction that a university can impose on a student.
"Stanford University takes the issue of sexual assault extremely seriously and has been a national leader in taking concrete steps to implement prevention programs, to train students on the importance of bystander intervention, to provide support to students who may experience sexual assault and to assure that cases are handled fairly and justly," the statement said. "This was a horrible incident, and we understand the anger and deep emotion it has generated. There is still much work to be done, not just here, but everywhere, to create a culture that does not tolerate sexual violence in any form and a judicial system that deals appropriately with sexual assault cases."