— -- The casket containing the body of slain New York City Police Officer Rafael Ramos, one of two officers shot and killed while sitting in their patrol car in an ambush in Brooklyn last weekend, arrived at the funeral home where his wake was held Friday.
Crowds of uniformed police officers greeted the hearse and an NYPD flag was draped over Ramos' casket as it was carried into Christ Tabernacle Church, in the Glendale neighborhood of Queens, where friends and family said he was a longstanding and deeply committed member.
"This family's destroyed," said family spokesman Juan Rodriguez.
Thousands of mourners, including police officers from across the country, lined up outside the building for hours, slowly streaming inside to say goodbye to Ramos.
"[He was] a guy who dedicated his life to helping others, studying to be a pastor before coming a police officers. He worked for school safety, you know, protecting kids in school," NYPD Capt. Sergio Centa told ABC's New York station WABC.
New York Mayor Bill de Blasio arrived at the wake. A police union official has said de Blasio had blood on his hands by contributing to a climate of mistrust toward police.
Ramos' funeral is scheduled for Saturday, with Vice President Joe Biden scheduled to attend.
JetBlue also confirmed that they have flown in 670 law enforcement officers from around the country after offering free transportation for those wishing to attend Ramos' funeral.
"If something happens to one, it happens to all of us and that's why we're here," said Los Angeles police detective Jim McSorley.
Ramos was killed on Dec. 20, along with fellow officer Wenjian Liu, as they sat in their patrol car on a Brooklyn street.
The shooter, Ismaaiyl Brinsley, later killed himself.
The attack came amid heightened tensions between the police and Mayor de Blasio over what police saw as a lack of support for the force.
A crowd of officers turned their backs on the mayor when he walked into the news conference immediately after the shooting. Earlier today, a group of retired and active officers hired a plane to fly a banner repeating that sentiment.
Blogger and former police officer John Cardillo told ABC News that the officers who paid for the plane, whose names were not released, arranged for the pilot to fly from central New Jersey up to the Hudson River and along Manhattan this morning.
City Hall spokesman Wiley Norvell condemned the banner, saying: "Dividing people won't help our city heal."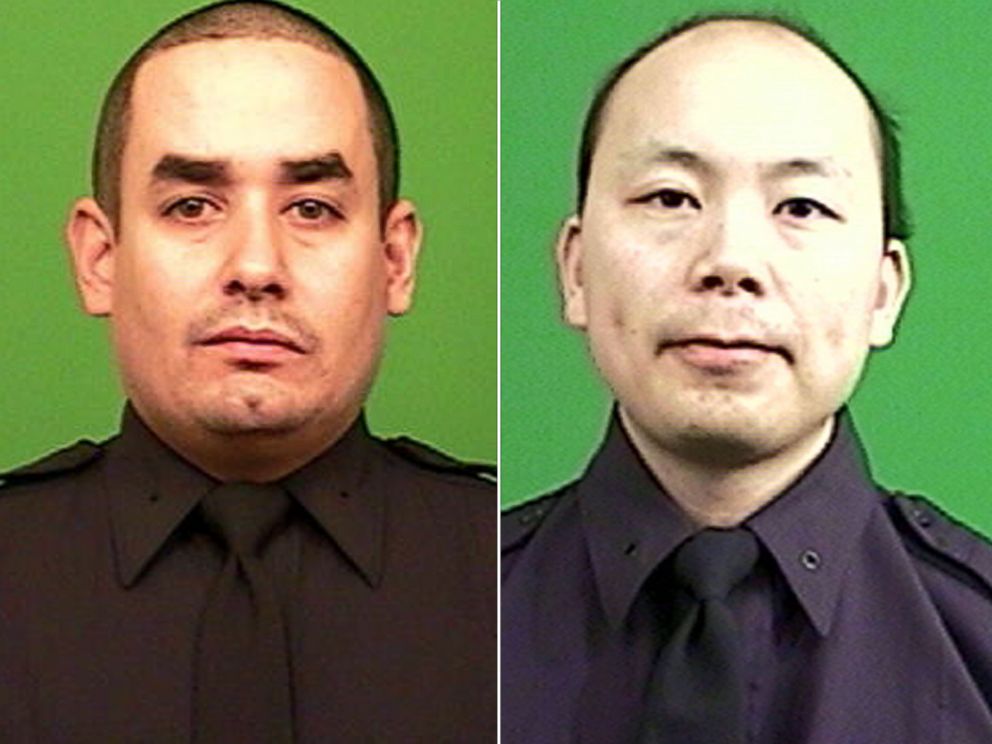 Meanwhile, the relatives of the other fallen officer, Wenjian Liu, appeared at a news conference with former New York City Mayor Rudy Giuliani and other supporters of Tunnel to Towers, a charity originally established in the aftermath of the Sept. 11 attacks, which has offered to pay the slain officers' mortgages.
"We remember the spirit of September 12 and that's what we're asking for today," the former mayor, who has donated $20,000 of his own money towards the mortgage cause, said at today's news conference.
Liu's wife, Pei Xia Chen, was overcome with emotion, and though no members of his family spoke at the event, they issued a statement thanking Giuliani and Gov. Andrew Cuomo, who have helped spearhead the effort.
Unrest has followed the shooting, with six people charged with threatening NYPD officers. There have been at least 40 separate threats against New York City police since Saturday's shooting, the NYPD said Wednesday.
Half of those threats have been deemed not credible. The rest are still under investigation.
"All threats against members of the NYPD are taken seriously and are investigated immediately to determine the credibility and origin of the information," the department said in a statement.
Extra guards have been posted at precincts when necessary and Mayor Bill de Blasio has implored the public to report any threats they may see online. The NYPD counts about 35,000 uniformed officers, with 22,000 patrolmen.
The Associated Press contributed to this report.