— -- Native American code talkers who were tasked with sending and decoding secret messages in their native language during World War II were honored today at the White House.
The ceremony coincides with National American Indian Heritage Month.
Trump, who referred to Sen. Elizabeth Warren, D-Mass., as "Pocahontas" during the ceremony, came under fire for his disparaging remark.
"It was uncalled for," said Marty Thompson, whose great uncle was a Navajo Code Talker, told The Associated Press. "He can say what he wants when he's out doing his presidential business among his people, but when it comes to honoring veterans or any kind of people, he needs to grow up and quit saying things like that."
The enlisting of Native Americans as code talkers dates back to World War I, when American Indians from the Choctaw Tribe transmitted messages over the phone to help defeat the Central Powers.
In 1941 and 1942, the Marine Corps began recruiting from the Navajo Tribe at the suggestion of Philip Johnston, a World War I veteran who had grown up on a Navajo reservation.
The 29 recruited Navajos were tasked with developing a code using their tribal language that could be used to transmit messages across the battlefield without being intercepted.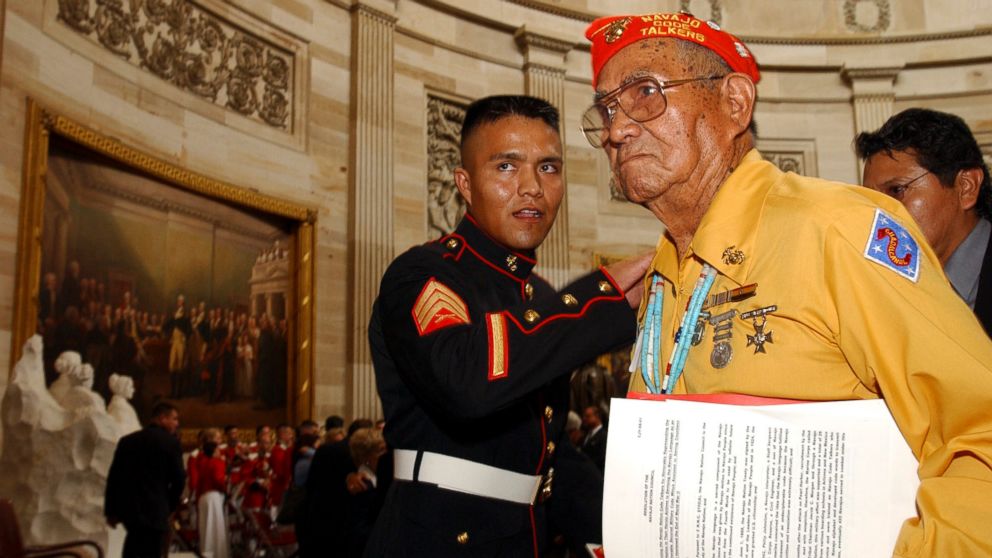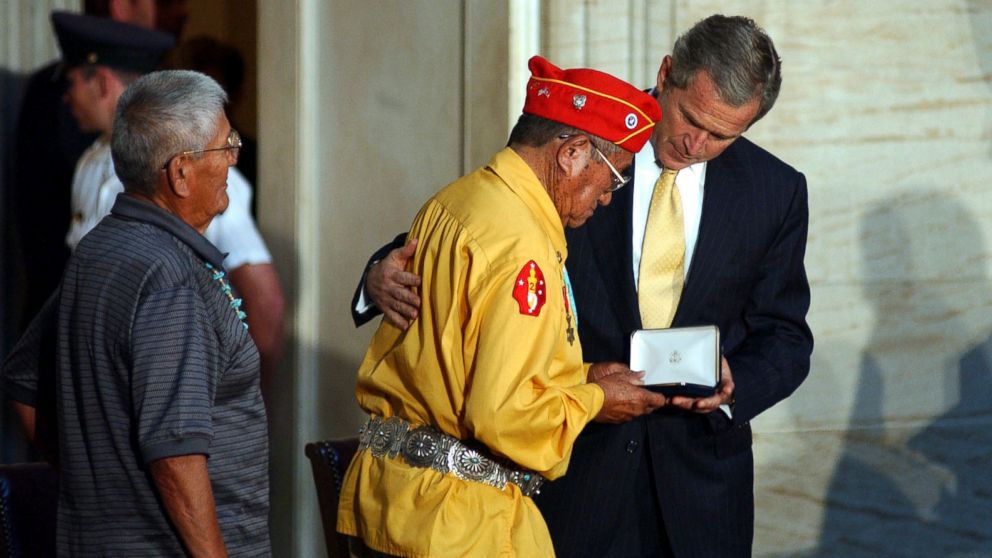 "The commanding officer, they give you a message that's written. It's just short talking about how much ammunition and certain map area that Marines are getting killed. They need more machine gun ammunition. You translate that as small as you can," John Brown Jr., one of the original 29 code talkers, told the National Museum of the American Indian in a 2004 interview.
As World War II raged on, the number of Navajo code talkers grew from 29 to 400. American Indians from at least 14 other tribes, such as the Hopi, Comanches and Meskwakis, were also drafted to serve as code talkers.
The code created by the Navajos would prove to be unbreakable by enemy forces and instrumental in securing victory during the Battle of Iwo Jima.
"Were it not for the Navajos, the Marines would never have taken Iwo Jima," according to Major Howard Connor, the signal officer of the Navajos.
Native American code talkers would not be formally recognized for their service until decades later. The military's Navajo Code Talkers program of World War II remained a secret until it was declassified in 1968.
In 1982, President Reagan signed a proclamation declaring Aug. 14, 1982, as National Navajo Code Talkers Day. In 2000, Congress passed a bill awarding the 29 original Navajo code talkers with Congressional Gold Medals. It would be another seven years before Congress passed legislation, recognizing code talkers from all the American Indian tribes that served.
"In war, using their native language, they relayed secret messages that turned the course of battle," President George W. Bush said at a 2001 ceremony at the U.S. Capitol, presenting congressional Gold Medals to a few of the last surviving original Navajo code talkers.