A new Texas law that overrides city and county ordinances will also eliminate protections currently in place for outdoor workers, such as mandated water breaks, even in extreme heat, according to critics.
Texas Gov. Greg Abbott signed House Bill 2127 on June 13, which aims to remove "patchwork" local ordinances around the state. The law goes into effect on Sept. 1 and would put an end to safeguards such as the ordinance the City of Austin passed in 2010 that requires rest and water breaks on construction sites for at least 10 minutes every four hours. The City of Dallas passed a similar ordinance in 2015.
Cities and counties in Texas will instead be required to follow state codes. Supporters of the bill, including state Sen. Brandon Creighton and Rep. Dustin Burrows, both Republicans, claimed that local regulations led to inconsistency and stifled business dealings across the state.
"For too long, progressive municipal officials and agencies have made Texas small businesses jump through contradictory and confusing hoops when it comes to the current hodgepodge of onerous and burdensome regulations," Burrows said in a statement in February when introducing the bill.
The new law comes as the South, including much of Texas, is experiencing heat waves with temperatures in the triple digits much earlier in the season than normal. On Tuesday, parts of Texas experienced their highest temperatures on record, with San Angelo at 114 degrees, Del Rio at 113 degrees, San Antonio at 105 degrees and McAllen at 106 degrees. Temperatures in Rio Grande Village, located on the northern banks of the Rio Grande river, climbed to 118 degrees on Tuesday -- the highest recorded temperature in the country that day.
Earlier this year, some state representatives attempted, and failed, to establish statewide regulations intended to reduce heat-induced illness for workers.
Democratic state Rep. Thresa Meza introduced House Bill 495 in February and sought to make the ordinance that Austin passed in 2010 -- mandatory 10-minute breaks every four hours for contractors working for a government entity -- a statewide law.
In March, state Rep. Maria Luisa Flores, also a Democrat, filed House Bill 4673, which aimed to create a statewide advisory board that would be responsible for establishing guidelines for preventing "heat illness," defined in the bill as "a serious medical condition resulting from the body's inability to cope with a particular heat load and includes heat cramps, heat exhaustion, heat syncope, and heat stroke." The bill also proposed penalties for employers who do not comply.
Measures like these have been blocked in the last several state legislative sessions, according to Texas-based labor advocacy group Workers Defense Project.
At least 53 Texas workers have died since 2010 from heat-related illness, the number-one weather-related killer in the world, an analysis by NPR and Columbia Journalism Investigations found. Most of heat-related deaths in the U.S. happen on days hotter than 90 degrees, according to the report.
House Bill 2127 declares that the state historically has been the "exclusive regulator of many aspects of commerce and trade" in Texas and accused local jurisdictions in recent years of establishing their own regulations that are different from the state's.
"The purpose of this Act is to provide regulatory consistency across this state and return the historic exclusive regulatory powers to the state where those powers belong," the bill says.
Economic sectors noted in the law include agriculture, business and commerce, finance, insurance, labor, natural resources, occupations and property.
There are currently no federal heat illness protections for outdoor workers. The U.S. Department of Labor's Occupational Safety and Health Administration (OSHA), which is responsible for protecting workers from hazards, relies on states to make those regulations. In February, the attorneys general of New York, California, Illinois, Maryland, Massachusetts, New Jersey and Pennsylvania wrote to Assistant Secretary of Labor for Occupational Safety and Health Douglas Parker, requesting an emergency temporary standard for occupational heat exposure for workers.
A temporary standard has not been issued, but the Biden administration in 2021 ordered OSHA to issue rules to protect workers from extreme heat. It takes an average of seven years for OSHA to write and issue new safety standards, according to the U.S. Government Accountability Office.
Last year, Workers Defense Project also appealed publicly to OHSA, requesting a federal heat illness standard and accusing Texas state officials of being "anti-worker."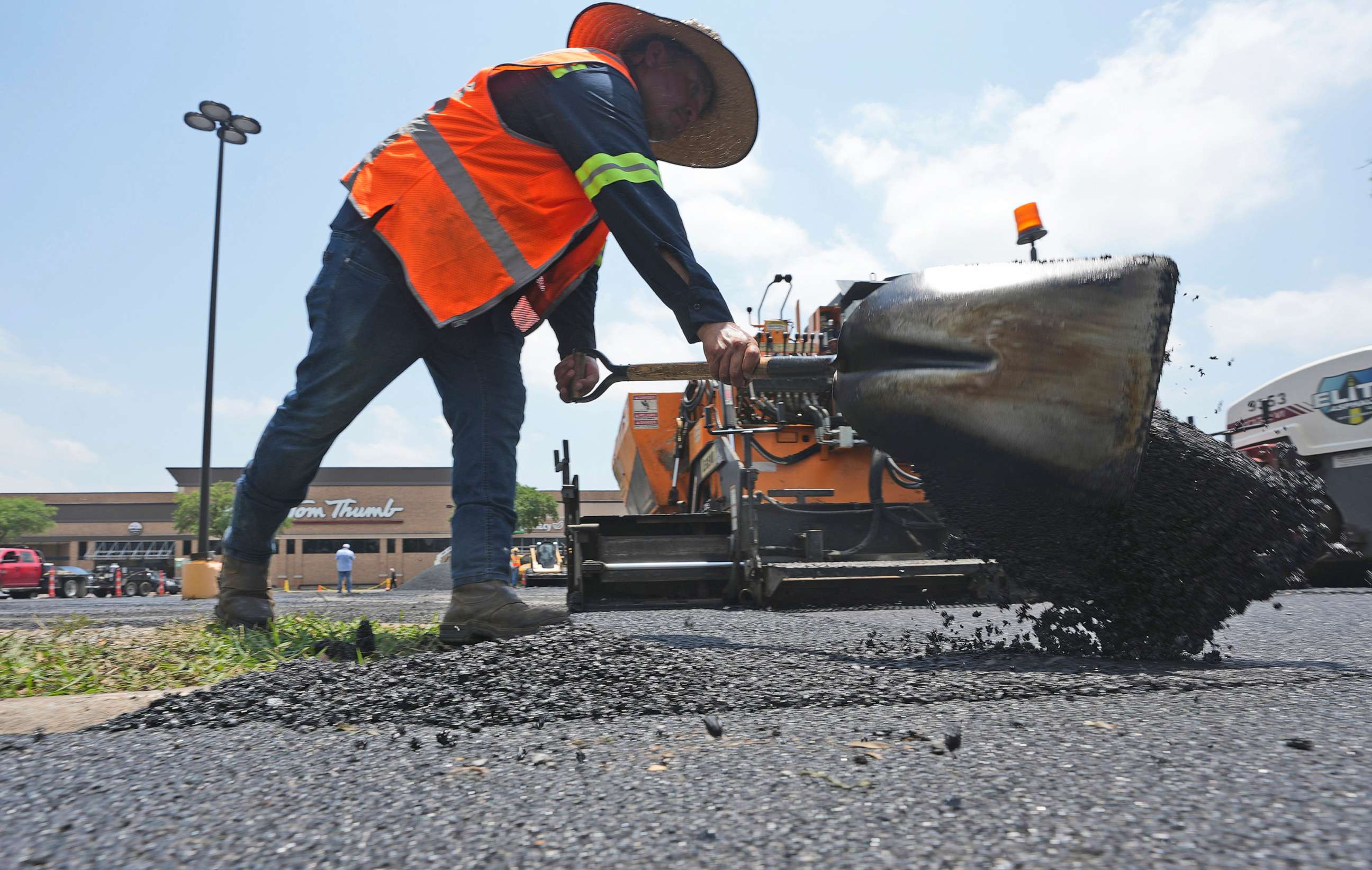 The group says it hopes to "build power" among immigrant and low-wage workers, who are less likely to have health insurance and access to sick days through their employer. Immigrants may also face retaliation from employers when they speak up about workplace hazards or attempt to enforce their labor rights, the Workers Defense Project appeal states.
Workers of color have borne the brunt of heat-related deaths, according to the NPR and Columbia Journalism Investigations analysis. Since 2010, Hispanic workers have accounted for a third of all heat fatalities, despite representing just 17% of the U.S. workforce, the investigation found.
League of United Latin American Citizens National President Domingo Garcia said Texas lawmakers who supported the just-signed bill "will go down in modern history as the heartless politicians who turned Texas into a plantation/patron 1900s system once again."
"While they govern from cooled air-conditioned offices, the 'help' those who build their houses, tend to the crops, and ensure they are comfortable, are at risk of collapsing from heat exposure and exhaustion," Garcia said in a statement.
"LULAC strongly denounces this barbaric and deliberate act of playing politics with lives, denying even the simplest measure of compassion to another living soul," the statement added.