NFL great Eric Dickerson has a gold Hall of Fame jacket, a bust in Canton and the record for most rushing yards in a season, but there's one thing he doesn't have from the league: health insurance.
Dickerson is one of a handful of Hall of Famers who said Tuesday they won't be attending next year's Hall of Fame ceremony if they aren't given health insurance coverage or a cut of the league's billion-dollar revenue.
The demands were made in a letter obtained by ABC News and addressed to NFL Commissioner Roger Goodell, Executive Director of the NFL Players Association DeMaurice Smith and President of the NFL Hall of Fame C. David Baker.
"People know us from our highlight reels. They see us honored and mythologized before games and at halftime, and it would be reasonable if they thought life was good for us," the letter reads. "But on balance, it's not. As a group we are struggling with severe health and financial problems. To build this game, we sacrificed our bodies. In many cases, and despite the fact that we were led to believe otherwise, we sacrificed our minds."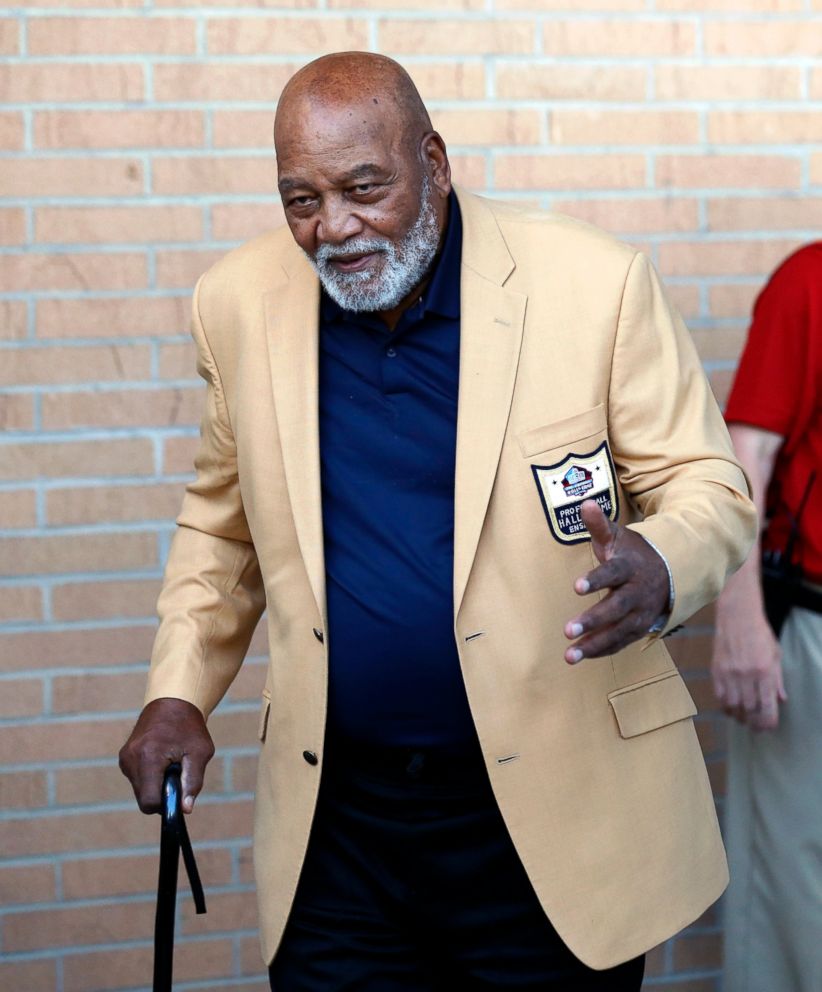 Dickerson, who is leading the effort, spoke to ABC News' daily podcast, "Start Here," on Tuesday about the players' demands.
"All of us feel like having health care is just a normal thing to have," Dickerson told "Start Here." "And I think it's right. I think people are kind of losing the message that you know it's all about the Hall of Fame. Well right now it's all about the Hall of Famers because we can't do anything because of the current CBA [collective bargaining agreement], we can't go back in and do that. I want all players to have health care; every player that played in the National Football League."
Legends Jim Brown, Marcus Allen, Lawrence Taylor, Joe Namath, Jerry Rice, Kurt Warner and Deion Sanders are among the 21 Hall of Famers to sign the letter. Sarah White, the widow of Hall of Fame defensive end Reggie White, also attached her name to the letter. The name "Carl Ellard" appears on the list, though this was a typo, and actually referred to Hall of Famer Carl Eller.
Rice and Warner have both released statements saying they have no plans to boycott the Hall of Fame ceremony, though they do support better health care for retired players.
Dickerson called Rice and Warner's inclusion a "miscommunication" in a later tweet and corrected the spelling of Eller.
The players have received some criticism for demanding insurance and a share of league revenue for only members of the Hall of Fame, but Dickerson said that was simply a first step.
"I want this plan to help all players, but you can't, we can't, go back into the CBA until 2021," he told ABC News. "We have to start with the Hall of Famers."
NFL players from Dickerson's era -- he spent 12 seasons in the league mostly with the Los Angeles Rams and Indianapolis Colts -- have no health insurance at all.
As for Dickerson's push for a chunk of league revenue, the league does have a pension plan for retired players established in 1959. In 1993's CBA, players established a 401K plan.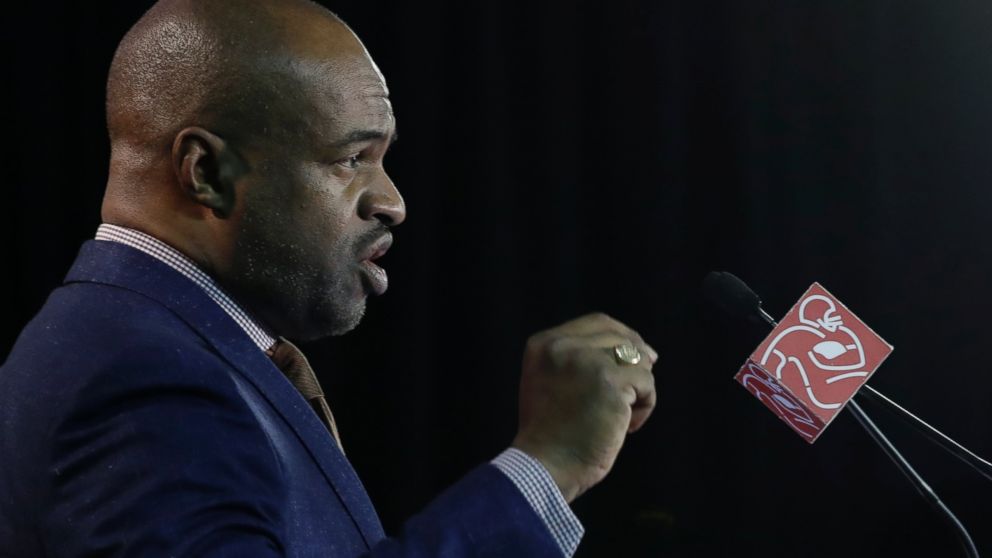 They can begin to access money at 55 and see a 300 percent increase when they turn 65, according to Miki Yaras-Davis, the NFLPA's senior director of benefits.
"There have been significant increases in the pension with every collective bargaining agreement in the history of this sport," Yaras-Davis told ESPN in a statement.
Players from before 1993, like Dickerson, were granted $620 million in benefits, called the "Legacy Fund," due to the 2011 CBA.
But Dickerson wants more than has been allotted in the "Legacy Fund." The letter calls the fund a "cynical public relations ploy."
The NFL generated $14 billion in revenue in 2017, according to an estimate by Bloomberg, and quoted in the letter by Dickerson. He says health insurance would cost only $4 million, and a salary taken from revenue would cost just 40 cents on every $100.
"The total cost for every Hall of Famer to have health insurance is less than $4 million -- less than that of a 30-second Super Bowl ad, or about 3 cents for every $100 the league generates in revenue," the letter states. "Paying Hall of Famers an annual salary works out to about 40 cents for every $100 in annual revenue, a figure that will increase dramatically in the near future with legalized gambling."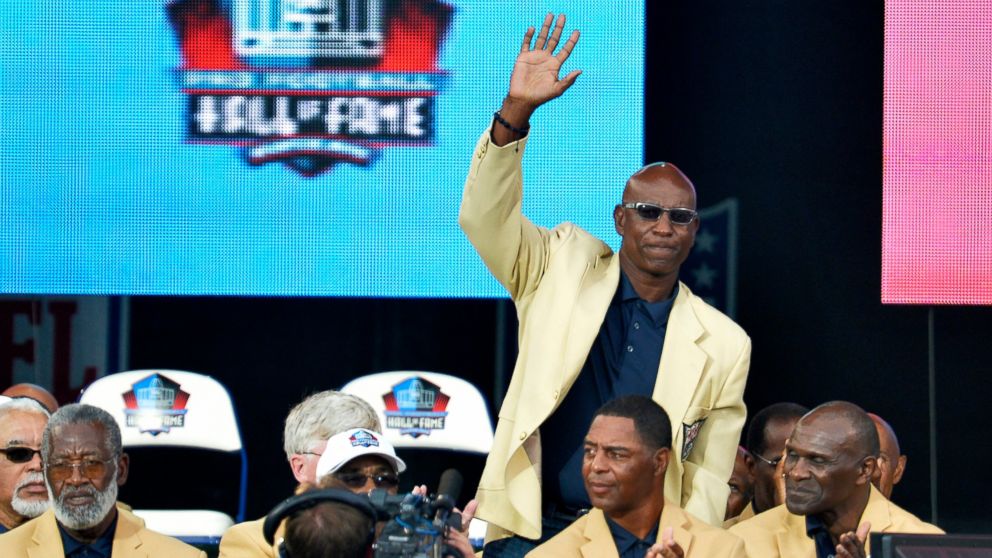 Dickerson also said he believes the league never would've addressed safety, including the degenerative brain disease CTE, if it wasn't for public outrage. The disease, caused by repetitive blows to the head, has been blamed for the deaths of former NFL stars Aaron Hernandez and Junior Seau, both of whom committed suicide.
"The NFL is trying to do some of the right things you know to try to help players you know with CTE," he told "Start Here." "But I really believe the only reason they do it is because they got caught. And I really believe that. But they're trying. So I mean I give them that much credit."
As for the Hall of Fame boycott, Baker released a statement saying, "Many Hall of Famers have reached out to express their support of the Hall. While we enshrine Hall of Famers, our mission is to serve every player who helped build this great game. We guard the legacies and seek to serve all players and not just Hall of Famers who we serve every day."
ABC News' Brad Mielke, Kelly Terez and Aaron Katersky contributed to this report.
This story is featured in the Wednesday, Sept. 19, 2018 episode of the ABC News daily podcast, "Start Here."
"Start Here" is a daily ABC News podcast hosted by Brad Mielke featuring original reporting on stories that are driving the national conversation. Listen for FREE on the ABC News app, Apple Podcasts, TuneIn, Spotify, Stitcher, Google Play Music, iHeartRadio -- or ask Alexa: "Play 'Start Here.'"
Follow @StartHereABC on social for exclusive content, show updates and more: Twitter, Facebook, Instagram.