— -- In the murder trial of Oral "Nick" Hillary -- an upstate New York man accused of killing the 12-year-old son of his ex-girlfriend -- his main alibi witness, his now-19-year-old daughter Shanna-Kay, took the stand today in his defense.
Hillary is accused of killing Garrett Phillips, a popular, friendly and athletic boy found strangled to death in his home in Potsdam, New York, the afternoon of Oct. 24, 2011. Garrett had just begun the sixth grade when his mysterious murder shocked the small town just south of the Canada border.
From nearly Day 1, the spotlight of suspicion seemed focused on Hillary -- an ex-boyfriend of Garrett's mother, Tandy Cyrus. Hillary and Cyrus broke up a few months before Garrett's death. Hillary, who has always insisted he is innocent, was charged with second-degree murder several years after Garrett died.
Police estimate Garrett's murder to have occurred at around 5 p.m. as a neighbor called 911 at 5:07 p.m. to report a strange noise, according to police.
Shanna-Kay Hillary, who was in the tenth grade back in 2011, testified today that on the day of Garrett's murder, she was at school at Potsdam High. She said she went to soccer practice after school, and when she arrived home at 4:30 p.m., her father was there.
She went to take a shower at 4:40 p.m. and her father said "I'll be right back" through the door, she testified.
"I was in the shower about 20 minutes," she said. "I got out of the shower at 5 p.m. My dad was home when I got out. I could hear him move around the apartment"
"I spoke to him 10 minutes later, so about 5:10 p.m.," Shanna-Kay told the court. They "discussed dinner" for two or three minutes, then Hillary left, around 5:15 p.m., Shanna-Kay said.
In cross-examination, surveillance video was played showing Shanna-Kay walking home from school at 4:02 p.m.
Prosecutor William Fitzpatrick challenged the teen's timeline; since she testified it takes 10 minutes to get home, he suggested she would have arrived home around 4:12 p.m. and gotten into the shower at 4:22 p.m.
Prosecutors also read back testimony from two previous interviews Shanna-Kay gave under oath, in 2014 and 2015; both times she testified she remembered eating dinner at 6 p.m. Fitzpatrick then presented evidence that Shanna-Kay texted her father 24 minutes later -- at 6:24 p.m. -- writing, "What's for dinner?"
Shanna-Kay testified she didn't recall texting her father the evening of the murder.
Hillary has said in a deposition for a civil suit he filed against local police and the village of Potsdam that he went to Potsdam High School to watch a soccer game that day. He did not say what time he was there, but according to police, video shows a car that looks like Hillary's pulling into the high school parking lot at 4:46 p.m. Hillary said in the deposition he left after a few minutes.
Authorities say that surveillance video shows a car that looks like Hillary's leaving the high school parking lot at 4:52 p.m. -- the same time Garrett left the high school.
Hillary said in the deposition that when he arrived home just before 5 p.m., his daughter, Shanna Kay, was there. Hillary said he left his house again between 5:10 and 5:15 p.m., stopping at fellow soccer coach Ian Fairlie's apartment before going to his office to prepare for soccer practice. He said he arrived at his office about 15 to 20 minutes after leaving his house.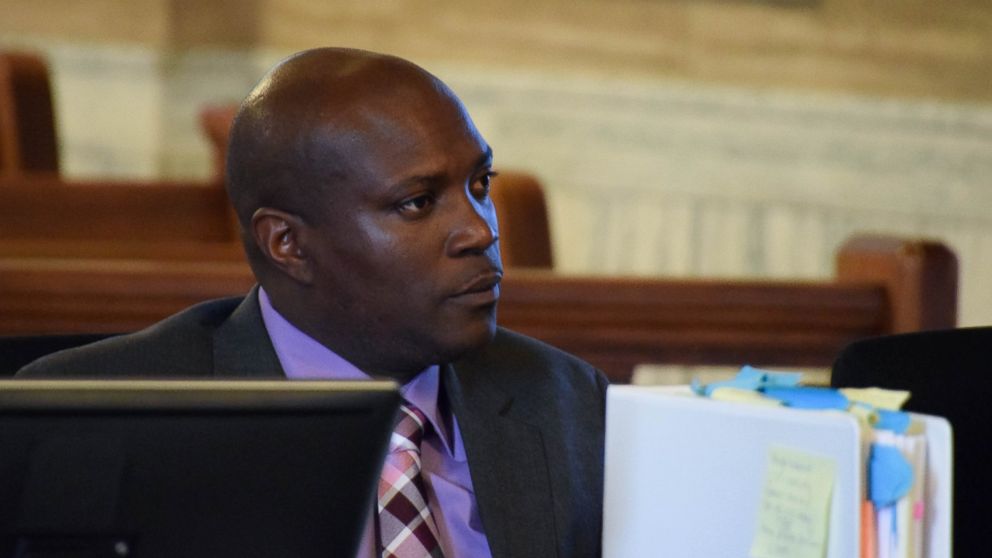 Mark Murray of the Potsdam police also took the stand today, testifying that all of the homes surrounding the crime scene were canvassed and no one reporting seeing a black man running through the neighborhood. Garrett's killer is thought to have escaped through a window in the apartment.
A call between Murray and a district attorney's office official from the day after the murder was played in court today as well. In it, Murray says, "We have strong feelings about certain people or one person. ... There is one person in particular we want to talk to."
The official says his granddaughter heard that Garrett's mother has a boyfriend and that he was the killer. "Yes, that's the rumor," Murray says in the call. "That's what we're looking at."
In cross-examination, prosecutors mentioned that Murray called Hillary the night of Garrett's death because police were interviewing everyone who knew Garrett and that Hillary never came to the hospital.
The defense also called friends of Hillary's, including Robert Durocher, an athletic director at St. Lawrence University, who helped recruit Hillary as a soccer player when Hillary was in college. Hillary rose to become captain of the team.
Durocher said that Hillary was "one of the best leaders [of the team] I've ever had."
Durocher then described Hillary, who is now a father of five, as being patient but firm with his children.
"I never heard him raise his voice," Durocher said. "He never raised his hand."
After today's testimony, the defense rested its case. Closing arguments are set for Thursday morning.