Another Nor'easter is on track to hit the East Coast tonight into Wednesday night with flooding rain along I-95 corridor and bring heavy wet snow to the Northeast interior.
A low pressure will develop off the coast of Delmarva Peninsula this afternoon and move north toward Long Island, New York. The rain should start tonight from Washington, DC to Boston and will be heavy at times through Tuesday with some areas getting 2 to 4 inches of rain in a very short period of time. Urban and road flooding is the biggest threat on Tuesday.
Further inland, heavy snow over 6 inches will fall mostly in the higher elevations of northwest New Jersey, eastern and central Pennsylvania, upstate New York, the Green and White mountains of Vermont, New Hampshire and Maine. Western Massachusetts could also see heavy snow in the highest elevations. In addition to all the snow and rain, the storm will bring gusty winds up to 30 to 40 mph with higher gusts locally.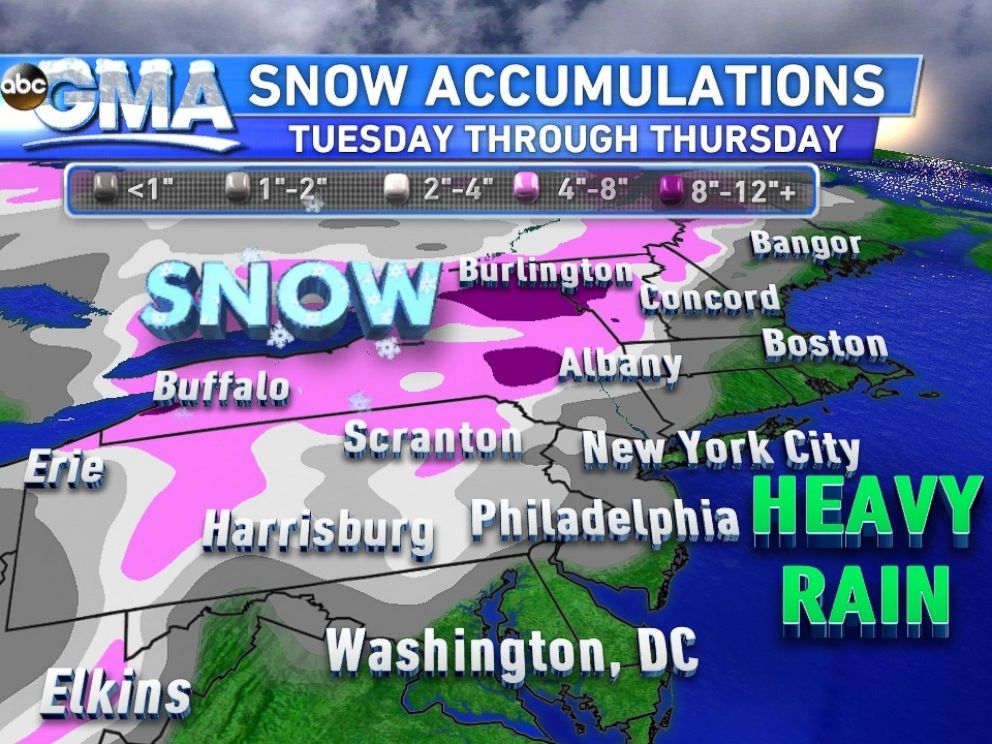 Northeast is not alone with this unsettled weather. A series of storms called an Atmospheric River will bring up to a foot of rain for parts of the West Coast starting today and lasting into Friday.
This onslaught of Pacific moisture will begin to affect Pacific Northwest and then slowly move down the coast by Wednesday bringing heavy rain and a threat of mudslides to San Francisco Bay Area and central California. Such stormy weather pattern does not happen very often in California, only every several years. In fact if San Francisco receives 4 inches of rain this Thursday into Friday, this will be the wettest storm since 1998.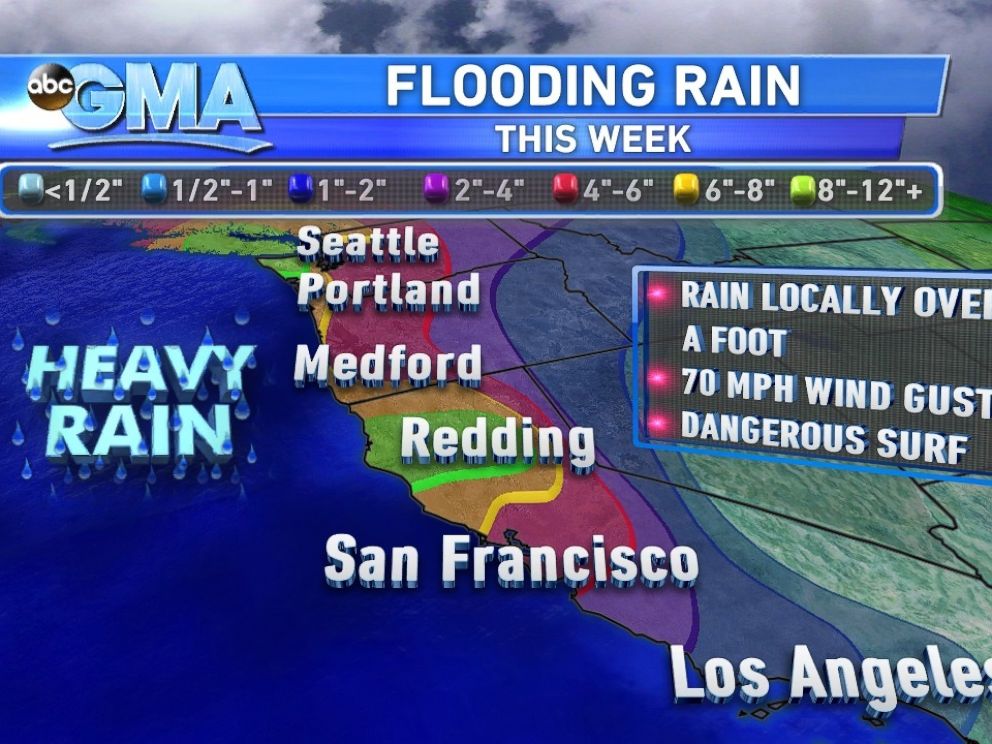 Rain accumulations for late this week could top 3 to 5 inches in the Bay area. Flash flooding and debris flow in the burn areas is expected. Also, very windy conditions to hit the coast and inland areas with winds near 70 mph possible, power outages are not out of the question.
In Sierra Nevada Mountains, above 6,000 feet up to 20 inches of snow is expected, with highest elevations possibly getting up to 3 feet of the white stuff. This storm will shift into southern California for Thursday and Friday, bringing snow to the Grapevine outside of Los Angeles and heavy rain to coastal LA Basin. Flash flooding is once again possible for southern California.