— -- Several civil rights groups and LGBTQ advocates are organizing a rally tonight in Raleigh, North Carolina, to protest the state's controversial passage of House Bill 2, which critics have called the most anti-LGBT bill in the country.
Here's everything you need to know about the bill, also known as the Public Facilities Privacy and Security Act, which was signed into law by Gov. Pat McCrory on Wednesday.
What Does It Do?
House Bill 2 declares that state law overrides all local ordinances concerning wages, employment and public accommodations.
Thus, the law now bars local municipalities from creating their own rules prohibiting discrimination in public places based on sexual orientation and gender identity. Though North Carolina does have a statewide nondiscrimination law, it does not include specific protections for LGBTQ people.
The law also directs all public schools, government agencies and public college campuses to require that multiple-occupancy bathrooms and changing facilities, such as locker rooms, be designated for use only by people based on their "biological sex" stated on their birth certificate. Transgender people can use the bathrooms and changing facilities that correspond to their gender identity only if they get the biological sex on their birth certificate changed.
Under the law, public institutions can still offer single-occupancy facilities.
How Did the Bill Pass?
Republican lawmakers, who make up the majority of North Carolina's General Assembly, publicly unveiled the language of the bill Wednesday morning.
The legislature was not originally scheduled to convene until late April, but GOP leaders scheduled the special session on Wednesday at a cost of $42,000.
They said they wanted to stop a newly approved ordinance in Charlotte, North Carolina, that had been set to take effect April 1. The local ordinance was supposed to prohibit discrimination in housing and public accommodations based on someone's gender identity or sexual orientation.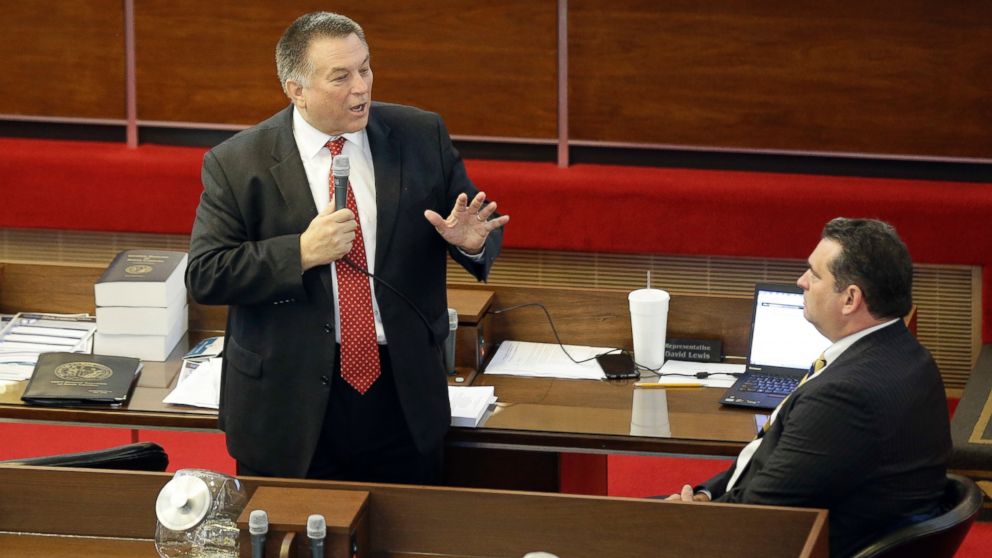 In less than 12 hours, the bill was approved by the House and Senate, and it was signed by McCrory at 10 p.m. the same day.
Lawmakers in the House voted 83–25 Wednesday to pass the bill and the Senate approved the bill in a 32–0 vote after Democrats, who make up the minority of the General Assembly, walked out of the chamber in protest.
What Do Proponents of the Bill Argue?
Republicans and allies supporting the bill argued that it was necessary to protect the safety of women and children from "radical" action by Charlotte.
Critics of Charlotte's ordinance said it could have allowed men who may be sexual offenders to enter a woman's restroom or locker room by claiming a transgender identity.
John Rustin, president of the North Carolina Family Policy Council, testified before the Senate, saying that the Charlotte ordinance "means men could enter women restrooms and locker rooms -- placing the privacy, safety, and dignity of women and the elderly at great risk."
McCrory agreed in a statement he wrote after signing the bill.
"The basic expectation of privacy in the most personal of settings, a restroom or locker room, for each gender was violated by government overreach and intrusion by the mayor and city council of Charlotte," he said. "As a result, I have signed legislation passed by a bipartisan majority to stop this breach of basic privacy and etiquette which was to go into effect April 1."
What Do Opponents of the Bill Argue?
Democrats, along with civil rights groups and LGBTQ advocates, argue that the bill is discriminatory, interferes with a local government's rights and could put the state's economy at risk.
Many opponents pointed out that there are no known instances of a sexual predator dressing up as women to commit a crime and then using similar city ordinances as a legal defense.
"Repeating a lie over and over does not make it true," the Rev. Mykal Slack testified during debate of the bill. "I am a transgender male, and I am not a threat to you."
Transgender people are actually much more likely to be assaulted in a bathroom, according to Mike Meno, communications director for the American Civil Liberties Union of North Carolina. Meno told ABC News that the ACLU heard from numerous trans men and women on Wednesday saying "how scary it can be" just to go to the bathroom.
What's Next?
North Carolina is now at risk of losing $4.5 billion of federal funding, according to a statement from the Human Rights Campaign, which claimed the new law is in "direct violation" of Title IX, a federal non-discrimination act.
The ACLU, its North Carolina chapter, Lambda Legal and Equality North Carolina also announced today that they "are exploring legal challenges to the discriminatory law."
"Today was a devastating day for LGBT North Carolinians and particularly our transgender community members who have been subjected to months of distorted rhetoric culminating in today's display of bias and ignorance by North Carolina lawmakers," Chris Brook, legal director of ACLU of North Carolina, said in a statement.
"We are disappointed that Governor McCrory did not do right by North Carolina's families, communities, and businesses by vetoing this horribly discriminatory bill, but this will not be the last word," Brook said. "The ACLU, Lambda Legal, and Equality NC are reviewing all options, including litigation."
Major companies, including American Airlines and PayPal, have denounced the newly approved law and many other companies and organizations are reportedly reconsidering their business in the state.
For example, the NCAA, which has men's basketball tournament games planned in North Carolina in 2017 and 2018, said in a statement it would "continue to monitor current events" and that it "is our expectation that all people will be welcomed and treated with respect in cities that host our NCAA championships and events."
The Associated Press contributed to this report.