— -- North Miami Police Officer Jonathon Aledda was identified today as the officer involved in the shooting of an unarmed man earlier this week.
City officials said Aledda is a member of the department's SWAT team. He was placed on paid administrative leave.
Jeff Cazeau, North Miami City Attorney, said the release of the officer's name was delayed due to safety concerns, but added that he is safe now.
Another officer who was at the scene, but did not shoot, was Commander Emile Holland. Holland was put on administrative leave without pay, officials said, noting there was evidence that Holland tried to fabricate the police report.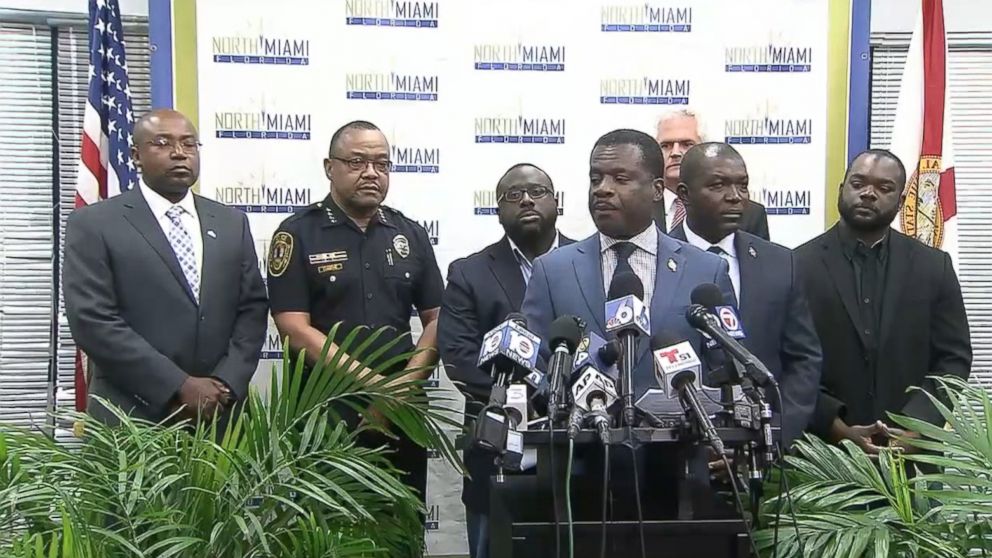 The incident happened Monday when Charles Kinsey, a behavioral therapist, was shot and injured while lying on the ground next to a man with autism.
Kinsey's discussion with the police during the incident was caught on video and later released by his attorney.
The officer said in a statement Thursday through the police union, before his name was released: "I took this job to save lives and help people. I did what I had to do in a split second to accomplish that and hate to hear others paint me as something I'm not."
The North Miami Police Department had said it had received a 911 call of a man threatening to commit suicide with a gun pointed at his head. "At some point during the on-scene negotiation" with the two men, one of the officers fired, striking Kinsey, police said.
Kinsey was hospitalized with non-life-threatening injuries.
No gun was recovered, police said.
John Rivera, the president of the Dade County Police Benevolent Association, said Thursday that the officers "saw the white male almost on top of Mr. Kinsey, who had his hands up and who had his knees up, and to the officers, it looked like the white male was about to shoot Mr. Kinsey," Rivera said. "The officers all thought the individual had a firearm."
Rivera said the officer who shot "was trying to save the life of Mr. Kinsey and feels horrible that his aim missed and struck Mr. Kinsey."
"The officers were justified in their actions. They did everything that they could do and were human beings. And we had a human being miss his target and unfortunately strike Mr. Kinsey," Rivera said.
Kinsey's employer told ABC News today that the police union tried to "change" the narrative Thursday by saying "the resident was threatening the employee," which was "shocking."
"I really hope they walk that back," said Clint Bower, the president and CEO of MACtown, a provider of services for people with disabilities.
Bower called Kinsey a hero to the company, to the community and "to all the people in the disability community."
Kinsey "did everything he was supposed to do, and was more concerned with protecting the individual he was responsible for than his own life," Bower said.
"He can come back to work whenever he wants. If he needs to take a year off he's getting paid," Bower said.
Following the shooting, the autistic man "was clearly traumatized," Bower said. "Since this happened, nobody from the city has asked me how he's doing."
Bower said he'd like "the city to step forward" and announce training for officers for how to work with people with disabilities.
Kinsey's attorney, Hilton Napoleon said, Thursday morning, "There is no justification for shooting an unarmed person who is talking to you and telling you that they don't have a gun and that they're a mental health counselor."
"The video clearly shows him laying on his back. The video clearly shows him with his hands as high in the air as he can possibly get them," Napoleon said.
The footage also captured audio of Kinsey talking to police while he was lying on his back with his hands up, explaining that he is a behavioral therapist and that the man sitting at his feet is holding a toy truck.
The Florida Department of Law Enforcement has taken over the investigation. The state attorney's office is also looking into the case, police said.
Napoleon said Thursday that Kinsey was physically "doing OK."
"I think one of the biggest hurdles that's going to be tough for him in the long run is the mental aspect of it, because he feels he really did everything he could do to cooperate and go over and beyond to show police that he's not armed and that he's trying to help de-escalate a situation with a mental health individual," Napoleon said. "It's going to be a long haul to make sure that he gets over that fear."