— -- Northern California is cleaning up today, a day after suffering its strongest earthquake in 25 years.
A state of emergency remained in effect following the South Napa Earthquake, which struck about 3:20 a.m. local time Sunday, according to the U.S. Geological Survey.
The earthquake caught many people sound asleep, sending dressers, mirrors and pictures crashing down around them. The jolt injured more than 100 people, buckled roads and damaged historic buildings in the heart of the state's wine country. A 13-year-old was critically injured by a crumbling fireplace.
Damage from the earthquake could reach $1 billion, according to EQECAT, a company that studies catastrophe risk.
That damage estimate is expected to rise because the Napa Valley wine harvest has already begun, EQECAT predicted.
Napa Valley Wineries Picking Up the Pieces After Earthquake
This Is What Northern California Looks Like After Quake
Read More on California Earthquakes
The earthquake's epicenter was located about six miles south-southwest of Napa, California, and 51 miles west-southwest of the state capital, Sacramento. Officials have variously referred to the earthquake's magnitude as 6.0 and 6.1.
The earthquake was the largest one to shake the Bay Area since the 1989 6.9-magnitude Loma Prieta Earthquake. Dozens of aftershocks followed.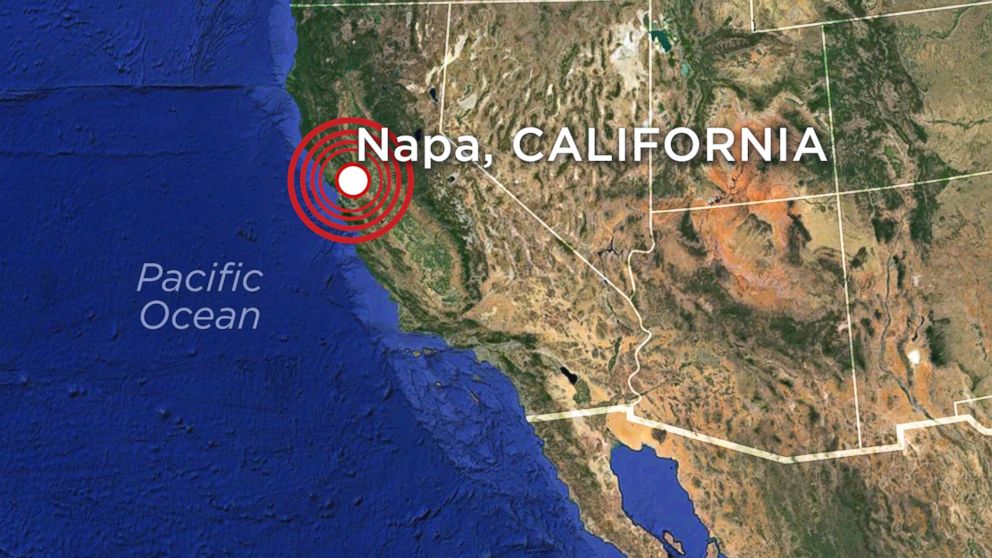 Residents remained worried about the potential for further aftershocks. Many people stayed outside Sunday night, not wanting to go into their homes for fear of a follow-up tremor.
Pacific Gas and Electric Company initially showed more than 15,000 customers without power, primarily in Napa, Sonoma and Santa Rosa Counties.
Several buildings in Napa were damaged or on fire in the wake of the earthquake. At least 15 buildings will need to be inspected or repaired before they can be occupied again, Napa City Manager Mike Parness said.
Fires also flared in a mobile home park where four homes were destroyed and two others were damaged, officials said.
Firefighters received more than 100 calls from people who smelled natural gas, said John Callanan of the Napa Valley Fire Department.
"Our resources are exhausted as far as quantity of on-duty personnel," he said.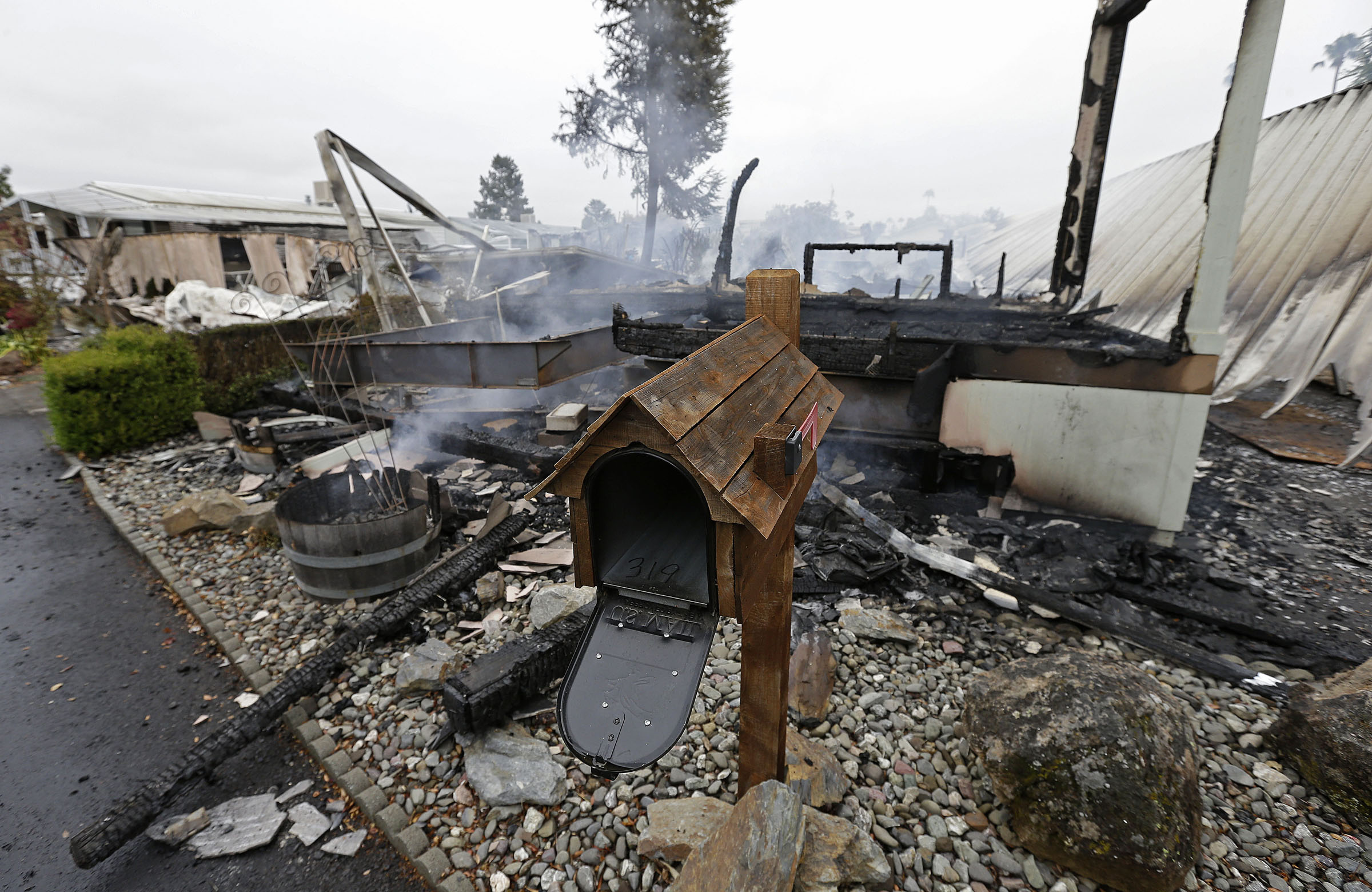 Dozens of water main leaks were reported, although city officials said the water was safe to drink.
At least 120 people were treated at Queen of the Valley Medical Center in Napa, hospital officials told ABC News. Only a handful of patients needed to be hospitalized.
Six of those people suffered critical injuries, including the child hurt by the fireplace, who was flown to U.C. Davis Medical Center for further treatment, said hospital president Walt Mickens. The child was in stable condition.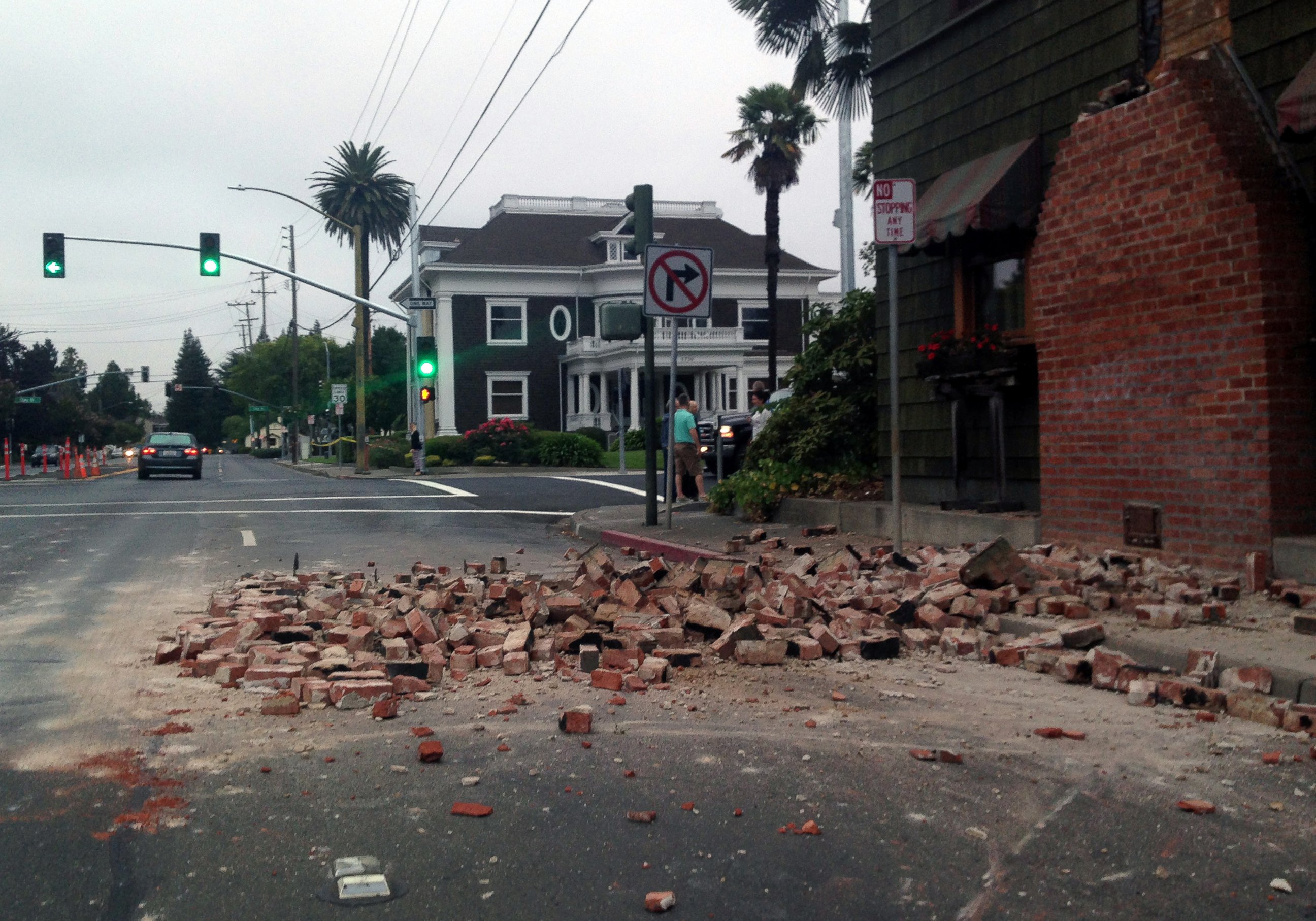 All schools in the Napa Valley Unified School District were to be closed Monday. Justin Siena High School also was to be closed.
Historic buildings damaged by the earthquake included Sam Kee Laundry, Goodman Library and the Napa County Courthouse, the city said, adding that two commercial buildings also suffered severe damage.
Napa County Supervisor Bill Dodd said he believed the county courthouse had been retrofitted for earthquakes.
"I've been through a few of these and I've never seen anything like this, particularly in downtown Napa," Dodd said, according to ABC News Radio. "The county building is just in total disrepair, and they've moved it down to the sheriff's office -- so that's where the coordinating all the emergency services for the county."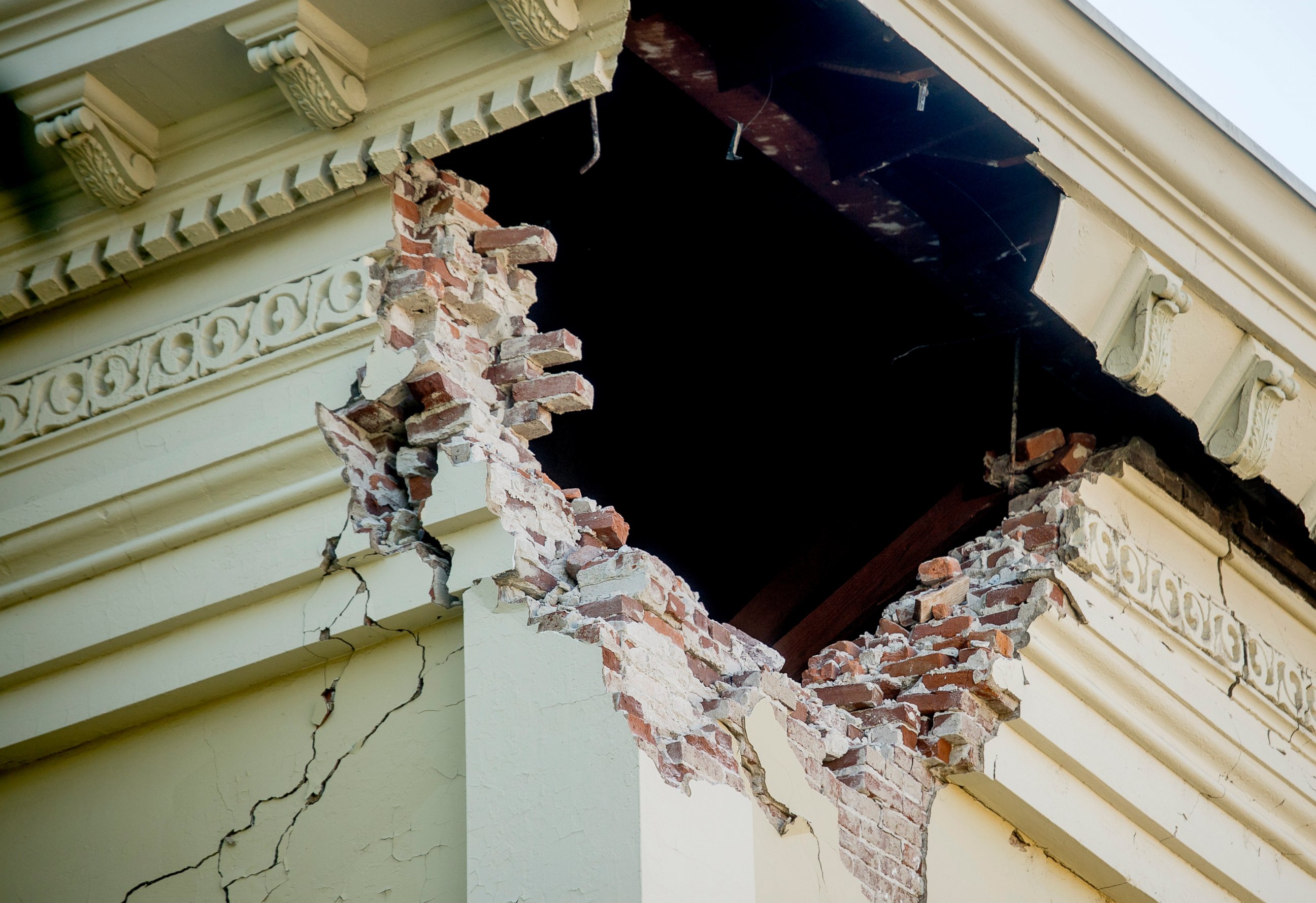 President Obama was briefed on the earthquake, a White House spokesman said.
The earthquake's impact was especially powerful on the region's wine industry, with vineyards reporting busted barrels and smashed bottles. Andrew Brooks at Bouchaine Vineyards says the damage was costly.
"Fifty barrels worth of wine, 3,000 gallons," Brooks said of the damage. "It's expensive, in the tens of thousands of dollars, for sure."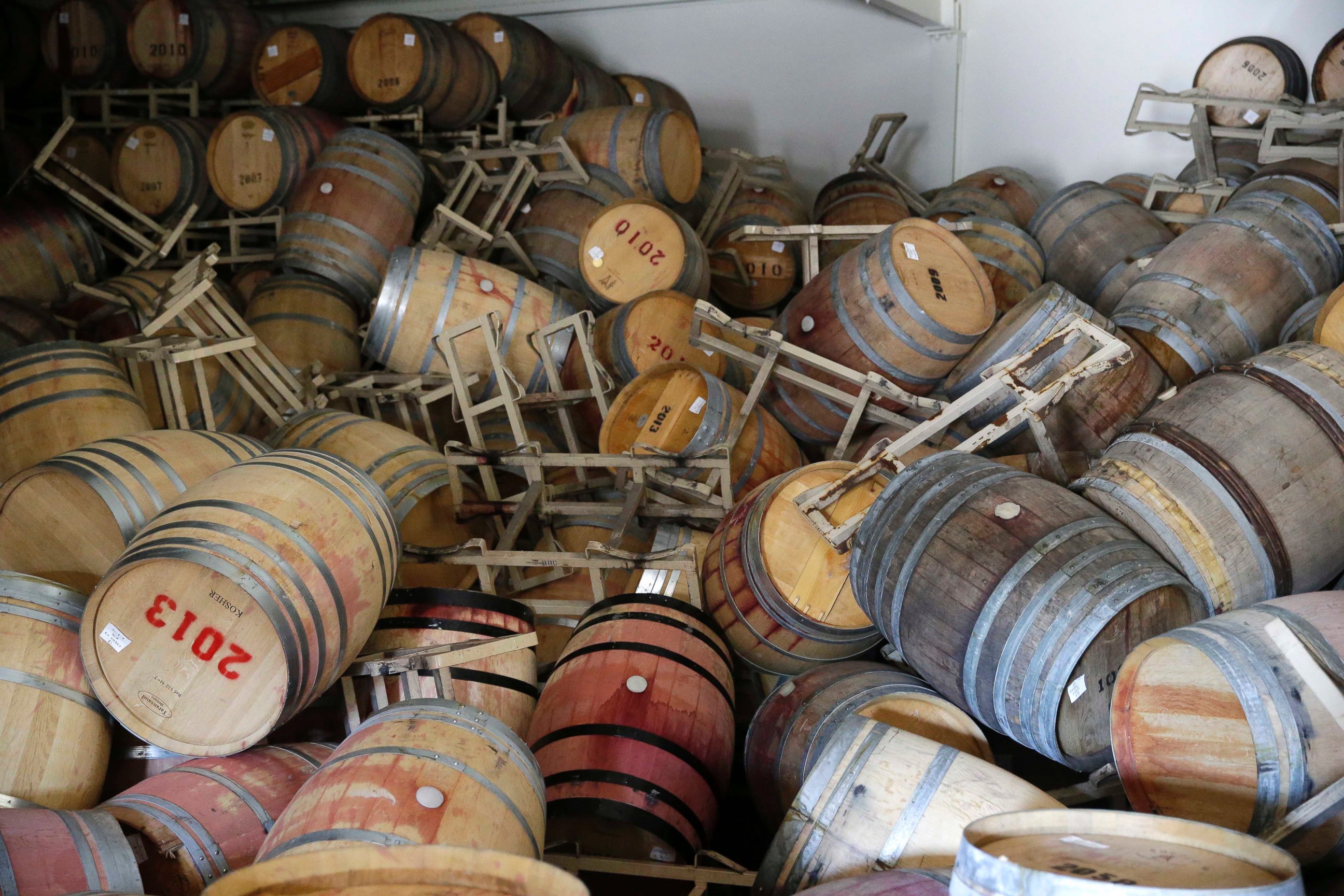 Dozens living in the region reported falling dishes and violent shaking inside their homes.
"I was alone in the house so I didn't know what to do -- and the first thing when it stopped I ran under the table and tried to get cover because it's the first thing they say to do for an earthquake is get under the table," Diana Martini, who lives in Vallejo, California, told ABC News.
Martini said her television crashed to the ground, along with some of her dishes.
"I'm on the first floor, so that was the scariest thing. I thought the building was going to come down," she said.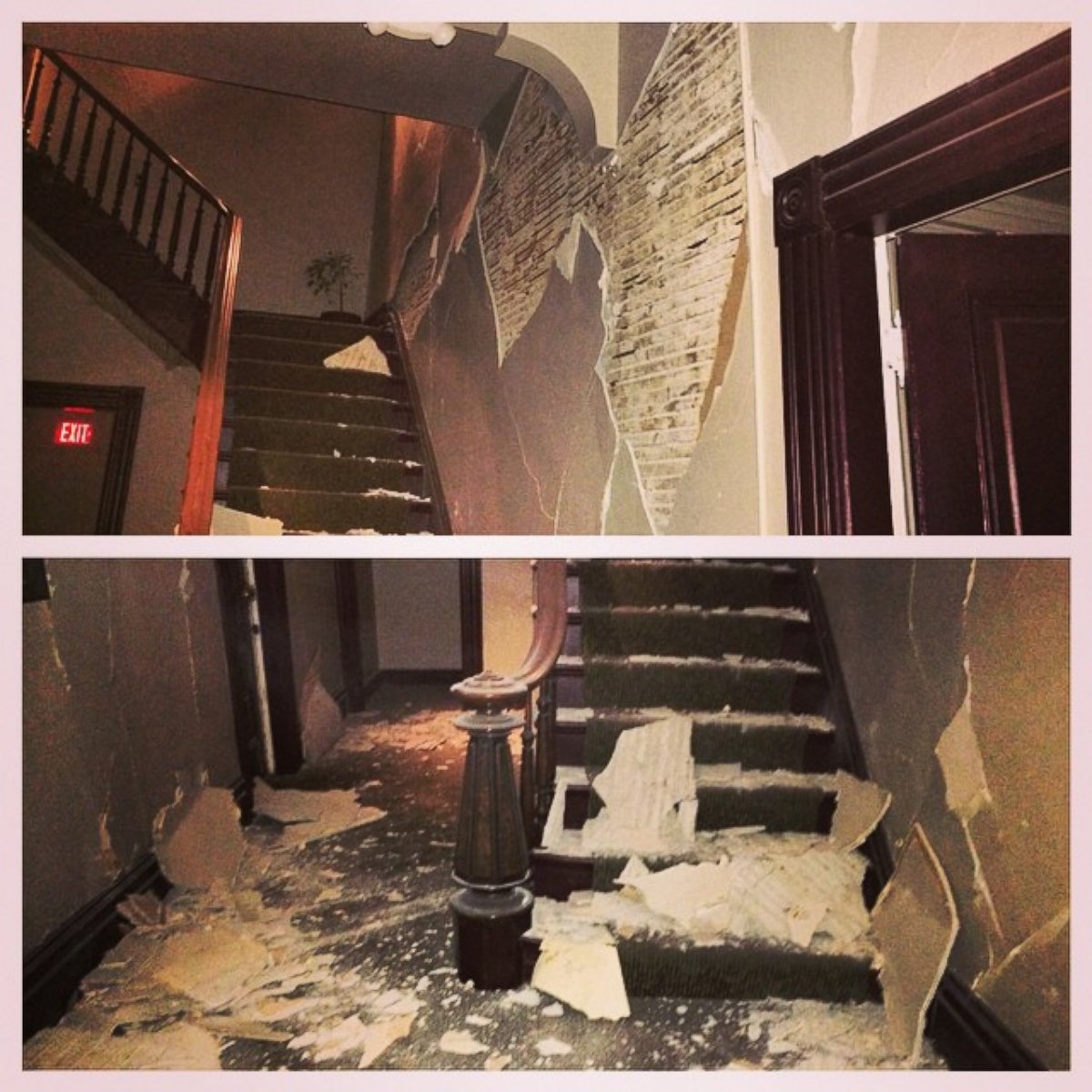 Anne Whitlock, who lives in Napa, says her family's home may have collapsed on them if not for earthquake retrofitting.
"We spent thousands of dollars putting in a 25-foot steel beam, and $50,000-worth of piers under the house to make it earthquake-safe, and I do think that's what saved us," Whitlock told ABC News.
Tara Sweigart said she felt shaking in Daly City, California, south of San Francisco.
"I thought someone was wrong with the garage door until I realized that was ridiculous," she told ABC News.
The Associated Press contributed to this report.
Get real-time updates as this story unfolds. To start, just "star" this story in ABC News' phone app. Download ABC News for iPhone here or ABC News for Android here. To be notified about our live weekend digital reports, tap here.