Nurse arrested for refusing to draw blood from unconscious patient praised for 'heroic act'
A video of the Utah nurse's arrest went viral on social media overnight.
September 2, 2017, 1:56 PM
— -- A widely circulated video of a Utah nurse being handcuffed and arrested for refusing to draw the blood of an unconscious patient has led to two police officers' being placed on leave and praise for the nurse for protecting the patient's rights.
Nurse Alexandra Wubbels, at the burn unit of the University of Utah Hospital in Salt Lake City, was approached by city police Detective Jeff Payne on July 26, as shown in video of the encounter that was taken from officers' body cameras and released Friday.
Payne asks Wubbels for a blood sample for a patient, who has been identified as William Gray, a truck driver and reserve police officer in Idaho who was taken to the hospital unconscious after a serious accident in his truck.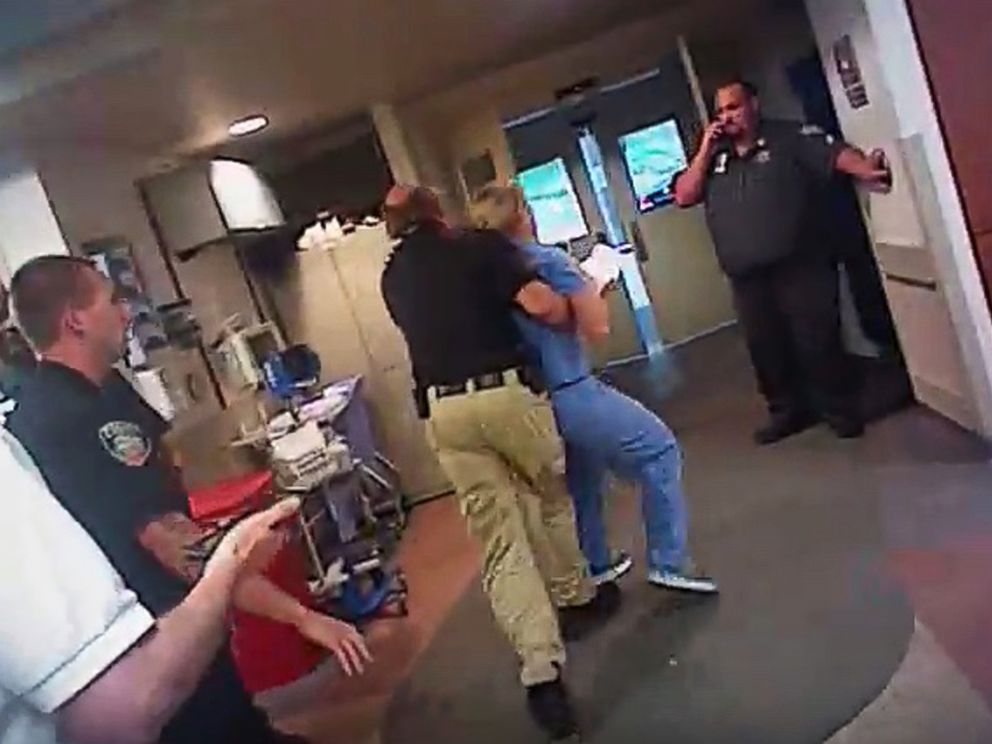 Wubbels refuses the officer's request, citing hospital policy not to draw blood from a patient unless the patient has consented, a judge has issued a warrant or the patient is a suspect in a crime.
"I'm just a nurse trying to protect a patient," Wubbels tells Payne in the video.
The interaction deteriorates sharply after a supervisor of Wubbels', whose voice is heard over a speakerphone, accuses Payne of "threatening a nurse."
Payne springs into motion and appears to grab Wubbels, push her out of the building and put her in handcuffs.
When the video went viral on social media overnight, many people responded with outrage. Nurses' unions, privacy advocates and the police department where Gray is a reserve officer spoke up on Wubbels' behalf.
Criminal investigation underway
Salt Lake City Mayor Jackie Biskupski and the city's Police Chief Mike Brown addressed the officer's actions as shown in the video.
"What I saw is completely unacceptable to the values of my administration and of the values of the Salt Lake City Police Department," said Biskupski.
She added that the police internal affairs division and a civilian review board are conducting investigations.
Payne and another officer who was at the scene have been placed on administrative leave while police investigate the incident.
Brown said the department views the incident "very seriously" and has reviewed its training and policies. We "took steps to ensure this will never happen again," he said.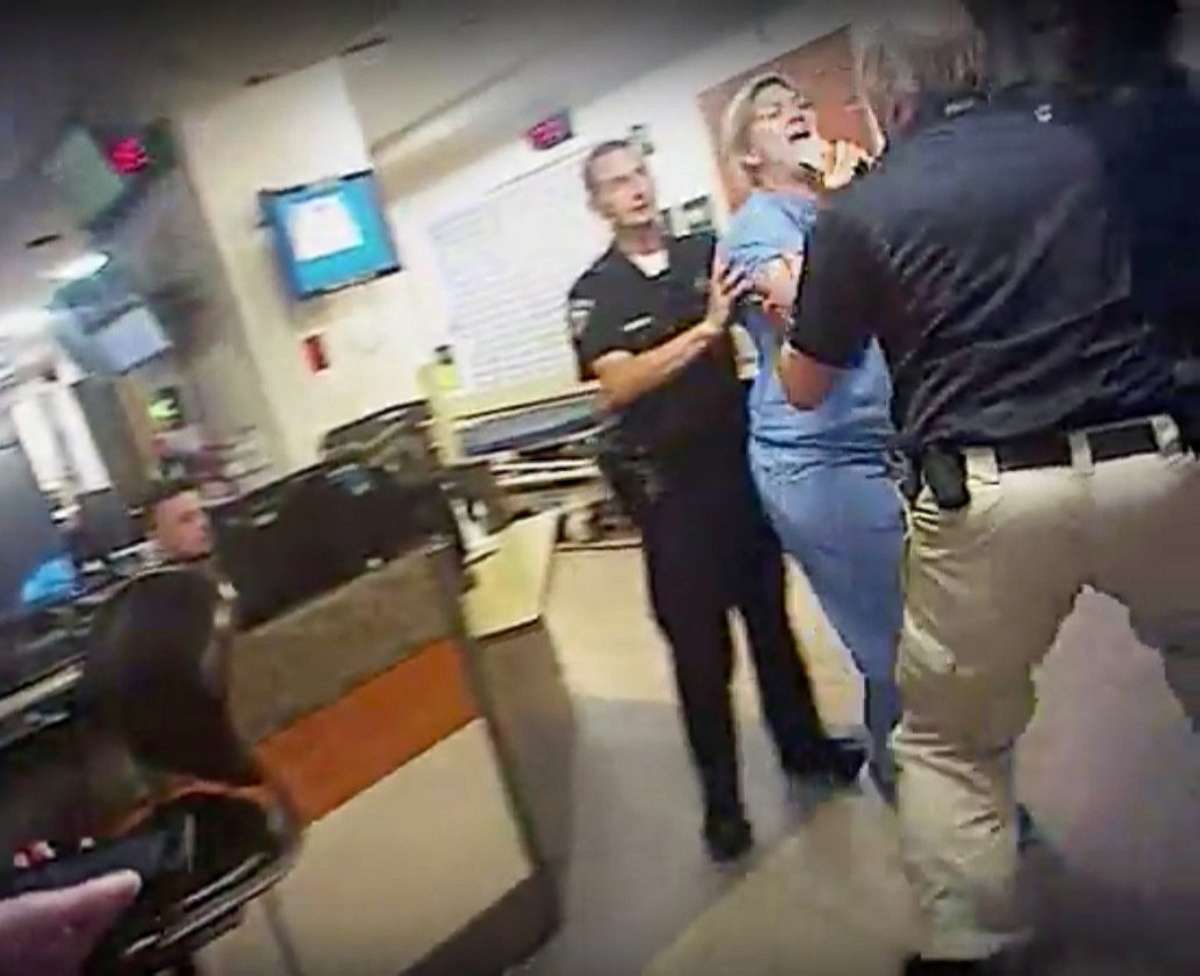 ABC News reached out to the Salt Lake Police Association, the union representing Payne, but has yet to receive a response.
'A truly heroic act'
The Rigby Police Department in Idaho said in a statement that Gray was a reserve officer with the department who was in a "horrific accident."
"On July 26th of this year, one of our reserve officers, William Gray, was the victim in a horrific accident in northern Utah while working his full-time job as a truck driver," the statement said.
It adds that a man fleeing the Utah State Highway Patrol drove into oncoming traffic and collided head-on with Gray's truck, killing himself and landing Gray in the hospital.
Gray remains in the care of the hospital's burn unit, Rigby police said.
"The Rigby Police Department would like to thank the nurse involved and hospital staff for standing firm and protecting Officer Gray's rights as a patient and victim," the statement said. "Protecting the rights of others is truly a heroic act."
Nurses' associations see a 'chilling' example of workplace violence
National Nurses United, a nurses' union, called the treatment of Wubbels an assault.
"As the videos and news accounts make clear, there is no excuse for this assault or her arrest, which sends a chilling message about the safety of nurses and the rights of patients," Jean Ross, a co-president of the union, said in a press release.
The Utah Nurses Association said in a statement that it was "deeply disturbed" by the video and encouraged people to watch it.
"Nurses are the most trusted professionals in the U.S. year after year, in part because nurses take seriously our ethical duty to act in the best interest of our patients at all times and in all settings," the statement said.
The group added that nurses, like all health care professionals, deserve to work in settings free of violence and fear.