— -- Investigators are looking into whether upstate New York prison employee Joyce Mitchell may have had sex with inmates other than escaped convict David Sweat, who, along with Richard Matt, have been on the run for nearly three weeks, multiple sources told ABC News.
Investigators have confirmed that her alleged sexual relations with inmates at the Clinton Correctional Facility in Dannemora, New York, is part of their ongoing investigation.
"On her behalf all I can say is that she has consistently denied having any sexual relationship with inmate Sweat," her attorney Steve Johnston said today in a statement to ABC News.
Mitchell, 51, is charged with a felony count of promoting prison contraband and a misdemeanor count of criminal facilitation for allegedly helping Sweat and Matt escape from the maximum security facility on June 6. She has entered a not guilty plea.
Prior to the escape, Mitchell had been investigated for a suspected relationship that she had with Sweat sometime in the past year, sources said. Her suspected connection with Sweat was investigated but not enough evidence was found to take any action against her at that time, sources said.
Mitchell is not the only Clinton employee to come under scrutiny during the investigation. Corrections officer Gene Palmer took and passed a polygraph test, according to Johnston.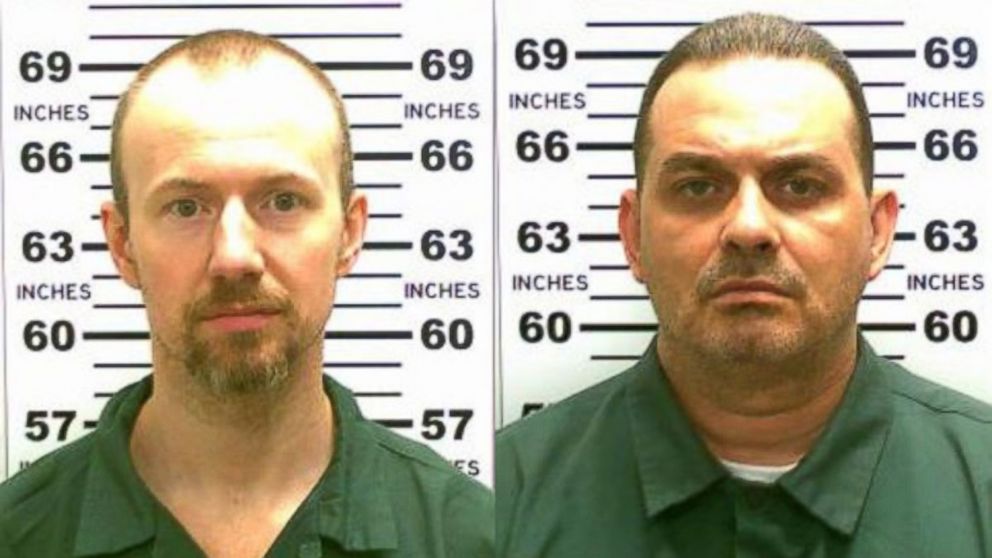 Clinton County District Attorney Andrew Wylie told ABC News on Tuesday that Palmer would collect meat from the prison tailor shop and pass it on to Matt and Sweat in their cells. Hacksaw blades and other tools were allegedly stored in the meat. Palmer told investigators he did this unknowingly and Palmer does not face charges at this time, Wylie said.
The search for the convicted killers has been focused in the area of Owls Head, New York, about 30 miles east of the prison.
A series of clues have been found in the area, authorities said, and investigators believe one of the inmates may now be barefoot after finding a pair of boots in a cabin that they are believed to have robbed.
Though State Police Maj. Charles Guess would not specifically confirm reports that there was a bloody sock found in the cabin, he did say that it does not necessarily mean that one of the inmates in injured, though he said investigators appreciate anything that would "impede" their movements.
"Let's face it -- a bloody sock could mean that somebody had a blister," Guess said at a press conference this afternoon.
Guess said there has been "no substantiated sightings" of either man, even though investigators have "virtually 100% assurance that they were in the area" of the cabin over the weekend. They interviewed a man who said he saw someone running into the woods, but Guess would not officially rule that a sighting.
"We've received reported sightings each day," Guess said this afternoon, "so far none of the sightings have been substantiated."
There are currently more than 1,000 law enforcement officers involved in searching 70 square miles, Guess said. There have been more than 2,200 leads in the case.