— -- New York City Police Commissioner Bill Bratton will retire in September to "pursue other opportunities," he said today, after what Mayor Bill de Blasio called Bratton's "extraordinary" contributions to the largest police force in the nation.
Bratton did not elaborate on his plans at today's news conference, but global CEO advisory firm Teneo said Bratton will join the firm in September as senior managing director and executive chairman of Teneo Risk, a new division that advises major companies on risk identification, prevention and response.
Declan Kelly, chairman and CEO of Teneo, said, "In a world of increasing uncertainty and instability, CEOs and business leaders are now, more than ever, looking for advice on critical risk and security issues from trusted, proven experts. Commissioner Bratton brings unparalleled expertise that will benefit our clients around the globe."
Bratton's retirement came as a surprise, as Bratton had been expected to stay on through next year's mayoral election, city officials told ABC News. De Blasio said Bratton told him his decision on July 8.
The next police commissioner — a position once held by Teddy Roosevelt — will be James O'Neill, who is currently the chief of department and the NYPD's top-ranking uniformed member.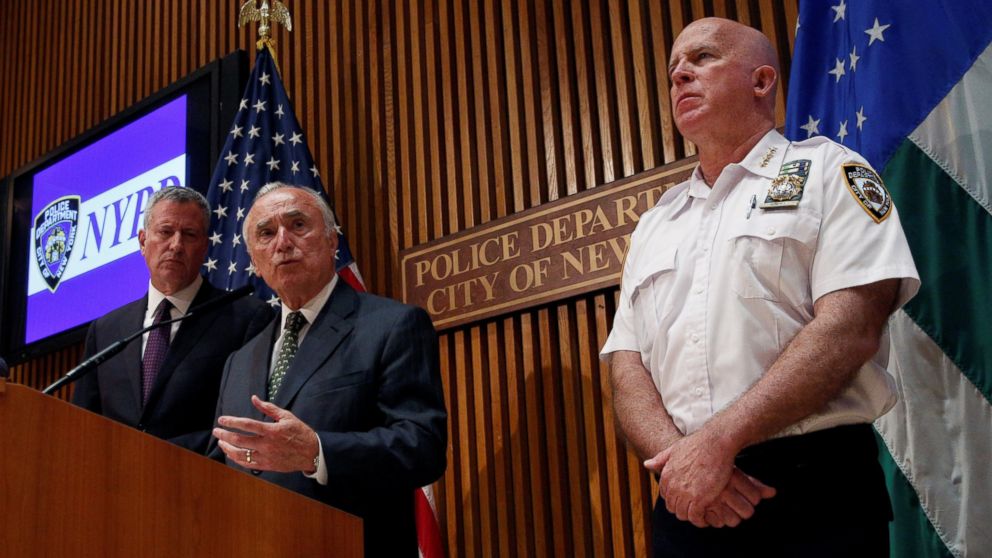 De Blasio called O'Neill "the perfect person to succeed" Bratton and cited O'Neill — the architect of the neighborhood policing program — as the leader who can sustain the "deep and consistent bond between police and community" that the city is working toward.
"Neighborhood policing continues to grow," the mayor said. "We are rolling it out in 51 percent of our precincts this fall, and we will continue from there. And you'll see what it means in the lives of everyday New Yorkers. When they actually know the officer who patrols their part of their neighborhood, when they know the officer's name, where they have a sense of personal connection ... that's going to change this city for the better."
The mayor said O'Neill, a Brooklyn native who joined the NYPD 33 years ago as a transit officer, "burns with a passion to keep making things better."
O'Neill, who has been the chief of department since November 2014, said the push for the neighborhood policing initiative gained strength after two Brooklyn officers were shot dead in December of that year.
"Knowing who your police officers are, especially what their names are ... is one way to strengthen the bond that already exists in many places and bridging the divide where it doesn't," he said.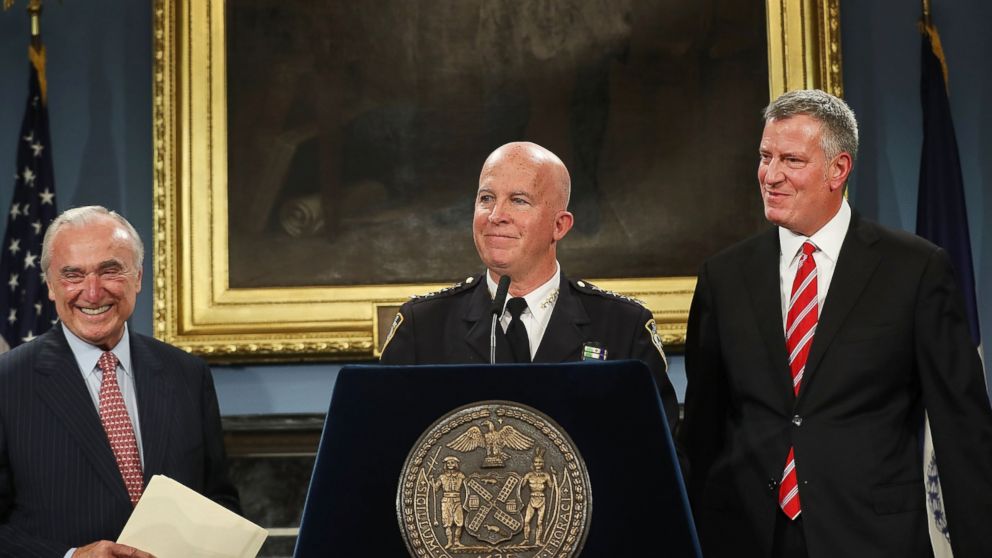 Bratton is retiring after twice serving as New York City's police commissioner. He has also been the Los Angeles police chief and the Boston police commissioner. He's the only person who has led both the New York and the Los Angeles police departments.
Bratton, who grew up in Dorchester, Massachusetts, called himself a "proud adopted son" of New York City.
He said the department has worked to redefine its relationship with residents from "being the police" to "being your police."
"When you see a policeman, remember that he is your friend," Bratton said. He acknowledged that change "doesn't happen overnight" but added that "we have already seen the tide shift in that direction ... We are farther along in New York City than most places."
He said the department will have a "seamless transition."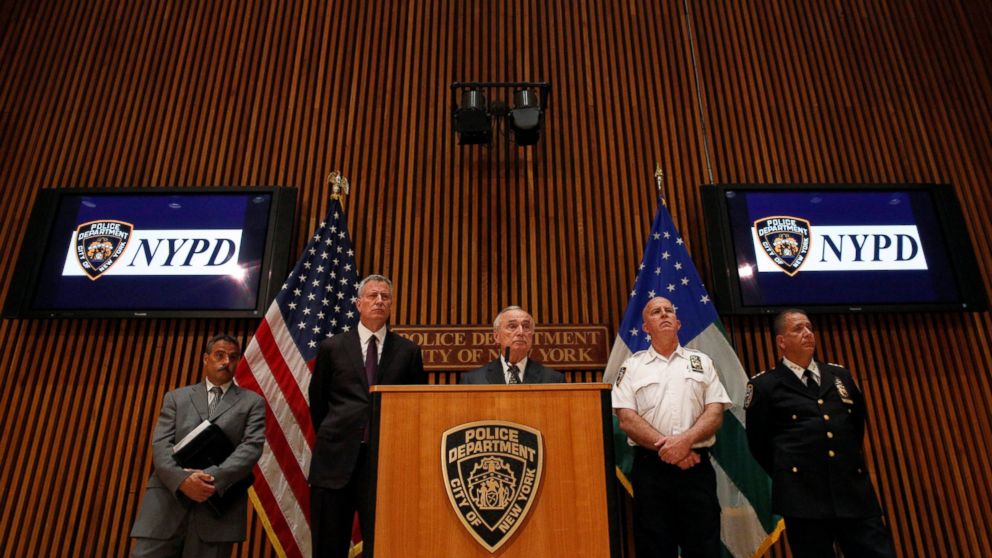 O'Neill "has brought police and the people together" and "has all it takes to lead the NYPD into the future," said Bratton.
De Blasio told reporters today, "We will never forget or fail to honor the achievements of Bill Bratton. And he and I have developed an intense bond over these last 31 months."
"I don't think any of us could have imagined a more productive 31 months," de Blasio said of Bratton's second time as the city's top cop. "This friendship and this deep, deep connection will continue."
He added, "Thanks to Bill Bratton, crime is at record lows, and our police force is the most sophisticated and technologically advanced department in the country. Our next police commissioner's decades of experience make him uniquely qualified to continue building on these incredible public safety achievements."
New York Gov. Andrew Cuomo said he was surprised and saddened by Bratton's departure, calling him and former commissioner Ray Kelly the "Babe Ruth and Lou Gehrig" of policing.