EAST PALESTINE, Ohio -- The mayor of an Ohio village where a train carrying toxic chemicals derailed earlier this month told ABC News that he "wasn't built for this" and needs "help."
East Palestine Mayor Trent Conaway briefly spoke to reporters on Wednesday evening, before a town hall meeting with residents in the local high school's gymnasium. ABC News asked Conaway about the pressure of being in the national spotlight and whether he has a message for U.S. Environmental Protection Agency Administrator Michael Regan ahead of his visit.
"I need help," the mayor responded. "I'm not ready for this. I wasn't built for this. I always thought of myself as a leader. I will do whatever it takes."
Regan traveled to East Palestine, Ohio on Thursday to visit the derailment site, hear from affected residents and meet with the state's emergency responders. At a press conference, the EPA administrator reiterated the federal government's commitment to "getting to the bottom" of the incident and asked residents to "trust" them.
"Let me be clear," Regan said, "EPA will exercise our oversight and our enforcement authority under the law to be sure we are getting the results that the community deserves."
About 50 cars of a freight train operated by Norfolk Southern Railway derailed in a fiery crash on the outskirts of East Palestine, Ohio, near the state line with Pennsylvania, on the night of Feb. 3. Ten of the derailed cars were transporting hazardous materials, five of which contained vinyl chloride, a highly volatile colorless gas produced for commercial uses. There were no injuries reported from the accident, officials said.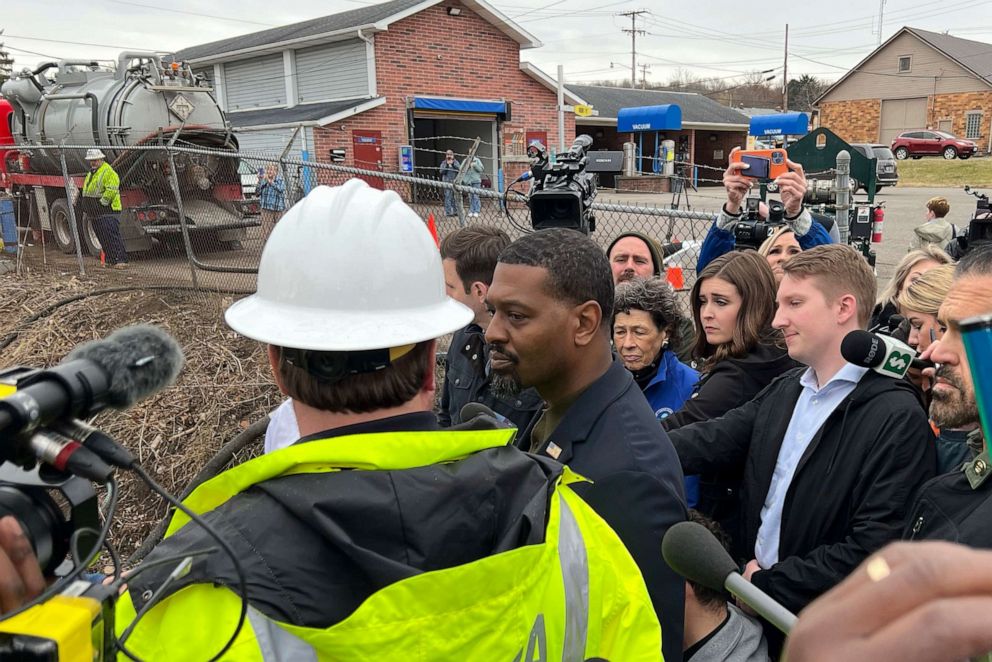 Efforts to contain a fire at the derailment site stalled the following night, as firefighters withdrew from the blaze due to concerns about air quality and explosions. About half of East Palestine's roughly 4,700 residents were warned to leave before officials decided on Feb. 6 to conduct a controlled release and burn of the toxic vinyl chloride from the five tanker cars, which were in danger of exploding. A large ball of fire and a plume of black smoke filled with contaminants could be seen billowing high into the sky from the smoldering derailment site as the controlled burn took place that afternoon, prompting concerns from residents about the potential effects.
A mandatory evacuation order for homes and businesses within a 1-mile radius of the derailment site was lifted on Feb. 8, after air and water samples taken the day before were deemed safe, officials said.
The EPA administrator told reporters on Thursday that the federal government would hold Norfolk Southern Railway accountable, while touting the partnerships he said the Biden administration has maintained with local and national leaders on mitigating the crisis thus far. He spoke amid increased criticism from congressional Republicans and other critics who have said the White House is not taking the disaster seriously enough.
"From the very beginning, EPA personnel had been on site supporting local and state partners as they lead emergency response efforts," Regan said during Thursday's press conference. "We've had boots on the ground, leading robust air quality testing including the advanced technological aspect claims and our mobile analytical laboratory in and around East Palestine."
According to Regan, the EPA has assisted with the screening of more than 480 homes under the voluntary screening program offered to residents, with no vinyl chloride or hydrogen chloride detected. But Regan also said he understands why some residents are questioning the information they're being provided, still calling on East Palestinians to trust the EPA and reach out to get their home tested if they have any concerns.
"But for those who can't," he added, "I am asking that they trust the government. And that's hard. We know that there is a lack of trust, which is why the state and the federal government have pledged to be very transparent."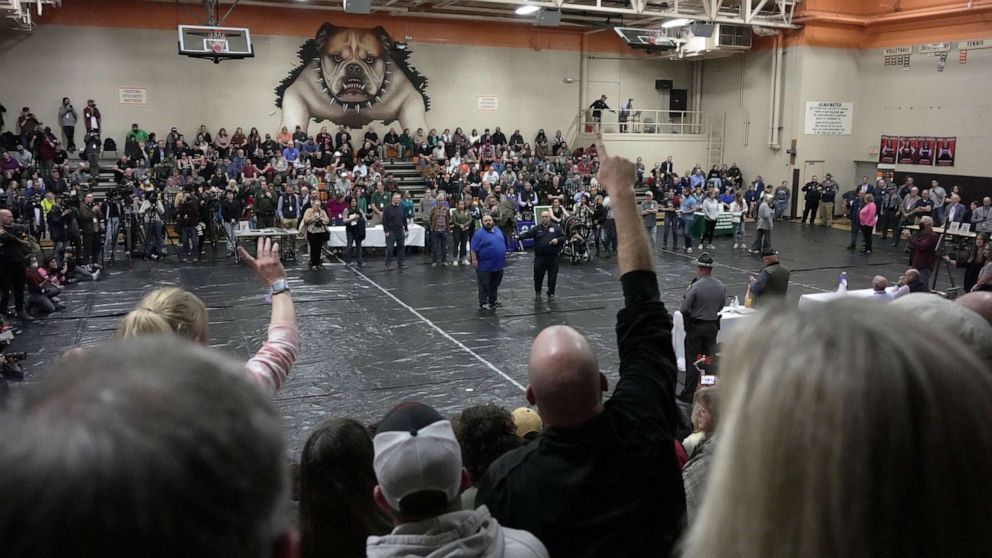 Earlier Thursday, Ohio Gov. Mike DeWine spoke with White House officials and requested on-the-ground federal assistance in East Palestine, according to his office. The White House later confirmed that Biden and DeWine had spoken. The Ohio governor, a second-term Republican, had told reporters just two days prior that he had been contacted by Biden with offers of assistance, which he declined.
"Look, the president called me and said: 'Anything you need.' I have not called him back after that conversation," DeWine said during a press conference on Tuesday. "We will not hesitate to do that if we're seeing a problem or anything, but I'm not seeing it."
According to the governor's office, the assistance requested Thursday would come from the U.S. Department of Health and Human Services, Health and Emergency Response Team and the Centers for Disease Control and Prevention. DeWine's office said they have also been in "daily contact" with the Federal Emergency Management Agency "to discuss the need for federal support, however FEMA continues to tell Governor DeWine that Ohio is not eligible for assistance at this time."
On Wednesday, DeWine's office announced that the latest tests conducted by the state's EPA show five wells feeding into East Palestine's municipal water system are free from contaminants. But residents with private wells are encouraged to drink from bottled water instead, until their well water has been tested and cleared for consumption, according to the governor's office.
"With these tests results, Ohio EPA is confident that the municipal water is safe to drink," DeWine's office said in a statement. "Because private water wells may be closer to the surface than the municipal water wells, the Ohio EPA recommends that those who receive drinking water from private water wells schedule an appointment for well water testing by an independent consultant."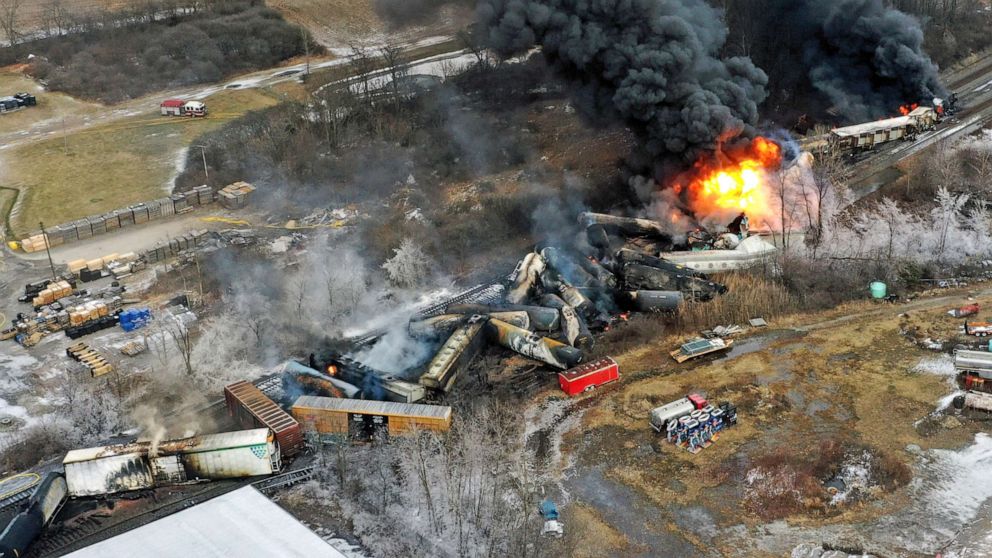 Regan and other leaders like Rep. Bill Johnson, R-Ohio, have emphasized that residents should trust the testing if they're told it's safe to move back home, but that individual families could make different decisions based on their health concerns and families who haven't had their homes tested yet should stay put, away from them.
"If those homes have been tested and if those homes have been tested by the state and given a clean bill of health, yes, as a father, I trust the science," Regan told reporters on Thursday. "I trust the methodology that the state is using. And as a parent, I would."
"I would encourage every family in this community to reach out to the state or EPA to get their home air quality tested and their water system," he added. "We have the resources to do it. We want to do it and want people to feel secure and safe in their own homes."
Still, some residents said they need more assurance that the testing will protect themselves and their loved ones before moving back into their homes.
East Palestine resident Kristina Ferguson spoke to reporters before Regan toured her home on Thursday afternoon, saying she wants to know if the house will be sufficient to protect her family. Ferguson raised concerns that the air monitors weren't giving accurate readings and said she still had side effects from smelling the chemicals, even when only in the house for 15 minutes.
After touring Ferguson's home, Regan said he could "slightly" smell the chemicals inside and said the EPA would directly test the residence in response to her concerns about the testing done by the contractors hired by Norfolk Southern Railway.
"We should not have been let back into town until all of this was done," Ferguson told reporters. "You don't bring families back with their kids and their loved ones and then tell them to scrub the dog."
Ohio Department of Natural Resources director Mary Mertz said during a press conference on Tuesday that four tributaries over a space of 7.5 miles along the Ohio River are contaminated, but officials are confident that those waterways are contained and not affecting water supplies. Nevertheless, the contaminated waterways have led to the deaths of some 3,500 fish. None of the 12 different species of dead fish that were detected are considered threatened or endangered, and there was no evidence that non-aquatic life has been impacted, according to Mertz.
Tiffani Kavalec, chief of the Ohio EPA's surface water division, told reporters on Tuesday that no vinyl chloride or pre-product has been detected in the water. The contamination mostly consists of fire contaminant combustion materials, according to Kavalec.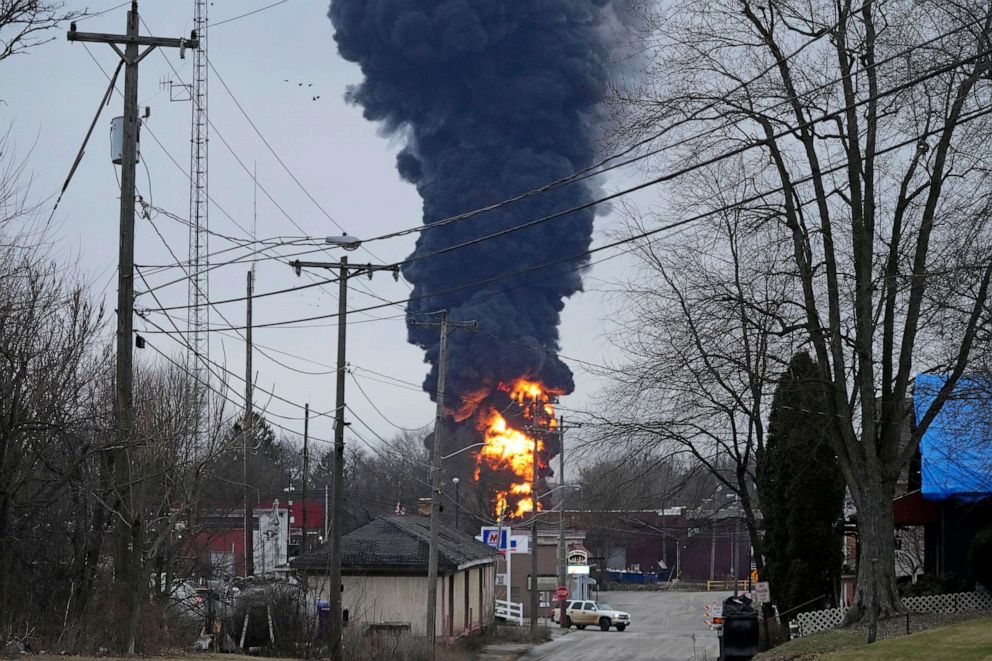 The National Transportation Safety Board is conducting an investigation to determine the probable cause of the derailment. Two videos show preliminary indications of mechanical issues on one of the tanker car's axles. The train's emergency brake was activated after crews said an alarm went off, according to the NTSB.
Norfolk Southern Railway announced in a statement on Tuesday that it has helped 1,000 families as well as a number of businesses in East Palestine, Ohio, since the Feb. 3 train derailment. The Atlanta-based rail operator said it has also distributed $1.2 million to families to cover costs related to the evacuation.
Representatives from Norfolk Southern Railway did not attend Wednesday night's town hall meeting due to concerns "about the growing physical threat to our employees and members of the community around this event stemming from the increasing likelihood of the participation of outside parties," according to a company press release.
"We know that many are rightfully angry and frustrated right now," Norfolk Southern Railway said in the press release. "We want to continue our dialogue with the community and address their concerns, and our people will remain in East Palestine, respond to this situation, and meet with residents. We are not going anywhere."
In an open letter released Thursday, Norfolk Southern Railway President and CEO Alan Shaw stated that the company has not abandoned East Palestine residents and is committing $1 million to a community support fund as a "down payment" on their contribution in rebuilding the village. He noted the work the company has already started, including cleaning up the derailment site and working to facilitate testing on the village's water, air and soil.
"I hear you, we hear you," Shaw said. "My simple answer is that we are here and will stay here for as long as it takes to ensure your safety and to help East Palestine recover and thrive."
ABC News' Victoria Arancio, Peter Charalambous, Stephanie Ebbs, Alexandra Faul and Julia Jacobo contributed to this report.